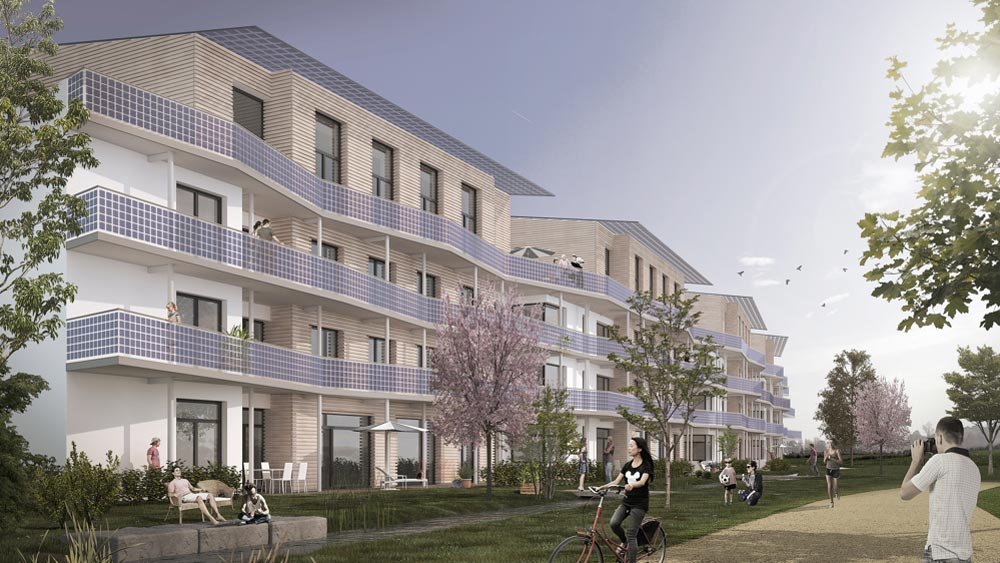 Aims
The Klimahäuser ("Climate Houses") in Schallstadt set an example: consistent climate protection with buildings is not only possible but entirely feasible!
We can plan and build in such a way that no more CO2 is released in the operation of our houses – alongside high quality homes characterised by attractive architecture that are socially and economically balanced in the long term.
As plus-energy houses, the Klimahäuser use very little energy – and they cover the remaining low demand entirely with in-house solar energy. Indeed, they even produce a surplus that can be passed on to the power grid.
Sustainable mobility is actively promoted: the number of parking spaces for private cars is reduced, the underground car park is "emission-free". Instead, electric cars and electric bicycles are available to residents.
Tenants and owner-occupiers move into light-flooded rooms with shared infrastructure - and no longer have to worry about rising additional costs. Investors acquire a long-term valuable property with highly rentable, flexibly adaptable apartments and commercial spaces with considerable savings potential. Everyone benefits from the example set by this lighthouse project.
The building meets the KfW 40 Plus standard and thus KfW's highest funding level: current promotional loans of up to €120,000 per apartment with just 0.75% interest and repayment subsidies of up to €30,000 per apartment.
Urbanism and architecture
The plus-energy Klimahäuser exist as a row of buildings running approx. 110 m along Brandhofstrasse. As such, they connect the adjacent commercial area with the new "Weiermatten" residential area.
The slightly curved terracing of the development is divided into four striking parts. This rhythm is picked up and reinforced by the penthouses. The main orientation of the apartments towards the southwest and the northeast combined with sound-insulated facades guarantee a high level of residential comfort. Generous terraces and uninterrupted stretches of balcony increase the residential quality even more. The facades appear transparent and weightless thanks to a design that incorporates glass surfaces, semi-transparent solar modules and wooden cladding. At the same time, bright and light-flooded rooms are formed inside.
The generously designed entrance level forms a frontal zone for shops and shop windows. All commercial and residential entrances are barrier-free accessible at ground level. An attractive green zone with an integrated watercourse is created on the residential side of the building.
The building and its uses
The plus-energy Klimahäuser offer a wide range of uses across attractive and flexible apartments and commercial spaces.
Shops and a street-level mobility station are planned for the ground floor. Approximately 70 barrier-free apartments are accommodated on the slightly elevated garden level and on the upper floors, depending on the size of the apartment desired. Nine penthouses on the 3rd and 4th floors are integrated into a rooftop garden/terrace.
All apartments are variable – sizes and layouts can be adapted to your requirements: for young and old, for singles, couples, single parents and families. Spaces are being created for both commercial and residential use, with spaces adjoining the apartments intended for adaptation into studios or work rooms or other separately uses.
An emission-free underground car park with 36 parking spaces will be built in the basement. Access is via a ramp from Brandhofstrasse - covered with a large solar roof - on which there are 15 covered parking spaces and parking spaces for approx. 40 bicycles and cargo e-bikes. A larger bicycle room with approx. 180 parking spaces in a double-decker arrangement and further cargo e-bike parking spaces, which can be accessed with an additional bicycle ramp, is located at the east end of the basement. There are 28 more parking spaces on the street.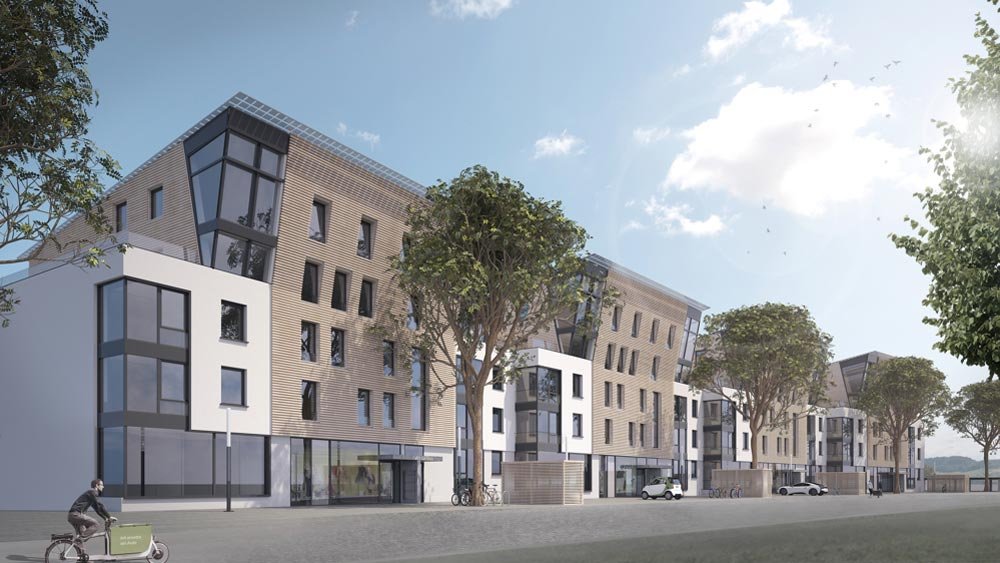 The penthouses
There are four penthouses on the rooftops of the plus-energy Klimahäuser, embedded in a roof-garden landscape and boasting charming views of the Black Forest, Vosges and Kaiserstuhl.
The penthouses comprise variously sized, attractive maisonette apartments with residential galleries. There are three residential units and one commercial unit per penthouse. This is either used and developed separately, or can also be directly attached to the apartments in the southeast as a studio extension.
Location
Schallstadt, an up-and-coming suburban community, borders directly with Freiburg in the southeast. Freiburg is easy to reach by bike, bus and train. Located on the Baden Wine Road, Schallstadt, home to approx. 6,000 residents, with the districts of Wolfenweiler, Schallstadt and Mengen, forms the gateway to the Markgräflerland. Between Schönberg and Tuniberg, between the Rhine and the Black Forest, there are a variety of local recreational opportunities here. The Klimahäuser are part of the new town centre including a new town hall and the Weiermatten development zone.
Mobility
The plus-energy Klimahäuser offer a wide range of mobility options that can be accessed by all households, small business employees and also the neighbours. This makes many private cars unnecessary and considerable cost savings are possible. Noise, pollutant and CO2 emissions are significantly reduced. Electromobility and bicycles have played an important role from the very beginning. And the sun provides the energy for mobility.
The right mobility device is available for every route:
Shopping opportunities, trains and buses are easily accessible

E-cars, e-bikes and cargo e-bikes are available

Mobility station with e-bike shop and on-site service

Electricity from solar power plants feed batteries for e-cars and e-bikes

Energy and mobility platform provides real-time information about offers such as:

Solar power supply and share of self-sufficiency

Free vehicles in the vehicle fleet

Train and bus departure times
There are also recommendations for action to optimize consumption and other climate protection initiatives
Parking takes place in a "warm underground car park" for e-cars, e-bikes and bicycles. This receives "intelligent" charging management and energy-saving controlled ventilation with heat recovery. Additional ventilation is only activated when emissions occur.