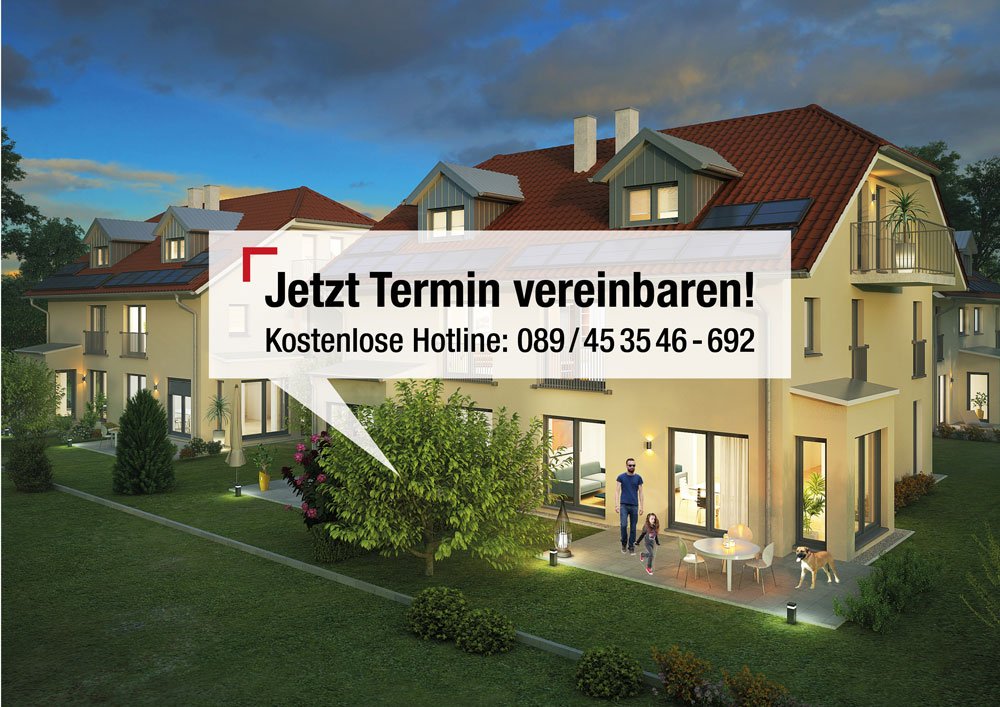 Doppelhaushälften in Wolfratshausen

(Semi-detached houses in Wolfratshausen)
---
Fairytale family homes!
Arranged in a squared-shaped block formation, these four semi-detached houses are gathered around a driveway shared by six parties enters the property from Stobäusstrasse. Parking spaces on the street as well as carports with greenedd roofs complete the ensemble, which is embedded in a low-rise, family-friendly residential environment.
The individual semi-detached houses offer plenty of space for the whole family and for just about every wish. From the heated basement to the developed attic space, three to four other rooms for children, hobbies or work are available in addition to the classic living spaces such as an open living/dining area and bedrooms. All houses have two bathrooms on the upper and topmost floors and an additional guest toilet on the ground floor.
Enjoy the advantages of your own garden for sunbathing or playing, for barbecuing or for creative garden design. With the balcony that comes standard with each semi-detached house, you can gain even more distance from everyday life, allowing you to enjoy beautiful views and let your thoughts soar. Come home – here in Wolfratshausen!
Location & environment
Life like a fairy tale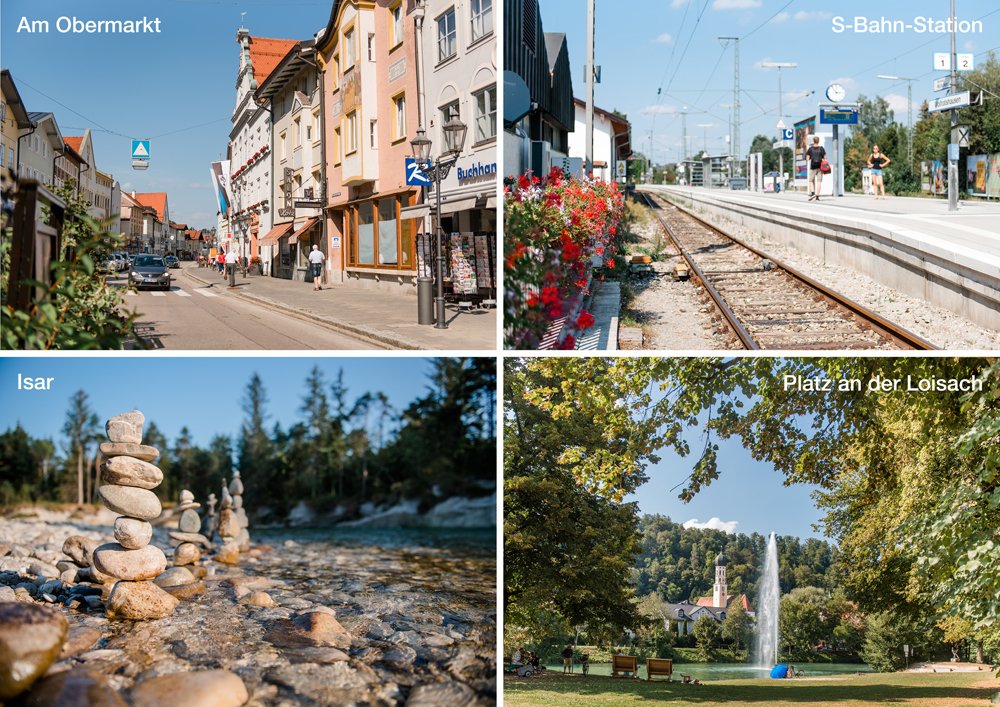 Simply magical – your new home in the beautiful Isar river valley. Skirted by the Loisach and the Isar, only about seven kilometres from famous Lake Starnberg, your new home really offers everything your heart desires.
In the Farchet neighbourhood of the almost 20,000-strong Upper Bavarian town of Wolfratshausen, located in eastern Bavaria's Bad Tölz-Wolfratshausen county, you can enjoy idyllic meadows along the banks of the Isar as well as excellent transport links to the metropolis of Munich.
Two bus lines, which you can access via stops in the immediate vicinity of your new home, offer fast connections to the Wolfratshausen S-Bahn station with further connections to the Munich S-Bahn network. Thanks to direct motorway connections to the A95 and quick access to the A8, you can also get to the city of Munich by car in around 45 minutes. Popular destinations such as the lakelands of Starnberg (approx. 15 min.) or Ammersee (approx. 45 min.) can be reached from your new domicile in similar travel times or even faster.
Thanks to all this, everyday life and leisure can here be organised well so that you can enjoy a unique sense of work-life balance.
Wolfratshausen – made for families
Despite the wonderful natural surroundings and the good transport connections, you and your family do not have to do without urban infrastructure and comforts, either in Wolfratshausen but also around the site of your new home.
You can reach Königsdorfer Straße by bike in just 3 minutes, along which you will find a wide variety of grocery stores, drugstores and service providers. You can also quickly reach the town centre via this street, where you'll find numerous other specialty shops and boutiques with a range of goods and services on the left and right of the Loisach, around the train station and the town hall.
Necessary breaks from shopping can be excellently enjoyed in the taverns and restaurants located nearby, many with a beautiful view of the romantic Loisach. This charming residential area is embedded in a quiet, green neighbourhood characterised by low-rise detached houses and apartment buildings.
In addition, it's only a few steps to the fairytale forest amusement park, known well beyond the town's local community – and particularly popular with children.
It's made for families!
---
Near you
Bus stop:

65 m

S-Bahn station:

1,700 m

B11:

1,100 m

Supermarket:

900 m

Bakery:

950 m
Daycare:

450 m

Secondary school:

1,600 m

Primary/middle school:

1,700 m

Post shop:

950 m