The affordable dream of owning your own home
Integrative and ecological neighborhood planning characterizes our Diversity York project. Here you can realize your affordable dream of your own house.
We build 54 semi-detached houses and 58 ensemble houses for you with approx. 112 m² to 157 m² of living space.
Around 40 percent of the ensemble houses are starter and budget houses for families with an eligible income. You get house and property at an affordable purchase price. Ecologically planned for all lifestyles and generations, a strong neighborhood community is emerging here with car-free residential streets and numerous meeting areas. So-called flex zones with, for example, e-charging stations, bike sharing, tool station / bicycle repair and event areas for flea markets, district festivals and other activities invite you to meet in the neighborhood.
Your highlights:
Sustainable, green and economical to use:
We use innovative technology and make an important contribution to the energy transition.
All types of school are in the immediate vicinity, some of which are within walking distance.
Benefit from a good social structure with a new day-care center in the neighbourhood.
Different house types for all lifestyles, generations and incomes promote a strong, holistic neighborhood community.
Numerous shops for everyday needs, medical centres, restaurants and much more. m. provide you with everything you need.
All buildings meet the criteria of efficiency house level 40, some even 40 Plus.
We rely on ecologically sustainable construction and operation in order to achieve the following for the houses:

Gold certification according to the DGNB procedure
Eligibility for eligibility for climate-friendly new construction (KFN) - with QNG ("Sustainable Building Quality Seal" - awarded by an accredited certification body) with state subsidies: Granting of a low-interest loan of up to €150,000

OR

Eligibility for home ownership for families (WEF) with state subsidies: Granting of a low-interest loan of up to €240,000
You will receive more detailed information on receiving funding for our project in a personal consultation.
Good to know: You will receive the services of our energy efficiency experts free of charge as an integral part of energy-efficient construction.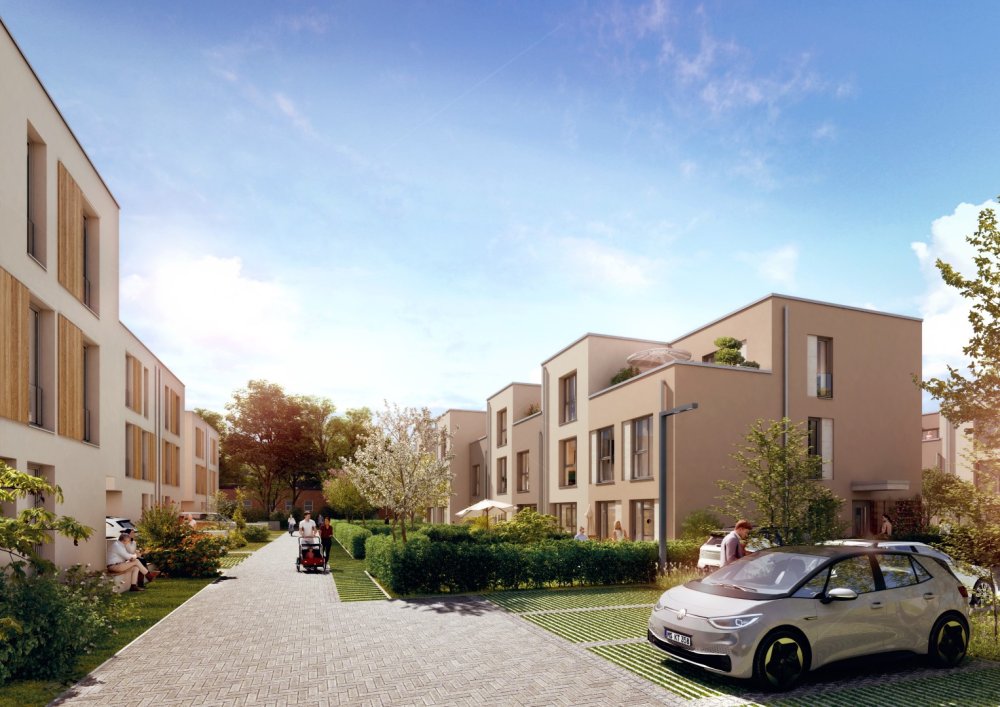 Location Description
Münster - Science & Lifestyle
Münster is one of the top ten university cities in Germany and is one of the regional centers of North Rhine-Westphalia. Münster is known nationwide for its particularly bicycle-friendly cityscape, but that is by far not all. The old town, which was painstakingly reconstructed after the Second World War, the picturesque Aasee or the modern city harbor also invite you to visit and linger again and again.
York Quarter is being built on the more than 50 hectare site of the former York Barracks in the district of Gremmendorf. The extraordinary construction project consists of several residential quarters as well as commercial areas and stands for an innovative, urban and sustainable life in Münster.
In the southern part of the site, the creation of sustainable, affordable housing was planned together with the city of Münster on an area of ​​around 2.8 hectares - the Diversity York district, framed between green pastures, old trees and existing houses.
A new day-care center is being built on site, and various elementary schools are almost in front of the door. Secondary schools are in the neighboring districts of Wolbeck, Hiltrup or directly in Münster. The adjoining sports hall is being freshly renovated and invites all new residents to "let off steam" after work.
Three supermarkets, many different retail shops, banks, a pharmacy, a post office and a wide range of restaurants are within walking distance. In addition, there are hardware stores, other supermarkets, gas stations and a flower shop in the surrounding area.
Münster's city center (Cathedral) is just 6 km away in 20 minutes, and Münster's main train station, 5 km away, can be easily reached by bike in just 16 minutes. Via the Albersloher Weg and the B51 you can be on the A1 or A43 by car in less than 15 minutes and thus quickly on the way in all directions.
The Heidestraße bus stop, which is also nearby, rounds off the mobility offer perfectly.