GREEN LIVING GALLUS
WHERE THE TRAINS OF THE GÜTERBAHNHOF AND THE SHIFT CHANGES AT THE ADLERWERKE SHAPED THE DIRECTION OF THE DAY, A NEW, COMFORTABLY RELAXED LIFE IS BEING CREATED.
WITH STYLISH, MODERN APARTMENTS AND LARGE GREEN AREAS WHERE THE LEAVES WHISPER AND THE BIRDS SING.
WITH A LARGE, GREEN COURTYARD THAT GIVES ROOM FOR CALM, LETTING GO AND ENCOUNTER. A PLACE FOR PERSONAL DEVELOPMENT.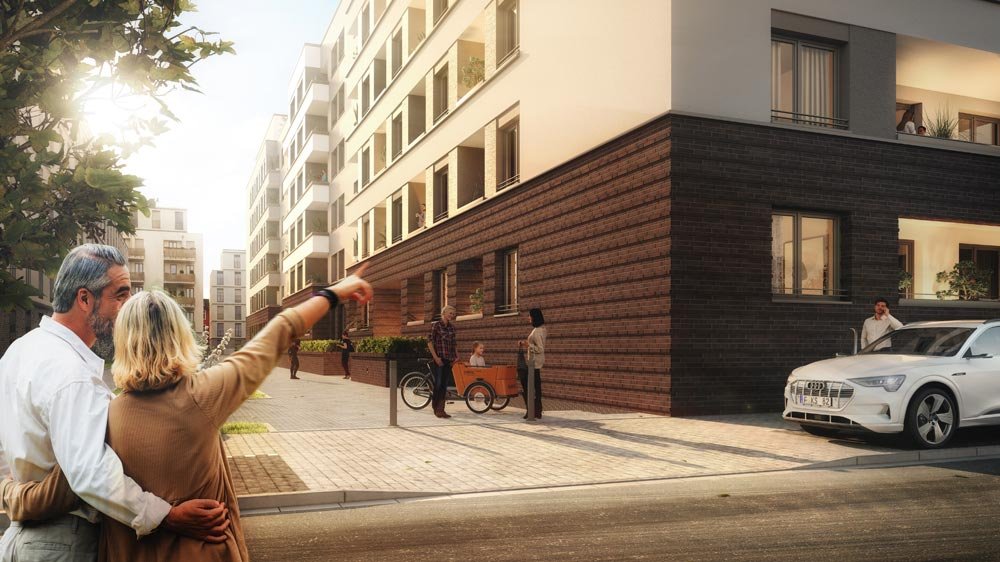 DREAM LIFE
ABOVE THE ROOFTOPS OF THE CITY
A COMMUNITY GROWS FROM DIVERSITY, MAKING LIFE MORE COLORFUL, FRIENDLY AND VARIED.
Kleyers opens 398 individual living worlds for people who love city life and at the same time want to preserve natural open spaces. Here the children can play in their own garden and enjoy short distances to kindergarten or school. Singles and young professionals will find apartments that exactly match their lifestyle. Seniors who want to reduce their budget can set up a perfect new home. And discerning, metropolitan couples are delighted with the excellent quality of the architecture and outfitting.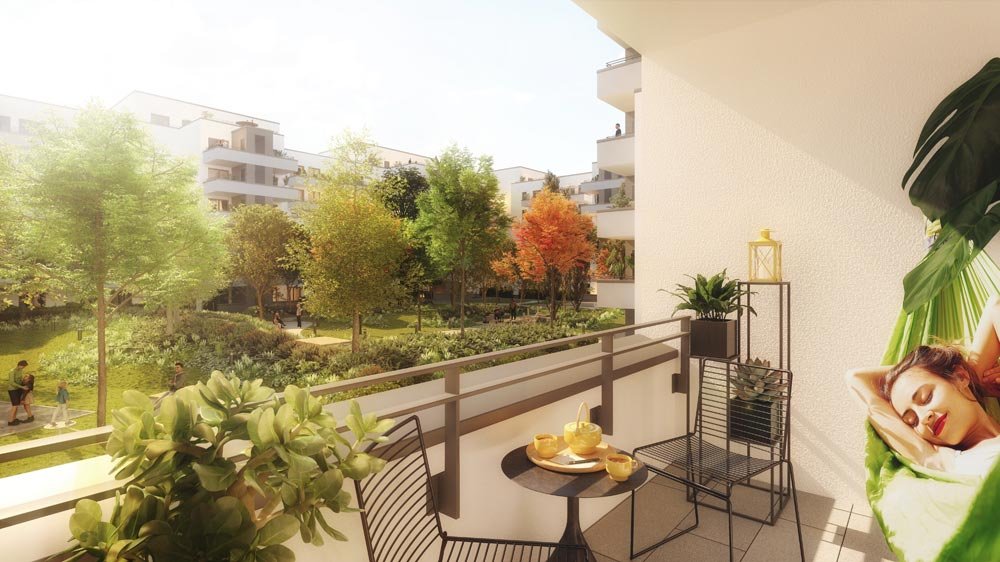 GREEN OASES
IN THE MIDDLE OF THE CITY
BALCONIES, LOGGIA OR GARDEN TERRACES OFFER ALL APARTMENTS A PRIVATE SPACE FOR RECREATION AND RELAXATION. THEY OPEN UP VIEWS INTO THE LARGE, GREEN COURTYARD.
With Kleyers, a new residential atmosphere arises directly on the Gallus. This modern, six-storey development extends over an area of around 11,558 square meters along centrally located Kleyerstrasse and Krifteler Strasse. A moderate architecture and the spacious inner courtyard enable a light atmosphere and a high quality of stay. All apartments have an elegant connection with nature: spacious balconies, greened rooftop terraces in the penthouses and private gardens on the ground floor.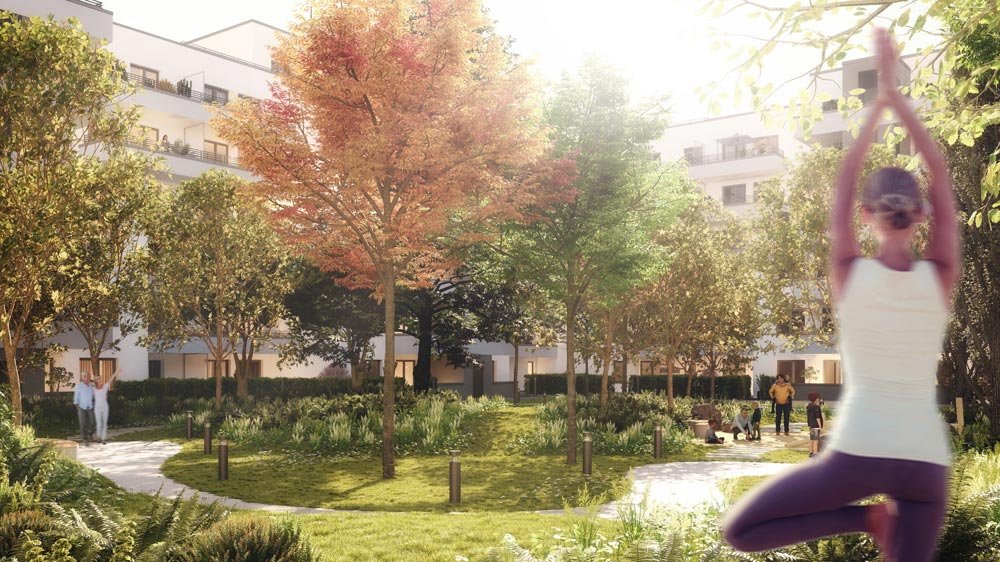 TAKE A BREATH
AND FIND YOUR OWN CENTER
THE LARGE-SCALE INNER COURTYARD IS THE GREEN LUNG OF THE NEIGHBOURHHOOD AND A PROTECTED SPACE FOR AN ACTIVE LIFE WITH NATURE.
You can move around freely on approx. 2,300 square meters and enjoy the lovingly planned landscape architecture. With valuable trees and bushes, picturesque paths and relaxation areas - but also with plenty of space for communal meetings, sports or games.
DATA AND FACTS CONSTRUCTION PHASE 1
THE PROJECT WILL START WITH FIVE LARGE RESIDENTIAL BUILDINGS IN THE SECOND QUARTER OF 2021. 192 MODERN, SOPHISTICATED APARTMENTS IN THE BEST CITY LOCATION.
OUTFITTING
HIGHLIGHTS
SELECT MATERIALS AND TASTEFUL OUTFITTING GIVE THE APARTMENTS IN KLEYERS ATMOSPHERE AND PERSONALITY.
All residents can access the inner courtyard through a building entrance
Parcel boxes in all entrance areas
The 72 parking spaces in the underground car park can be reached through all stairwells
Barrier-free access to apartments and underground car parks
Exclusive car sharing offer for all residents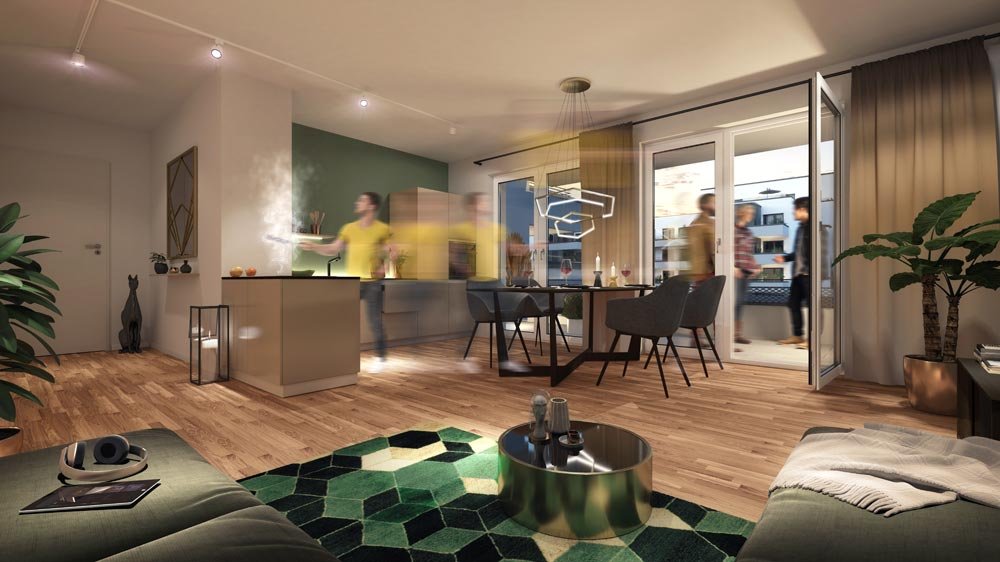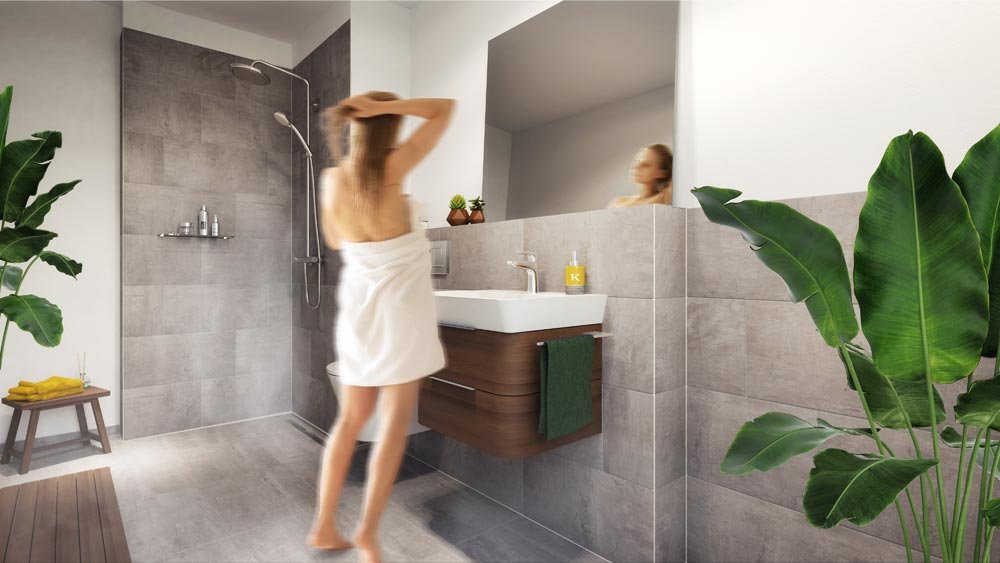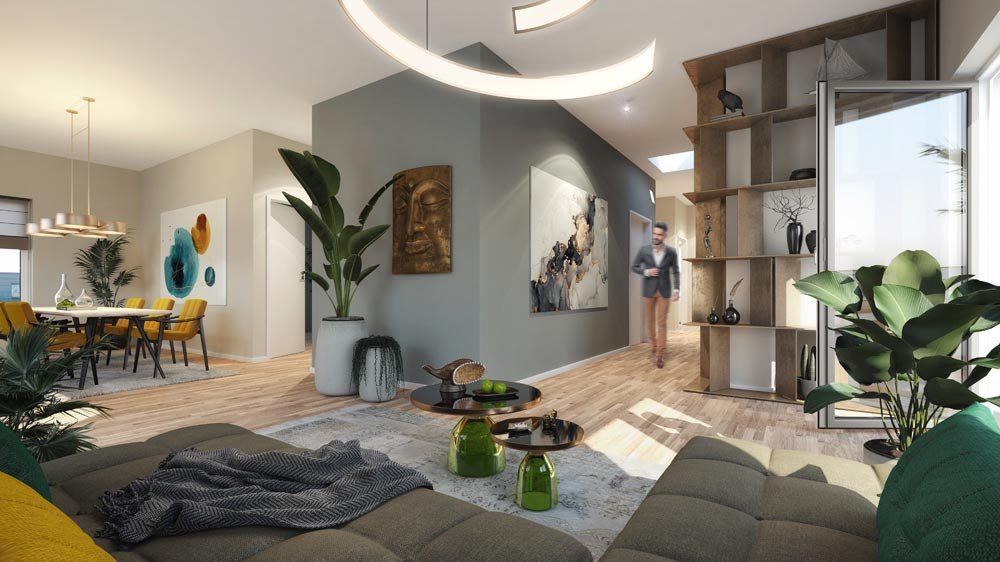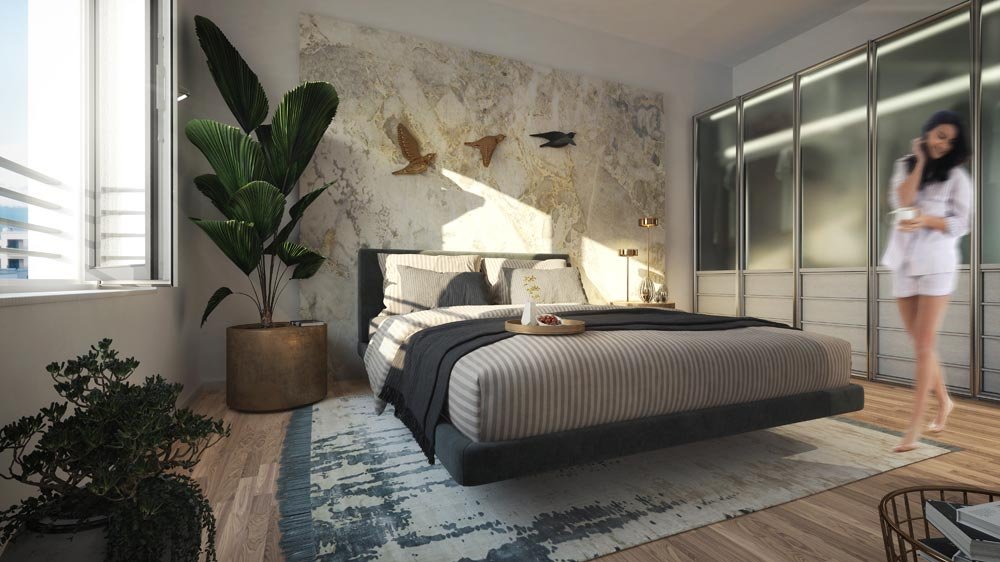 LIGHT, HEAT
WELL-BEING
THIS IS HOW YOU CAN LIVE: IN MODERN, OPEN APARTMENTS WITH LARGE WINDOWS AND WARM NATURAL MATERIALS.
Video intercom
Oak parquet flooring
Underfloor heating
Large windows with triple glazing
Electric shutters
All apartments with loggia, balcony or garden terraces
KfW-55 standard construction
LOVE
FOR DETAILS
STYLISH BATHROOMS AND SHOWERS INVITE YOU TO PLEASANT RELAXATION. FINE MATERIALS AND BEAUTIFUL ELEMENTS ARE A JOY FOR THE EYES AND A FEEL GOOD FOR BODY AND SOUL.
Floor-level showers
Inviting ambience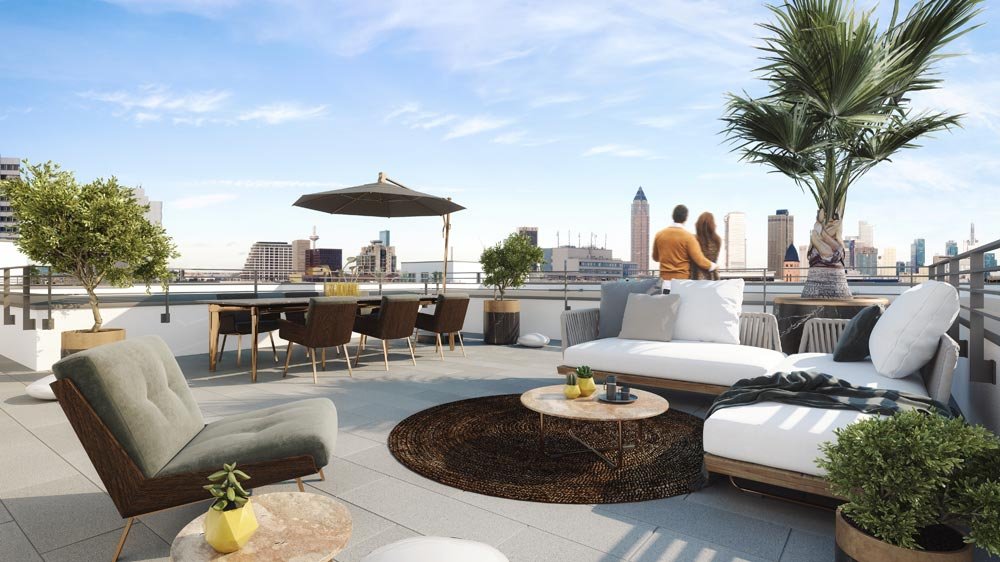 ENERGY
REGENERATION
THE APPROPRIATE BEDROOM DEFINES A CALM COUNTERPOINT TO THE BUSY DAY AND IS THE PLACE WHERE WE CAN CHARGE OUR BATTERIES AND RELAX.
DISCOVER NEW LANDS AND BLOOM
WITH KLEYERS, A SUSTAINABLE, URBAN LIVING AREA IS CREATED: WITH RESPECT FOR THE ENVIRONMENT AND NATURE AND THE NEEDS OF COMING GENERATIONS.
Those who live in the city often want a green retreat to escape the hustle and bustle. Green space concepts are therefore becoming more and more important in urban development. With its green inner courtyard, rooftop terraces and gardens, Kleyers is picking up on this megatrend.
NEW MOBILITY
E-charging stations, car sharing offers and cycling in the city are very popular with city dwellers. Kleyers consistently puts these future topics into practice.
LIVING GOOD TOGETHER
Kleyers is open to everyone. There is a day care center for the little ones. Barrier-free apartments were planned for older residents.
CENTRAL HOMES ON THE GALLUS
ATTRACTIVE, MODERN LIVING SPACE IN THE MIDDLE OF THE MAIN METROPOLIS IS HIGHLY DESIRABLE. KLEYERS IS LOCATED IN THE HEART OF THE CITY AND HAS A PERFECT CONNECTION.
"RIGHT HERE
IS WHERE I WANT TO LIVE"
Business, lifestyle, culture, leisure and nature - Frankfurt has a lot to offer and almost all of it can be easily reached on foot or by bike from the Kleyers project. For example, the Palmengarten and Messe, inner city and old opera house, banking district and the Europaviertel, Mainufer and the university's Campus Westend. The main train station is only a stone's throw away. And the international Frankfurt Airport is less than 15 minutes by car and only 30 minutes by S-Bahn train.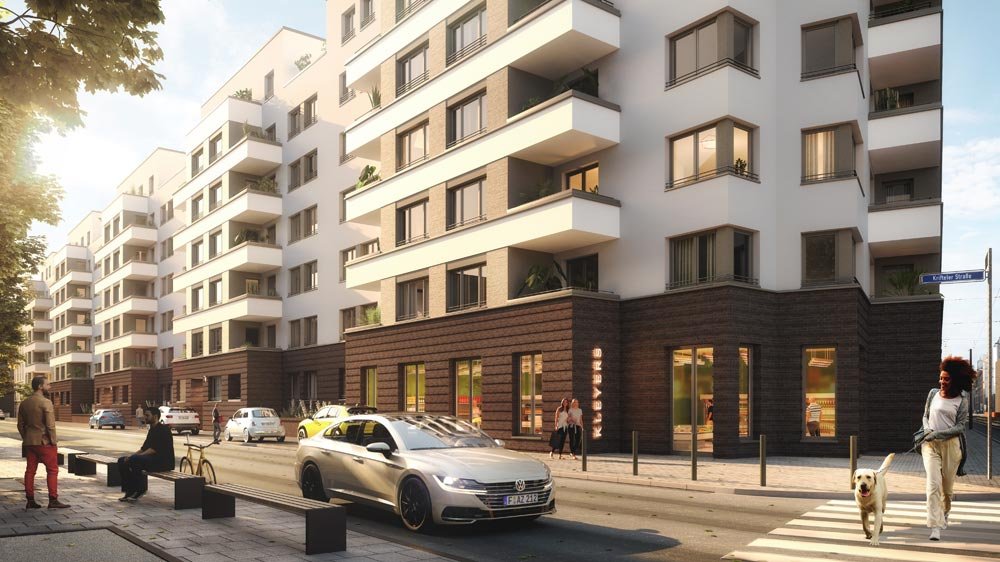 ADVANTAGE
THROUGH DIVERSITY
THE GALLUS HAS DEVELOPED INTO A TRENDY AREA WITH LOTS OF CHARM AND CHARACTER. A LIVING PLACE WITH MANY POSSIBILITIES THAT ATTRACTS NEW PEOPLE.
The Gallus is a grown district with the best transport connections and very good infrastructure. The Galluspark tram stop is right outside the door and connects the Kleyers with the city's most important transport hubs.
Around the Kleyers there are many individual shops, small restaurants, summer street cafes, trendy pubs and large supermarkets. Kindergartens are within easy walking distance and in the nearby Rebstockpark and Rebstockbad, kids and adults can let off steam to their hearts' content. Many green open spaces and initiatives such as the large-scale urban gardening project Gallus Garten ensure neighbourly contacts and a new experience of nature in the city.