Time for home
Time for something new
City district with 269 condominiums in the immediate vicinity of Frankfurt City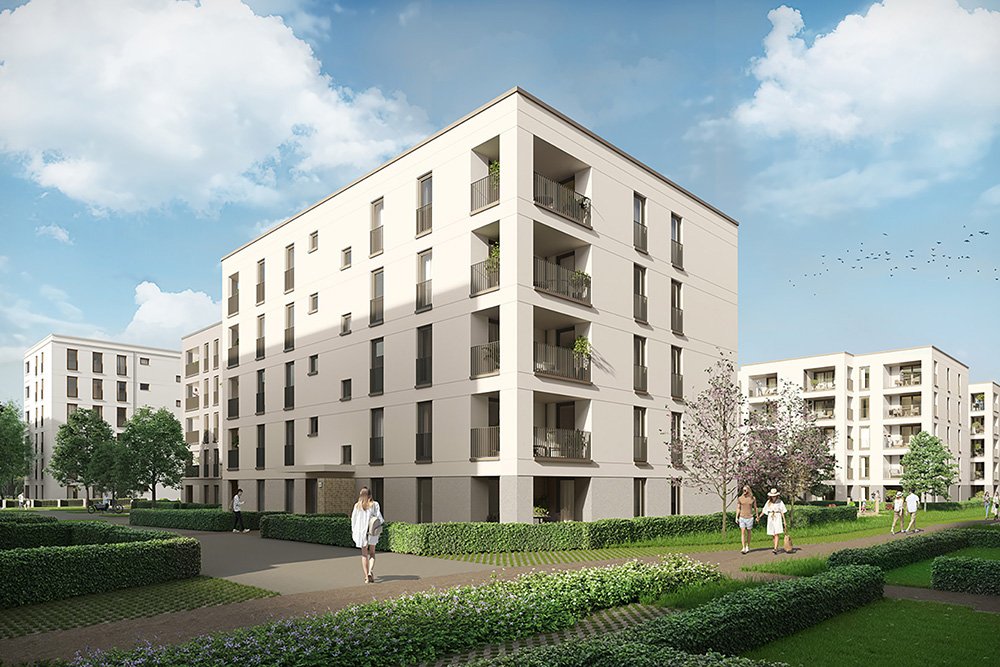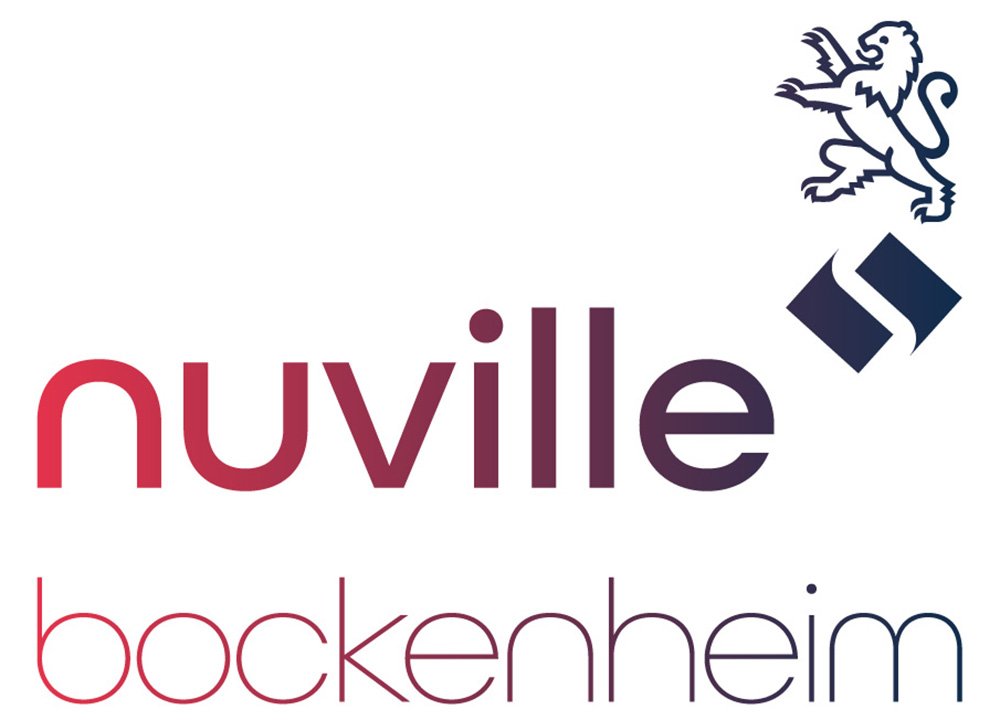 New things start here
nuville is being created as a new part of the city in close proximity to the city of Frankfurt. Short distances save time and in this way open up new options in the middle of the metropolis.
269 exclusive condominiums in an urban park landscape, perfectly connected to the lifelines and quiet zones of the big city: in the new Schönhof quarter, nuville creates space for development - as a city quarter, home and a secure investment in the future.< /p>
nuville stands for an urban lifestyle in a green, sheltered residential area. 269 ​​exclusive condominiums with 1.5 to 4 rooms on 35 m² to 109 m² of living space in 5 building complexes - grouped around inner courtyard gardens with meeting places, playgrounds and private gardens. At a location that is already one of the most sought-after in Frankfurt am Main - and has enormous potential for future development.
Welcome!
nuville in the Schönhof district
Start for a new piece of town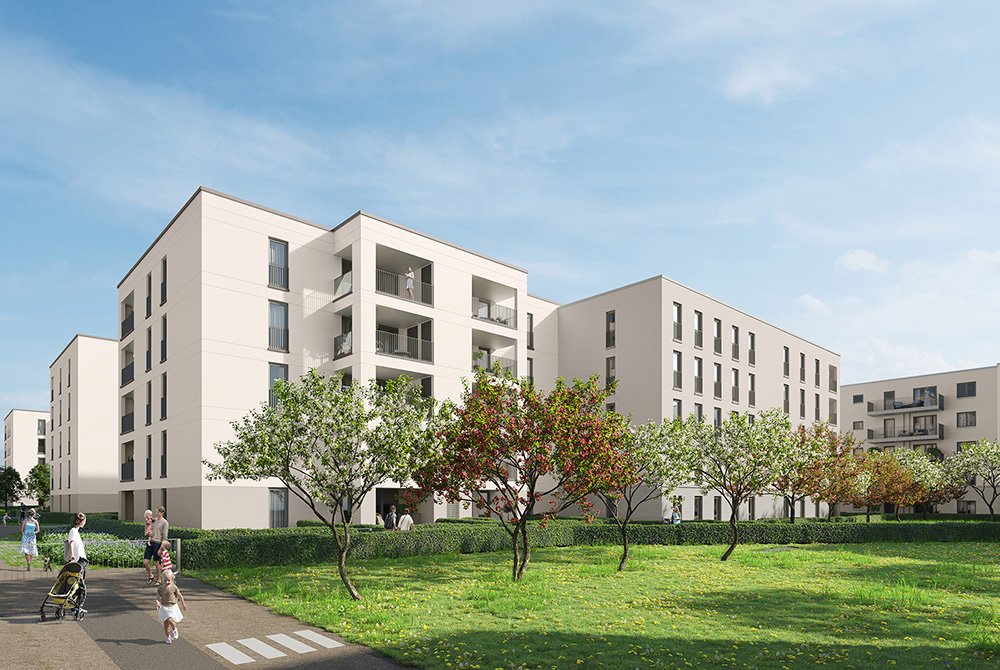 Vibrant, innovative & green
nuville is developing as a city quarter in the east of the new Schönhof district. Here, on the former Siemens site between Rödelheimer Landstrasse and City West, around 2,000 apartments are being built for sale and rent. A view.
Local amenities in the heart of the district
For quick purchases, a leisurely cappuccino or both together: a local supply location and restaurants with an outdoor area are planned in the center of the quarter.
The little ones in the best hands
Five day-care centers and a primary school give the children in the neighborhood plenty of room for development.
From today for tomorrow
Climate-friendly district heating for heating and hot water, photovoltaic systems for green electricity, the clever use of rainwater or high energy efficiency according to the KfW 55 standard: features that promote long-term and stable use as well as the well thought-out equipment of the apartments . The project planners' declared goal: the gold certification of the entire quarter by the German Sustainable Building Council (DGNB).
Open to new ideas
nuville creates living situations that bring generosity, security and the relationship to the outside world to a common denominator. With living spaces from 35 to 109 m², nuville opens up creative freedom for every kind of lifestyle.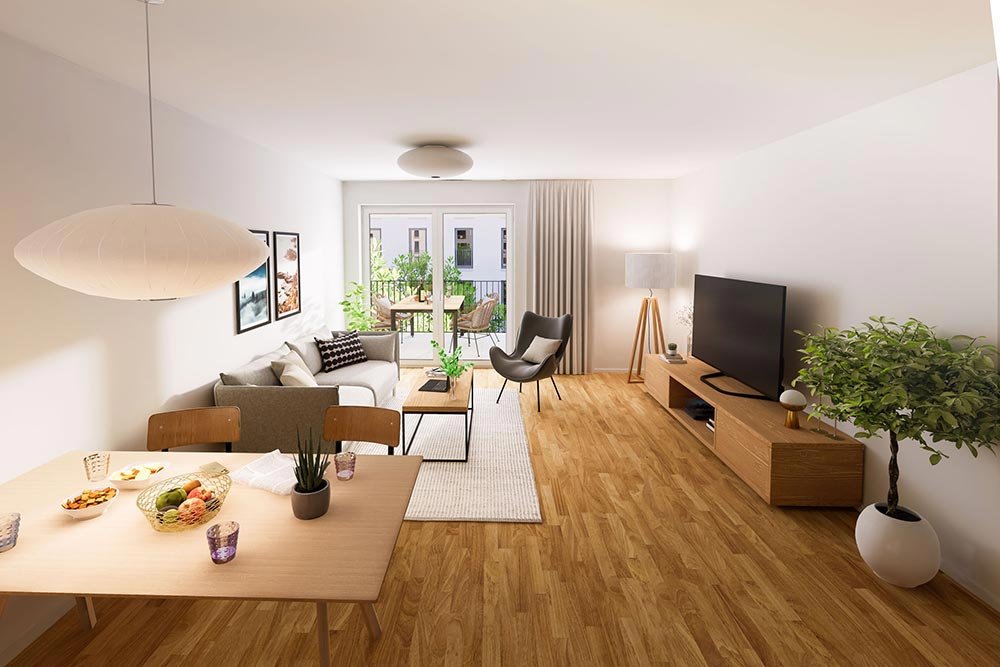 Together and for yourself
All facets of "home": Open-plan living areas allow exchange and time out. The contemporary cuts combine with consistently high-quality equipment and fine materials to create a stylish ambience for the highest demands.
The equipment
KfW 55 energy efficiency house
Photovoltaic system for green electricity
Extensive green roof areas
Elevator from the underground car park to each floor
Each apartment has a separately lockable basement area
Underground car park with 190 parking spaces and around 700 bicycle parking spaces
Offers for bike and car sharing directly in the district
Almost every apartment has a (roof) terrace, balcony or loggia
Attractively designed garden and courtyard areas to linger
Many floor-to-ceiling window elements
Electric shutters
Multimedia connections in all living rooms and bedrooms
Hands-free video intercom
High-quality oak parquet in the hallway, living rooms and kitchen
Painter fleece on all walls
Underfloor heating with room thermostats in all living rooms and bedrooms
Additional towel radiators in the bathrooms
High-quality bathroom fittings and sanitary objects from well-known manufacturers
Exclusive tiles from Casa dolce Casa in bathrooms and guest toilets
Flush-to-floor showers
City oasis with a central piazza
Recreation & living in a direct relationship: the gatehouse bordering the park landscape (below) forms the transition from nature to nuville.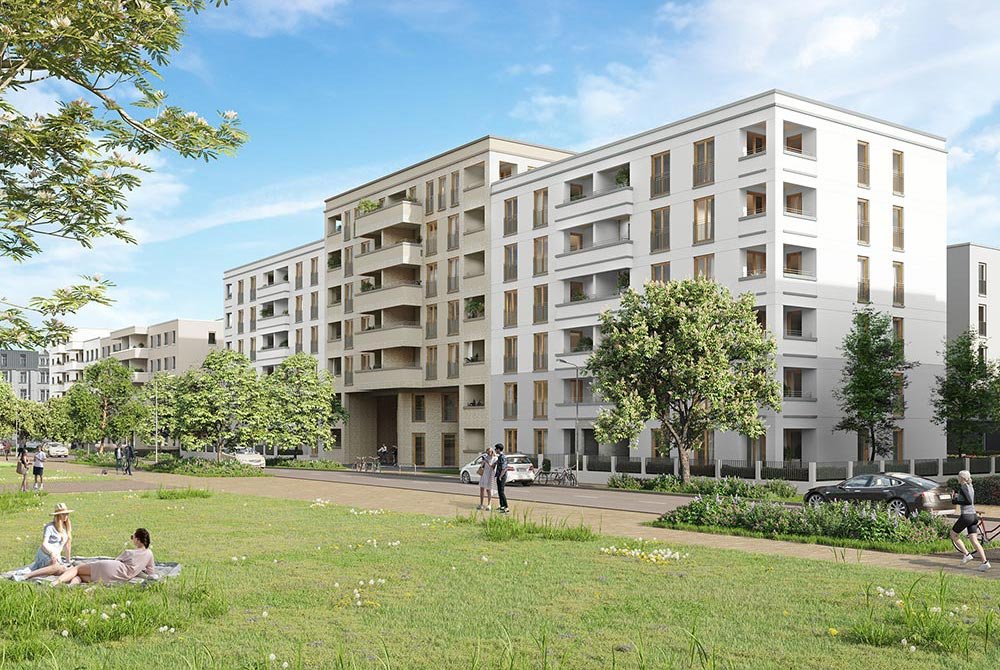 The future is born here
The newly created park landscape stretches around 27,000 m² as a green band through the entire district. With natural and near-natural ease, it links the private with the public areas of life. Meandering paths open up social meeting points, recreation areas and bring together two very different park characters: the sports and playgrounds in the west and the retreats in the east of the extensive green area. In between: the new district center. An open piazza of social life flanked by two mixed-use buildings – e.g. with apartments, shops on the ground floor and gastronomy with an outdoor area.
Flexible and stress-free mobile
Underground car park with 190 parking spaces and around 700 bicycle parking spaces plus offers for bike and car sharing directly in the district: nuville converts inner-city arrival and departure from a stress factor into multi-optional mobility.
Location
The world is waiting outside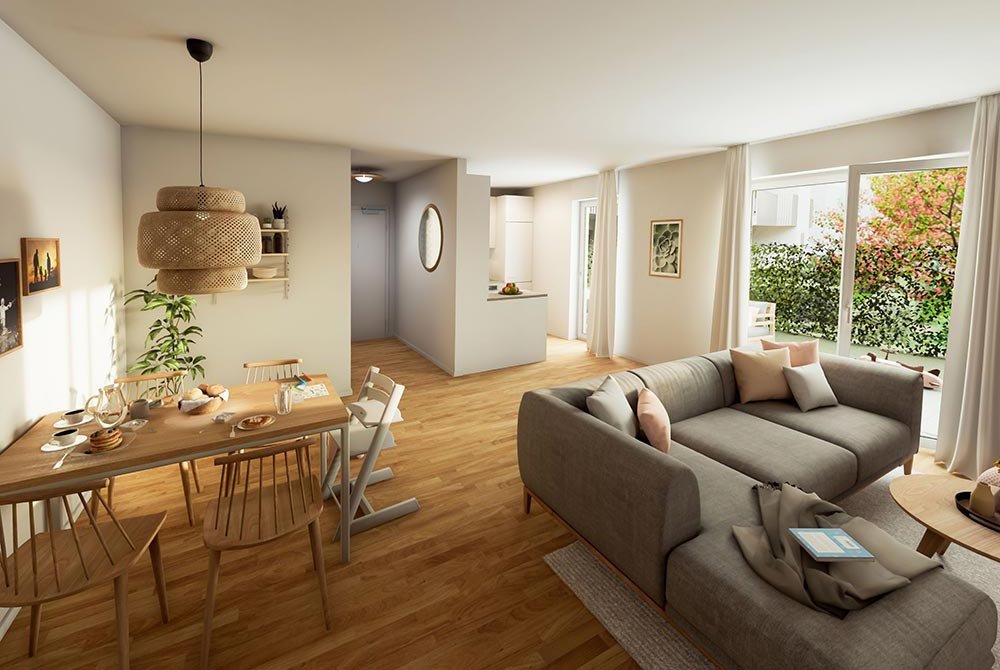 Out the door. And into life
In Bockenheim, apparent opposites come together and condense into an informal, sparkling urbanity: neighborhood and cosmopolitanism, tradition and avant-garde, Frankfurt conviviality and international cuisine. It is this highly vital, constantly reinventing diversity in the heart of Frankfurt am Main that distinguishes Bockenheim. In the restaurants, bars and cafés around Leipziger Strasse. On the stages of small and large theaters. Under the treetops of spacious urban oases.
Connection - gladly from here
Always on the pulse. And faster everywhere. As an upscale urban district, nuville combines the quality of life, attractiveness and opportunities of western Frankfurt with perfect connections to the Frankfurt/Rhine-Main metropolitan region.