Personal consultations by appointment - also on Sundays and public holidays:
Headquarters at Schwangaustraße 29, 86163 Augsburg
Your contact person:
CHRISTIAN HÜBEL
+49 (821) 26 17 – 164
FRIDOLIN GRASSL
+49 (821) 26 17 – 123
MARCO HESS
+49 (821) 26 17 – 162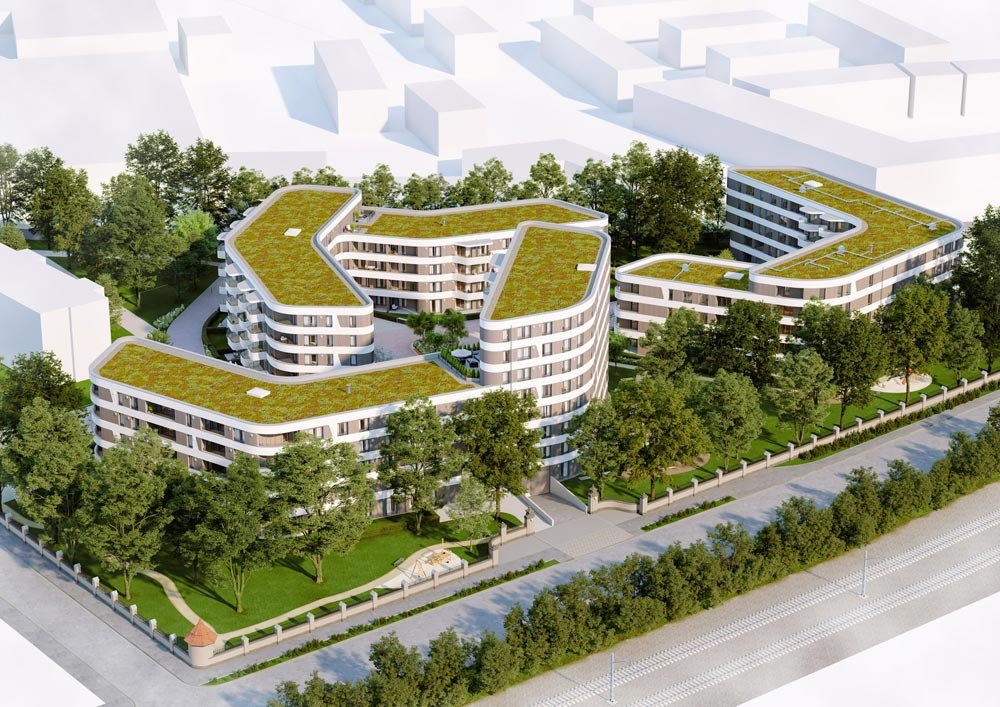 Habitat
More freedom in the city.
Only in its original environment can nature develop its full beauty. The park-like gardens therefore remain almost unchanged: enchanted, spacious and species-rich. The residents of ANTON enjoy a piece of natural space between their home and the big city. Protected by the impressive old trees, life also likes to take place outside – whether in spring, summer, autumn or winter.
Happiness lives in the garden.
One thing is certain: there is no greener way to live in the city – it doesn't get much better than this. Because even more than the possibilities and diversity of an urban environment, people need a place of security and deceleration: a piece of nature as a counterbalance to the city. With over 5,000 m² of gardens, ANTON gives its residents an irretrievable quality of life and the feeling of living in their own small city park. The almost natural garden with mature trees is complemented with lovingly landscaped planting and inviting areas in which to linger to create a varied landscape. The zoning of the building structure creates protected garden areas that invite you to stay a while. Every resident will find the space they need here - for playing, relaxing, walking or exchanging ideas.
In addition, the ground floor apartments have private gardens, which are harmoniously integrated into the park thanks to separating plants and still allow a bit of free space in nature.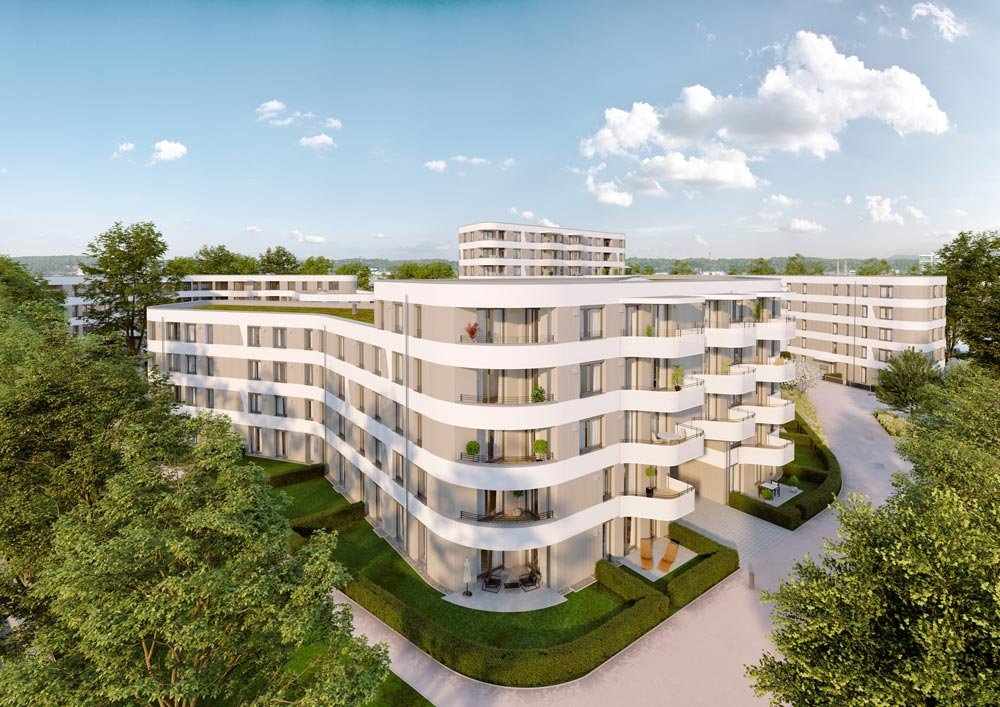 Architecture
Blueprint architects.
Creating open, flowing spaces was our guiding principle for the urban planning of the structures for the ANTON project. Due to the organic arrangement and angled forms of the three building volumes, the buildings nestle harmoniously against park-like trees and at the same time create interior spaces conceived as a lively spatial sequence. These inner spaces are used for pedestrian access, act as spaces for communication and relaxation and establish routes and connections with the environment. On the north side, a two-storey passage from Schertlinstrasse defines the urban development entrance to the quarter. The building volumes are additionally structured by staggering the height of the development, with an eight-storey high point on the east side accentuating the newly emerging residential area, giving it a long-distance profile. From the upper floors of the building, residents enjoy broad perspectives.
Naturally, beautifully shaped.
Our requirements for the architecture were demanding: it should form a harmonious unit with the garden, blend in seamlessly and still stand out. Instead of corners and edges, ANTON convinces with natural shapes. The total of three arched structures are individually curved and fit into the spacious park as if drawn by hand.
The well thought-out alignment of the building is based on the perfect angle - for a spacious separation of the garden, optimal visual relationships and the greatest possible privacy. Qualities that ANTON also offers its residents beyond the walls.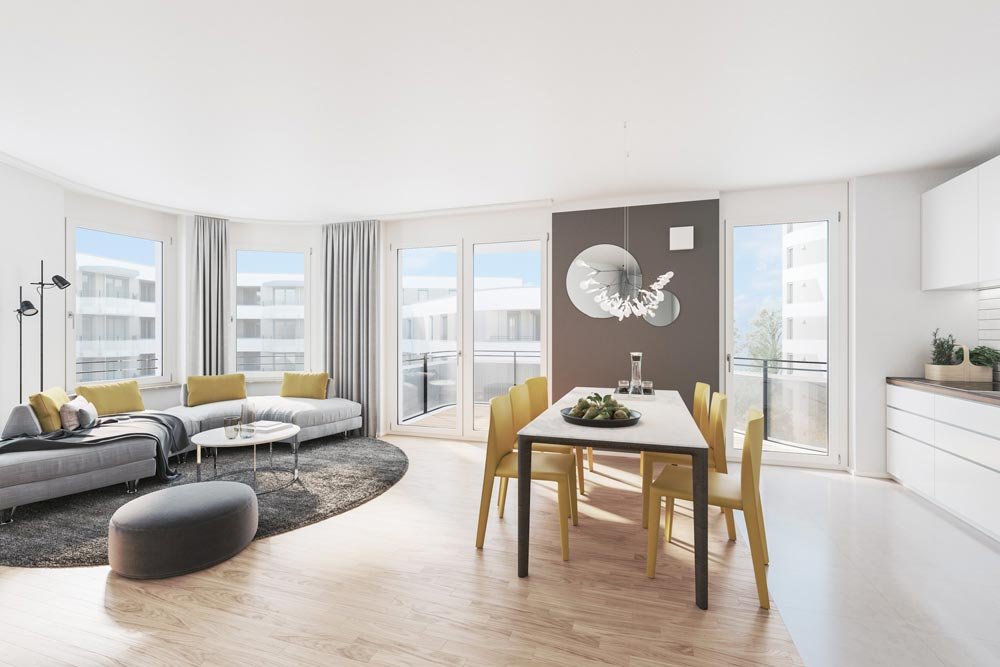 Homes
Urban homes. Living free.
These two- to four-room apartments have a private outdoor area in the form of a sun-protected loggia, a balcony or terrace with an adjoining garden. Also within the approx. 43 m² to approx. 152 m² apartments, ANTON shows how free life in the city is: open floor plans, generous room layouts and an optimally thought-out lighting concepts create a bright and flowing residential atmosphere that showcases every square meter in the best possible light.
Outfitted with attention to detail.
Features and highlights:
Clear room heights of 2.60 m
Select parquet floors and large-format floor tiles
Individually adjustable underfloor heating
Decentralized domestic ventilation with heat recovery
Bathrooms with sanitary amenities from well-known brand manufacturers
Virtually floor-level showers with a rain jet function
Towel radiators in the bathrooms
Windows and French doors in plastic with triple thermal insulation glazing and stainless steel handles
Integrated media distribution
Apartment entrance doors with 3-point locking
Video intercom to the front door
Underground car park with individual parking spaces, some including a power connection with a charging station for electric vehicles
Full-length electric shutters on all windows (except for the escape route)
Automatic taps for optimal drinking water hygiene
Barrier-free access via elevator from the underground car park to each floor
Energy source: district heating from Stadtwerke Augsburg
Independent apartment utilities including integrated fresh water system for heating and hot water in every home
Construction according to Efficiency House 55 standards (according to EnEV 2016 / as of July 2018)
Each apartment with terrace and garden or loggia or balcony
Further outfitting features can be found in our building description.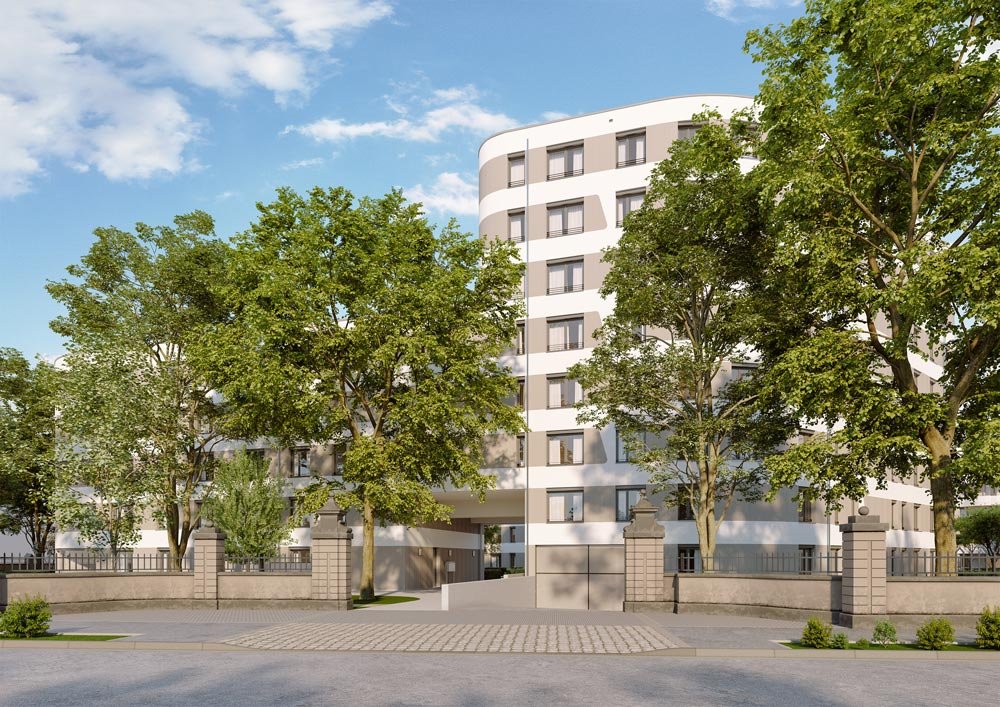 The Location
Better life in Augsburg.
Anyone who is already at home in Augsburg has known it for a long time: this small city in southwest Bavaria enchants - with a mixture of modern urbanity and historical dreaminess, a successful future course and warm Swabian originality - and with its openness to change under the preservation of centuries Values ​​and traditions. Life in the former Fuggerstadt is therefore diverse and rich in contrasts: historic alleys with imposing house facades are just as much a part of everyday city life as the modern university campus or the futuristic congress hall. Enchanting corners with small street cafes and individual boutiques are complemented by international restaurants and a diverse range of shops in the pedestrian zone.