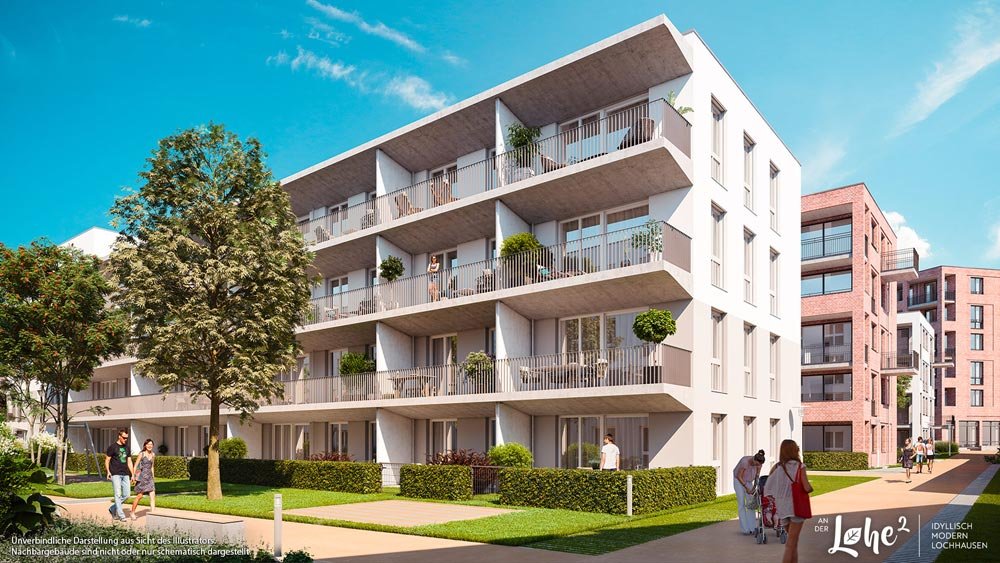 COULD IT BE A BIT MORE ...
GREEN?
Who doesn't wish for a modern condominium? But, please, it has to be high-quality, quiet, situated among greenery yet close to the city. Better yet would be numerous recreational opportunities and swimming lakes nearby plus excellent local infrastructure.
DEMOS realises for you what sounds like an impossible dream. Without compromise. Look forward to new build construction project AN DER LOHE 2 from DEMOS.
The project is wonderfully situated to the west of Munich, in the immediate vicinity of the Aubinger Lohe Bavarian landscape conservation area.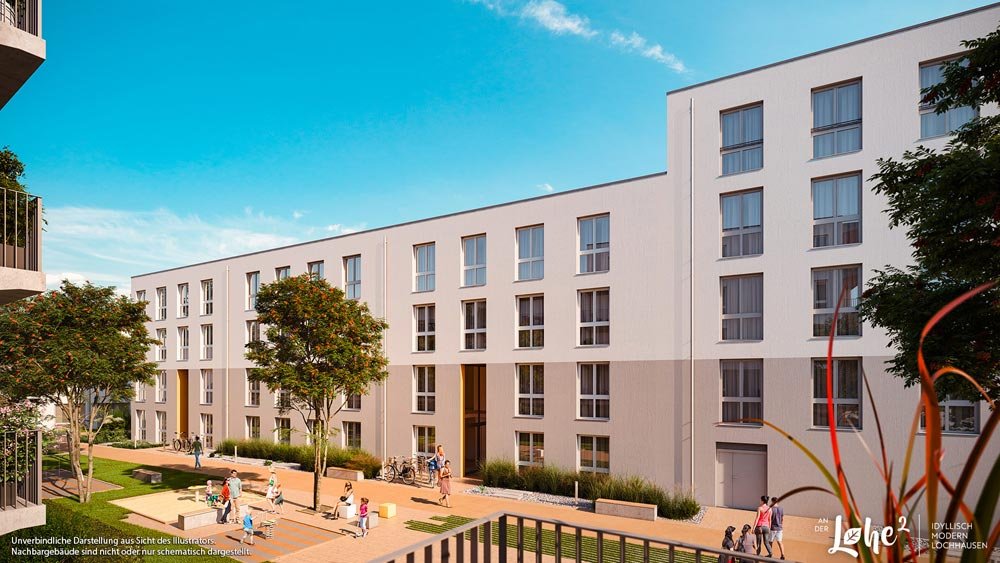 Something is blooming here: nature!
Aubing-Lochhausen-Langwied. Three names – one municipality.
And one that surprises: although it's the largest district in Munich city, it is the least populated. This means more space, more nature and more leisure time for every resident.
AN DER LOHE 2 stands right here. Nestled between lakes, fields and forests. But with huge added advantage: excellent connections to the city by public transport and a well-developed road network.
Location: optimal
Making compromises means giving up. AN DER LOHE 2 doesn't associate itself with this phrase.
Whether you want leisure and recreation, proximity to educational institutions and shopping or perfect transport connections – in Lochhausen you are at the centre of everything.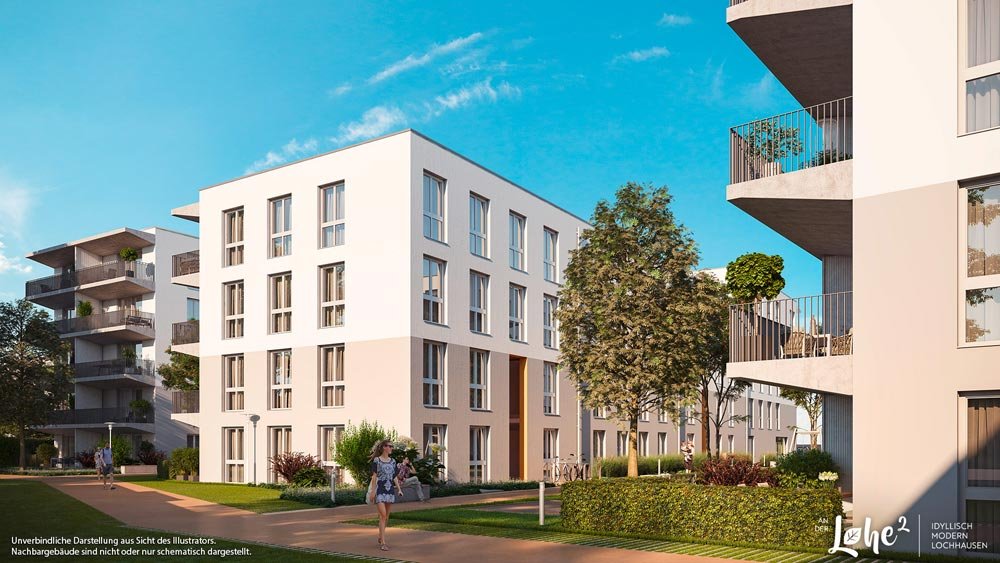 Modern & homely
With new build development project AN DER LOHE 2, DEMOS is creating an atmospheric living and residential environment that harmonises with its natural environment - packaged in modern architecture.
For families, singles and couples looking for more than just real estate.
Being totally, comfortably at home: this desire is what's motivated DEMOS to place great emphasis on both this project's exterior and interior design. AN DER LOHE 2 represents an interplay of clear-lined architecture, lush, green, landscape-designed spaces and inviting, light-filled living spaces characterised by exciting floor plans and select, high-quality features.
AN DER LOHE | Outfitting details
Underfloor heating
Real wood parquet
Video intercom
Heated towel rails in bathrooms and shower rooms
Electric external blinds
Elevator from basement to loft level
Mostly floor-to-ceiling windows, very good light exposure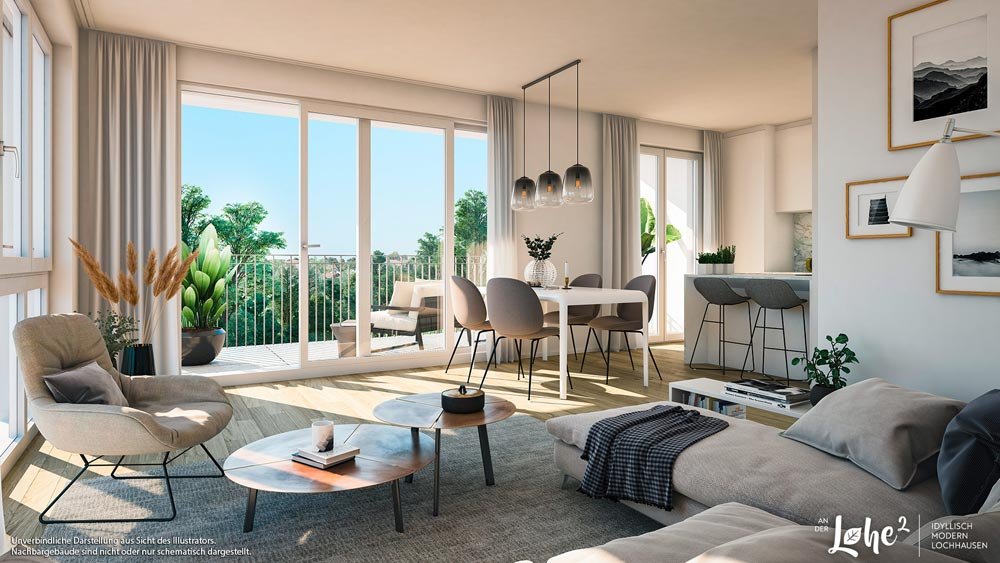 Added value!
AN DER LOHE 2 | Highlights
1- to 4-room condominiums (only 1- to 3-room apartments remain available)
Approx. 29 m² to approx. 100 m² living space
Ground-floor apartments with gardens and terraces, upper floor apartments with balconies or loggias
Loft-level apartments, some with rooftop terraces
Modern architecture / well-planned layouts
Property-exclusive underground garage with single parking spaces
Access from the underground garage to every building
Spacious communal areas
Light-filled room heights from approx. 2.60 m
(excl. areas with suspended ceilings)
KfW 55-standard energy efficient construction
Energy efficiency class A
Preliminary information according to Energieeinsparverordnung (Energy Saving Ordinance) §16a:
Energy certificate type: energy requirement certificate – draft
(note: all of the following information accords with the specified draft energy requirement certificate)
Final energy requirement: 45.8 kWh/(m².a), (in the case of several buildings, the highest overall value is given)
Primary energy source for heating and warm water: solid biomass (wood pellets)
Year of construction: 2020 (new build, first occupancy)
Energy efficiency class: A