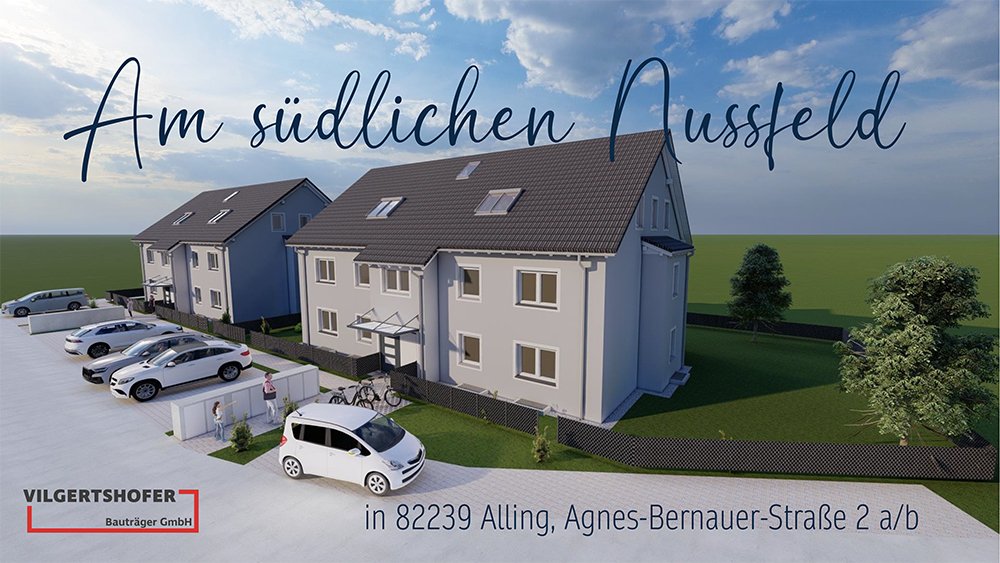 Grow. Reside. Live beautifully.
We build the future.
The name has been known in the western Munich region for high-quality solid construction for over 60 years. Our owner-managed, medium-sized family business works hand in hand with specialized, regionally based craft companies so that you can look forward to your new "four walls" in a relaxed manner. Instead of just "satisfied buyers," we want "happy customers."
We present our new construction project "AM SÜDLICHN NUSSFELD" in Alling. We are at your disposal for a consultation appointment and look forward to hearing from you at (08141) 827 92 -10 or by email to [email protected]
Location overview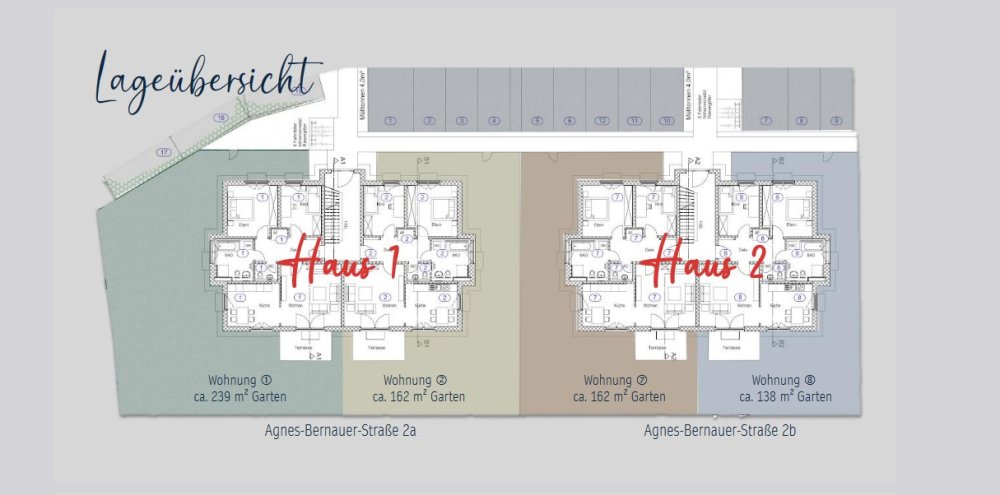 Livable Alling.
Community with a heart.
In a quiet, beautiful location in Alling, on Agnes-Bernauer-Straße, our new construction project is being built with twelve high-quality condominiums, spread over two buildings, each with three floors plus a basement.
The beautifully designed 2 and 3-room apartments impress with their spacious living areas between approx. 63 and 86 m² and many well thought-out details.
Construction will start in early 2023, ready for occupancy is expected in December 2023.
The situation in detail.
Ideal transport connections.
The municipality of Alling in the district of Fürstenfeldbruck is in the immediate vicinity of the cities of Germering and Gilching, and of course Fürstenfeldbruck. Munich city center can be reached by car in around 35 minutes, and Pasing in around 20 minutes. The traffic connections via the B2 and the A99 and A96 motorways are ideal.
Regenerative heating technology and solid construction.
The best united under one roof.
More important today than ever before - an alternative heating system that saves resources and works independently of gas/oil. For this reason, the decision was made to connect the building to the district heating network operated with renewable raw materials. A sophisticated technology that - in combination with the underfloor heating - represents an efficient, sustainable heating system. Together with the high-quality, solid brick construction and the triple-glazed windows, we ensure that your energy costs are kept as low as possible.
Comfort and coziness.
Clear lines and beautiful floor plans.
The interior design also leaves nothing to be desired - electrically driven roller shutters, underfloor heating, spacious daylight bathrooms with floor-level shower and bathtub and an additional guest toilet are just a few details from the extensive building description. In our own showrooms you will also find a beautiful portfolio of high-quality floor and wall coverings from which you can choose the right design for yourself.
The open living, dining and cooking area is characterized by optimal outfitting features options combined with functionality, so that cosiness and comfort are guaranteed. People with restricted mobility have sufficient space to move around in the ground floor apartments, as the floor plans were planned according to the requirements of accessibility. Two of the 15 parking spaces will also be extra large.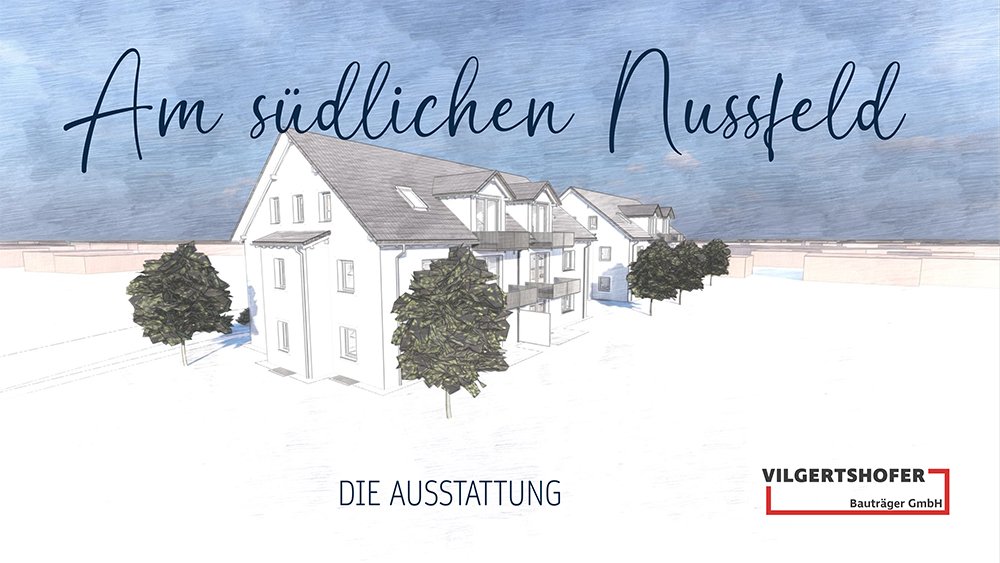 Vilgertshofer.
More than the usual standard.
We have been relying on proven quality for years so that you are satisfied in the long term. For this reason, for us, a well-known, high-quality manufacturer's program is part of the outfitting standard. "AM SÜDLICHN NUSSFELD" we therefore rely on well-known brands from proven manufacturers such as Busch-Jaeger, a guarantee for top quality in the electrical sector.
By the way, our interior doors are also larger than usual at a comfortable 2.10 m. The basic outfitting package also includes data cabling in all living rooms and bedrooms, as well as visually very attractive branded sanitary amenities with a floor-level shower and glass shower cubicle*. Even a video intercom is included.
* except for apartments that are designed to be barrier-free.
Lots of space and a place to
feel good and relax.
The barrier-free apartments on the ground floor have approx. 9 m² west-facing terraces with private gardens in a comfortable size of approx. 138 m² to approx. 239 m². On the upper floors, sunny west-facing balconies with a total area of ​​almost 6 m² are available to residents.
Each apartment has a spacious basement compartment with up to 18 m².
Need more space?
Four additional storage rooms of approx. 20 m² in the basement can be purchased separately on request.
Insight into the building description.

The interiors.
Selection of wall and floor coverings in our showroom in Alling
(tiles and floor coverings up to €35/m² gross list price)
Interior window sills made of natural stone (except in the tiled area)
Apartment entrance and interior doors with element height of 2.10 m, colour: white
Stainless steel handle fittings
Switch range from Busch-Jaeger (series: "Balance", pure white glossy or equivalent)
Data cabling and satellite TV connections in all living rooms and bedrooms
(receivers are not included in the purchase price)
Video intercom with door opener. In the apartments: intercom with monitor
Insight into the building description.
The sanitary facilities.
Branded products from Richter+Frenzel series "MyStyle 2.0", Geberit, TECE or equivalent
Chrome-plated flush-mounted fittings
Daylight bathroom with washing machine and dryer connection
Flush-to-floor, tiled shower with stainless steel drainage channel (or equivalent)
Durable steel bathtub approx. 170 x 75 cm (Kaldewei or equivalent)
Shower partition made of real glass (except for the apartments designed to be barrier-free)
Sink and washdown toilet from Richter+Frenzel "MyStyle 2.0" (or equivalent)
Washing machine connection in the bathroom
In addition to underfloor heating: towel warmer in the bathroom
Insight into the building description.
Outside facilities / basements.
Execution and design of the outdoor facilities and the car spaces according to official requirements
Terraces on the ground floor as slabs, paving or porcelain stoneware covering
Partitions between the terraces in steel construction (or equivalent)
Fence systems as a boundary between the special use and common areas (approx. 80 cm)
Garden doors (if necessary), analogous to the fence
All basement rooms with windows, lighting and socket
Separation of the individual basement rooms with a metal profile system
Letterbox system with newspaper flap and weather-protected slot
Bike parking spaces and rubbish bin box outside
On the road without a car?

No problem!

The two express bus lines X900 and X920 take you comfortably and quickly from Alling to various S-Bahn stations in the area (Fürstenfeldbruck, Buchenau, Gilching Argelsried and/or Starnberg) and even to the U6 stop in the Munich Klinikum Großhadern. The city of Germering and the S-Bahn "Germering-Unterpfaffenhofen" can also be easily reached with bus line 852. Depending on the connection selected, Alling is in tariff zone M-1 or M-2.
The infrastructure.
Everything you need is there!
On site there is a shopping center with a REWE supermarket, IHLE bakery and butcher, as well as a discounter (Aldi). Several banks and a drinks market, as well as various farm shops/organic farms and butchers ideally round off the supply offer on site. There are countless other shops in the surrounding towns of Germering, Gilching and Fürsrstenfeldbruck. The Ikarus Center in Puchheim is also just a few minutes' drive away. The evenings can be spent in the friendly restaurants "La Luce", "Starzel-Stuben" and in the "Rusticone". The event location "Alpaca Beach" also provides entertainment. In the confectionery & coffee roastery, or rather at the "Tortenfee" there are also freshly baked delicacies on Sundays.
So that the little ones also feel good.
A day-care center with 6 groups is currently being built in Alling. In the future, this will be located directly next to the primary school, which will also offer the possibility of an open all-day school from 2025. There is currently a BRK crèche, a Catholic after-school care center and kindergarten, as well as a non-profit midday care association that takes care of the professional care of the small and smallest "Allinger". So that the little ones also feel comfortable.
Leisure, clubs and sports program.
But the older kids and adults will also get their money's worth with the sports, leisure and club programs offered on site. Youth club, rural youth, football pitches, riding stables, various clubs and the TSV are just a few examples.
Everyone is familiar with the "big" lakes in the region: Weßlingersee and Wörthsee, Pilsensee, Ammersee and Starnberger See. But also many smaller bathing lakes are ideal oases of tranquility that invite you to linger and enjoy - and perhaps to a bike ride there. The Eichenauer See, the Germeringer See, the Pucher Meer and the Olchinger See are especially recommended. Along the Amper there are also pretty places to read a nice book away from the hustle and bustle, to use the SUP and to unwind. But there are also various indoor and outdoor pools.