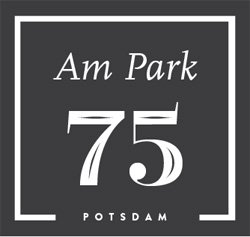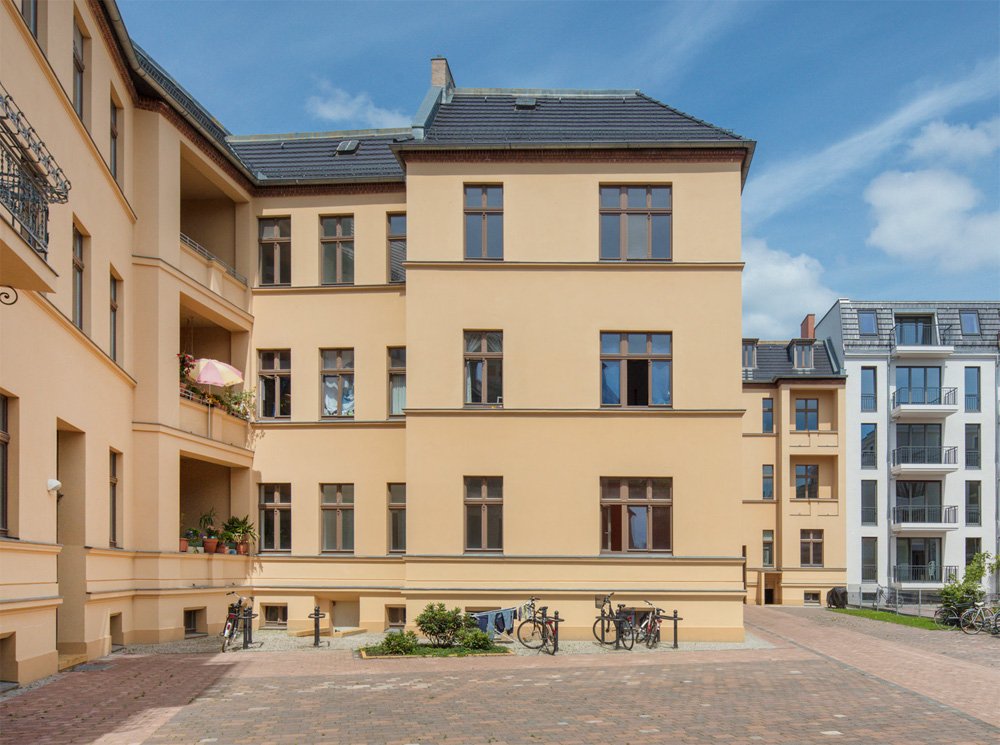 Classic, heritage-listed 'Altbau' in the countryside
25 family-friendly apartments between Sanssouci and the Havel
Classic 'Altbau' dream homes
Geschwister-Scholl-Straße 75 is one of the most beautiful apartment houses along the entire street. This heritage-listed building is in excellent overall condition and consists of a front building, a side wing and an adjoining coach house. The spacious, paved courtyard is characteristic of the ensemble, complete with nostalgic bike stands and a large tree whose imposing crown grants the space a Mediterranean atmosphere. The entrance area of ​​the house has inlaid floor tiles, original pendant lights with golden frames and almost three-and-a-half-metre tall wooden doors with brass fittings. Each section of the house has its own entrance, internal letterboxes and staircases with elaborate ceiling and wall frescoes. These classic original-timbered staircases inspire with their largely unconcealed wooden structure. In 2004, the house was completely modernised by the previous owner and has since then been outfitted with, among other things, new electrical cabling, a central heating system and hot water supply, new windows with double glazing or reconditioned double box windows, a completely repaired façade, new thermal insulation on the gabled sides of the side wing, modern drainage and a renovated basement area.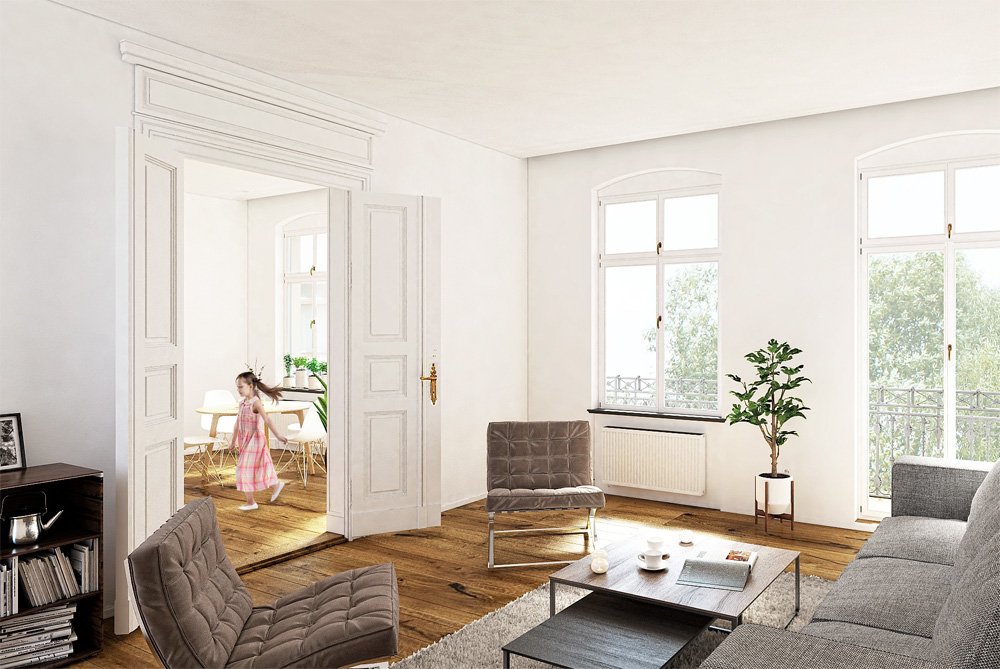 Highlights
25 charming 3- to 4-room apartments (total living spaces: 53 to 126 square metres)
Heritage-listed building
Standard outfitting
Predominantly original timbered floors
Over 3-metre-high ceilings, partially clad with plasterwork elements
Historic double-wing doors with original brass fittings
Balconies to the front, loggias & balconies with wrought-iron railings to the rear
Private terraces for the ground-floor units
Imposing, ornamental facade renovated according to historical conservation regulations
Modernised heating and warm water supply
Thermally insulated windows and balcony doors or reconditioned original box windows
Historic stairwells with painted ceiling and wall decoration
Coming soon: six modern, light-flooded penthouse apartments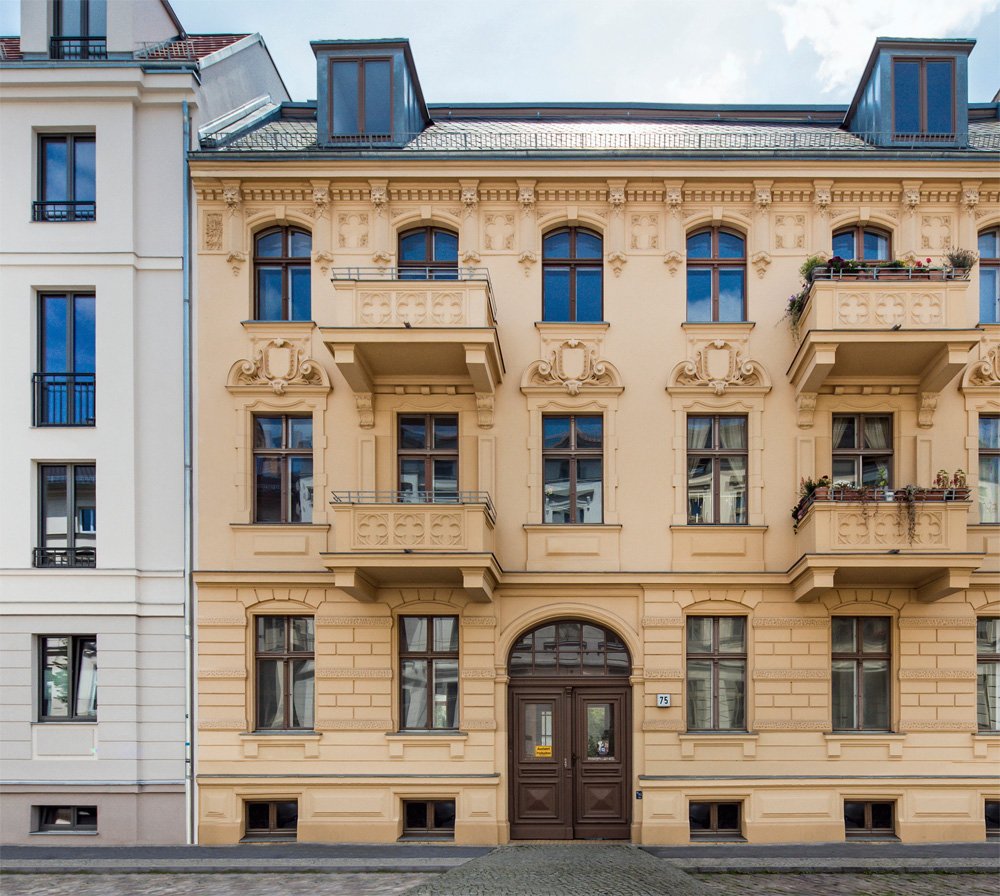 Location
The suburb of Brandenburger Vorstadt is located between the river Havel and the landmark park Sanssouci, a UNESCO World Heritage site strewn with imposing castles and monuments. In the quarter, which emerged in the second half of the 19th century, Geschwister-Scholl-Straße is a well-known street. The area around the residential property offers a handsome ensemble of classic buildings, enticing contemporary residents with a host of renovated and spacious apartments. Centrally located, the neighbourhood enjoys excellent links to urban, regional and long-distance transport. Thanks to mature, functional infrastructure you'll find everything you need to live here. A combination of relaxed atmosphere and original charm make Brandenburger Vorstadt the most desirable residential space in the whole of Potsdam – a picturesque neighbourhood with a family-oriented touch.

Geschwister-Scholl-Straße is located in the middle of this Brandenburg suburb, one of the most impressive residential districts of Potsdam. The parklands at Sanssouci are only five minutes walking distance from the residential property, while the river Havel can be reached on foot in ten minutes. The street offers a sizeable collection of heritage architecture of which the individual houses are just as characterful as the small shops also in residence. A health food store, supermarkets, a reading café with bookstore, late shopping, a colourful flower shop, ice cream vendor, various bakeries, restaurants, bars, a medical centre, day-care centres, playgrounds and senior care – you'll find everything you need to service your daily needs and secure a relaxed family life in the immediate vicinity. Bus and tram stop Schloss Charlottenhof and the regional and long-distance railway station Charlottenhof are both just four minutes away. A 30-minute drive takes you easily and quickly to the metropolis of Berlin. Berlin Tegel and Schönefeld airports are around 40 minutes away by car, while access to the B1 motorway is ten minutes distant.

Potsdam's location is a residential dream come true – an idyll in the midst of pure nature and at the same time close to the metropolis of Berlin. This city of 170,000 inhabitants is a true family oasis with its extensive parks, attractive residential areas and surrounding lakes. As Brandenburg's capital, Potsdam thrives with a rich cultural landscape of magnificent castles, gardens, churches in eclectic architectural styles, galleries, museums, theatres and, on the other hand, varied shopping, sports and leisure facilities. Potsdam is home to a nationally renowned university and world-famous film 'studio city' as well as a valued research hub with the highest density of scientists in Germany. Life in the state capital impresses with a metropolitan infrastructure combined with a tangible recreational factor – the perfect home for people with high standards.