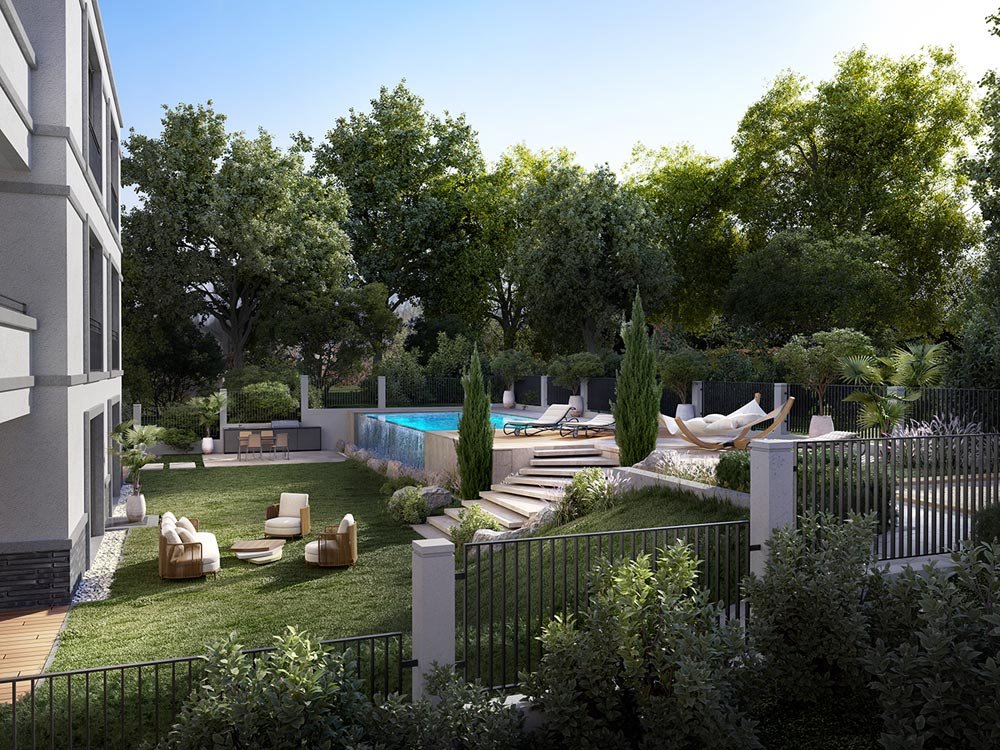 Homes at the highest level
Only 40 meters separates central Frankfurt from Lerchesberg, yet they are worlds apart. Nearby forests, the greenery between the spacious properties, the personable atmosphere in the quiet neighbourhoods make this idyllic hilltop spot a world of its own that seems to stand above everything else.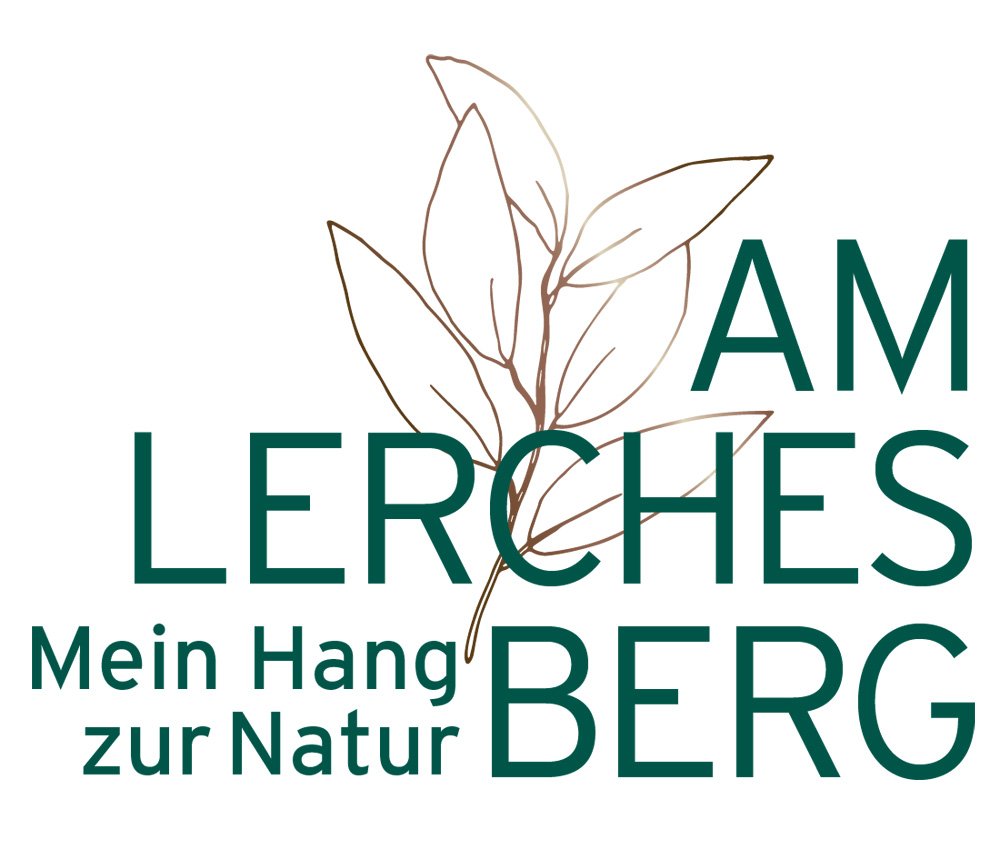 Multi-family villa housing 5 condominiums
The "Am Lerchesberg" new build project fits perfectly into this exclusive ambience, while at the same time setting new standards with a number of modern attributes. Elegant townhouse architecture gives the building a thoroughly distinguished appearance. Every single apartment embodies its own expression of life-quality and style. This is where demands and standards meet.
In a class of its own
The architecture employed at the "Am Lerchesberg" property manages to combine classic and modern elements in an impressive way. The elegance and values of a prestigious townhouse are combined with comfort and residential quality that corresponds to a contemporary lifestyle.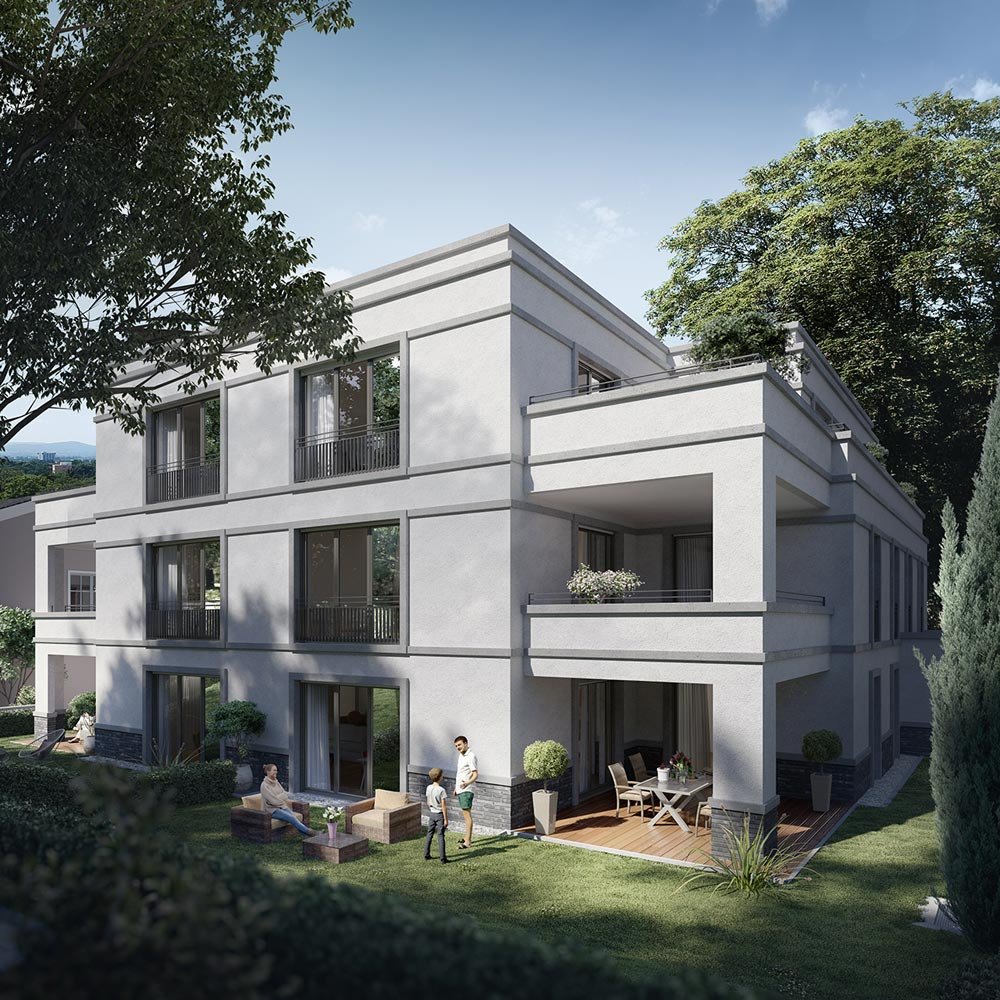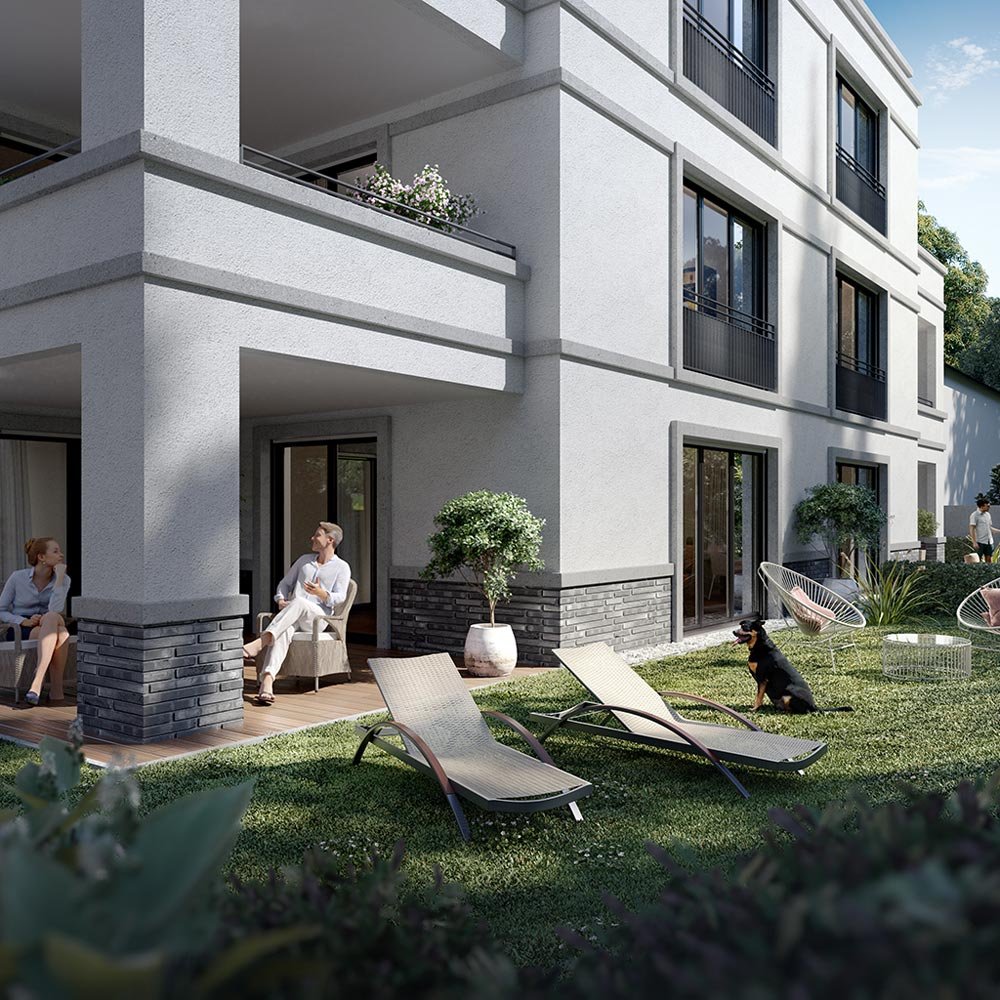 With just five residential units on the spacious property, the building promises every resident great space and plenty of privacy. With comfortable elements such as a dressing room and master bathroom but also practical details such as storage rooms and guest bathrooms, the floor plans offer versatile possibilities for living alone, as a couple or as a family.
Features
Highlights at a glance
Integrated sauna

Spacious storage room

Basement room

Underground car park with 2 parking spaces each

Outdoor pool possible

Generous garden

Terrace or loggia

Light-flooded rooms

Clear ceiling heights of up to 2.91 m

Sensational views of the countryside and the Taunus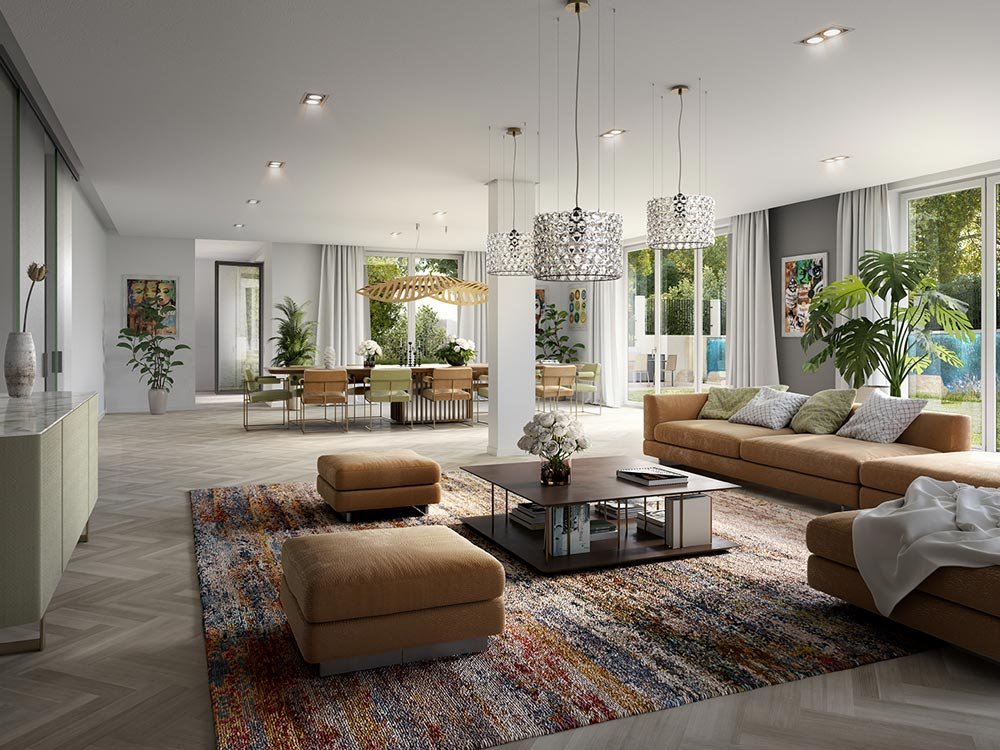 The apartments
Ground floor
Space for big dreams
The ground floor of the building can optionally be realized as a contiguous apartment: occupying an entire floor, such a residential unit would have an area of ​​350 m2, which corresponds to the size of a single-family detached house. Exclusive use of the garden also includes the option of an outdoor pool, which makes this option even more attractive.
Ground floor A & B
Townhouse feeling on the ground floor
The two ground floor apartments combine all the advantages of an apartment with those of a house: with three bedrooms and a spacious living and dining area, there is plenty of space for the whole family. The kitchen and living room lead directly out into your own garden, which offers an undisturbed outdoor area along the side of the property that faces away from the street.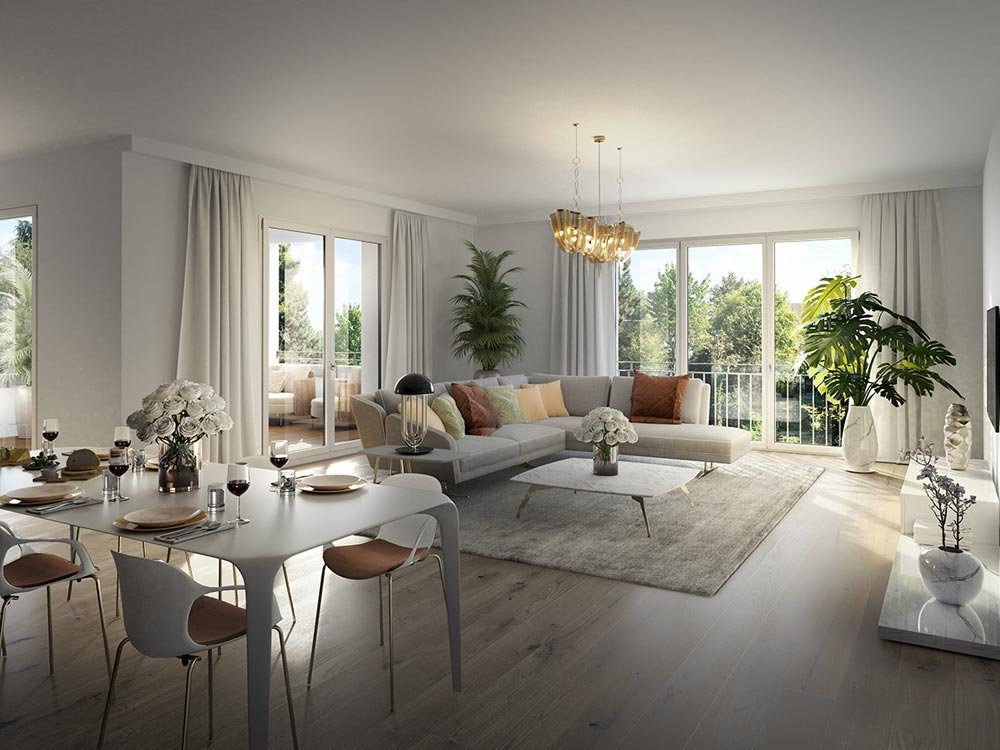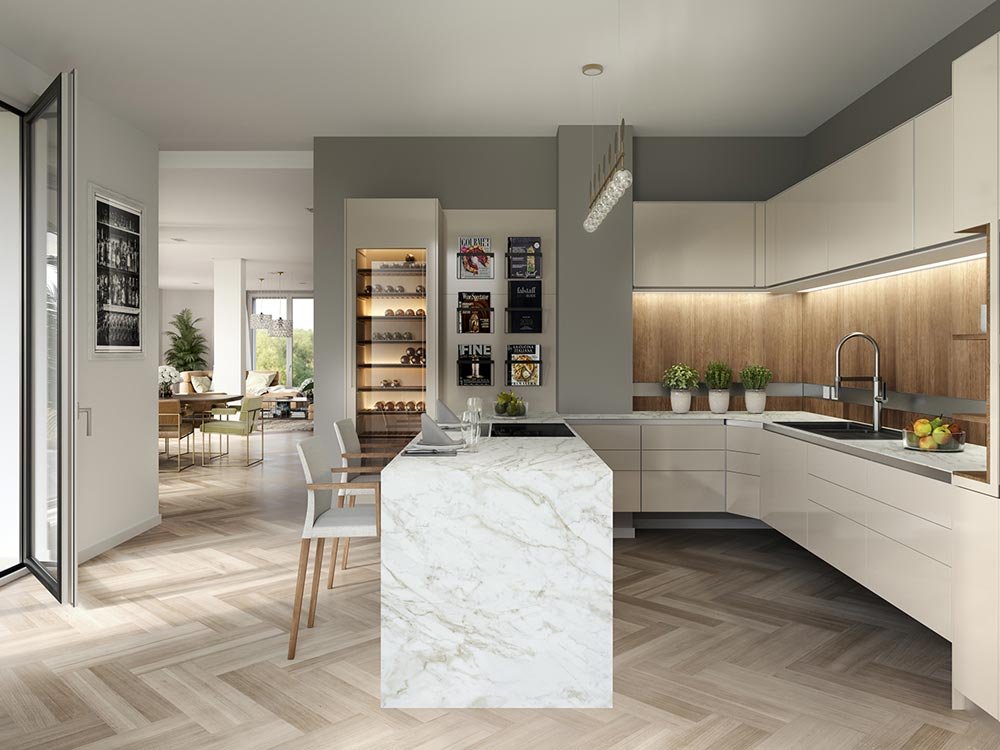 Belletage / First Floor
Modern comfort in the 'belletage'
The two apartments on the upper floor are characterized by intelligent layouts and exceptionally comfortable outfitting: with a spacious living and dining area and generous loggia, they have very prestigious rooms. At the same time they offer space for three bedrooms, two bathrooms, a dressing room and practical details such as a spacious storage room.
Penthouse
A fantastic penthouse with a view of the green
The top floor apartment with a spacious terrace not only offers a sensational view of the countryside and the Taunus, but also an extraordinary living experience thanks to its incredibly spacious, light-flooded rooms. High-quality features range from two dressing rooms and two bathrooms to an integrated sauna.
Basement level
Parking spaces and storage space
In the basement there is a separate cellar room for each residential unit, a shared bicycle room and an underground car park with twelve parking spaces. Access is via a vehicle lift, which enables easy entry and exit for cars of all sizes.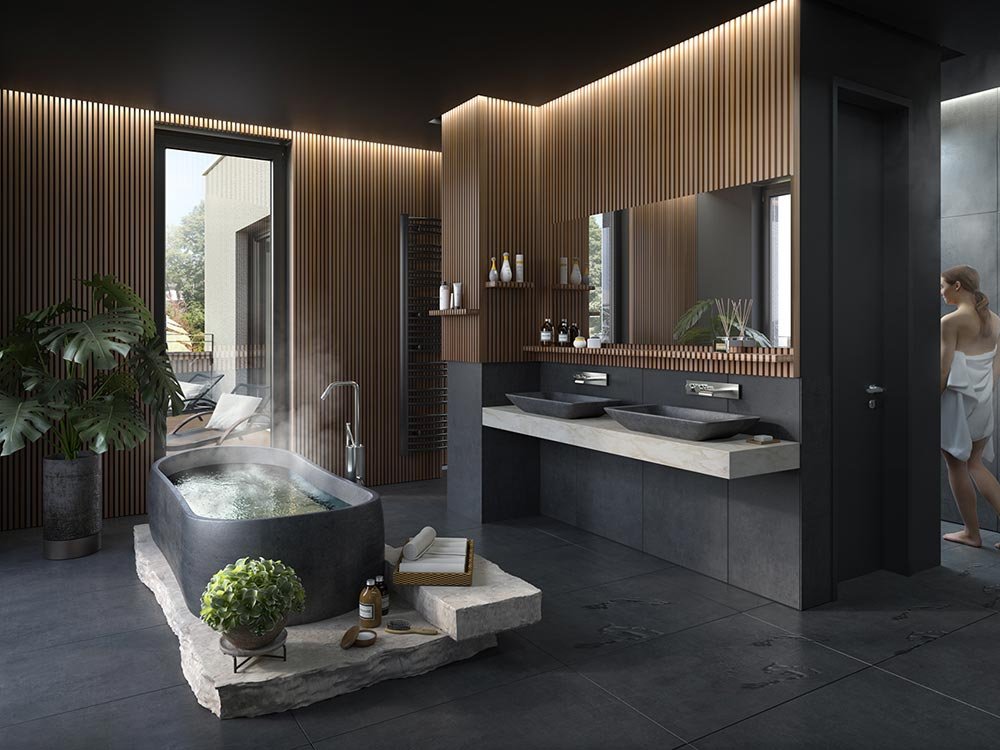 Frankfurt at its best
In the home of green
Frankfurt is the undisputed center of the Rhein-Main metropolitan region, the point at which many threads with their origins across Germany and Europe weave together. Despite its manageable size, the city, which has been booming for years, offers impressive variety. But it is also growing in height because land is a scarce commodity, especially in the more coveted locations where the best property lots are usually already spoken for.
Frankfurt's Lerchesberg is the epitome of exclusive residential zoning beyond the city limits. A building plot in this mature quarter can confidently be called a rarity.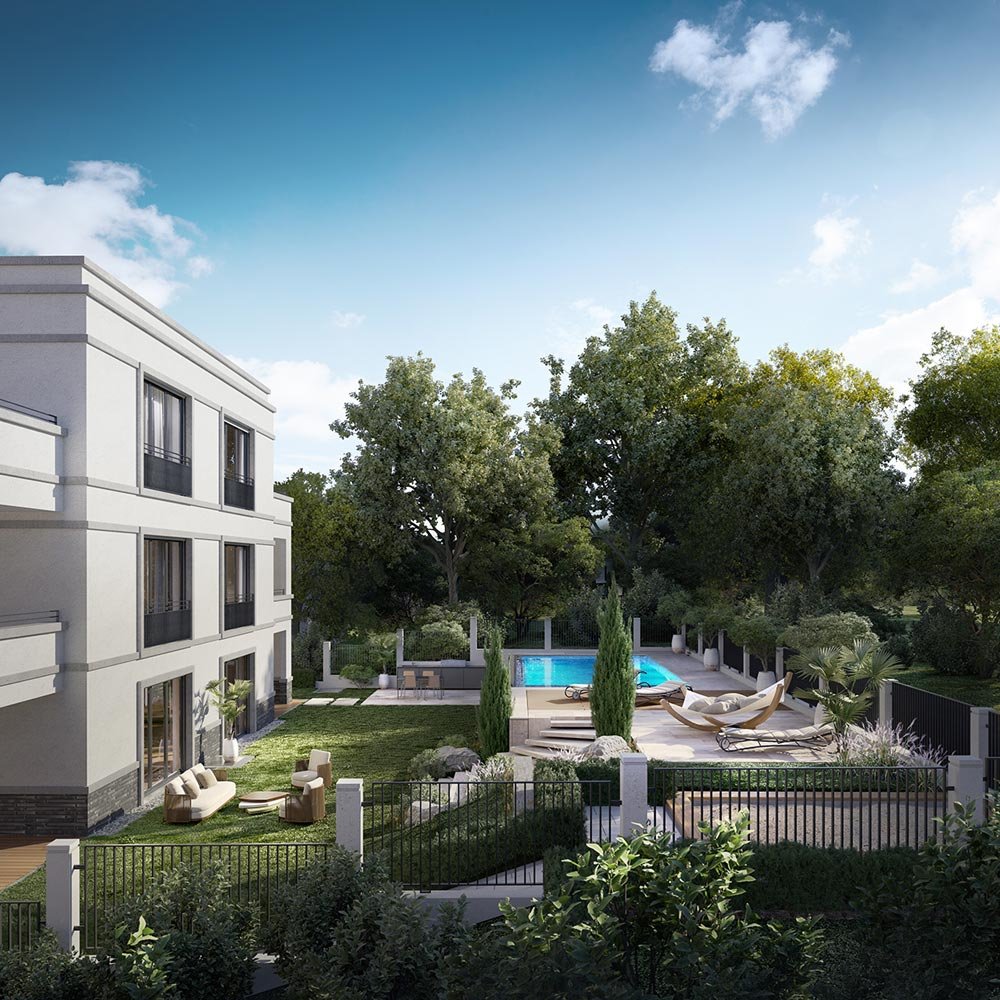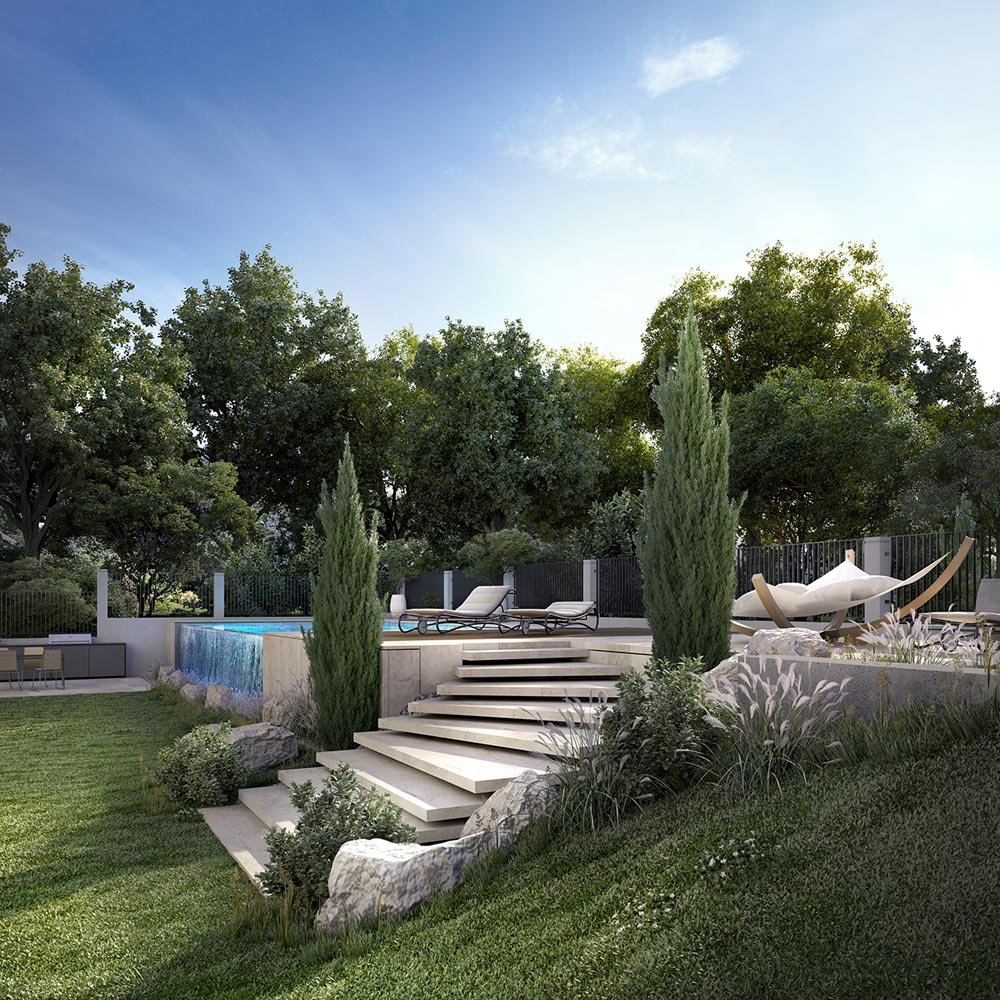 The extraordinary location, only a few minutes away from the diverse shopping and promenade streets in Sachsenhausen and at the same time embodying a countryside setting right next to an urban forest makes "Am Lerchesberg" something very special indeed.