Wave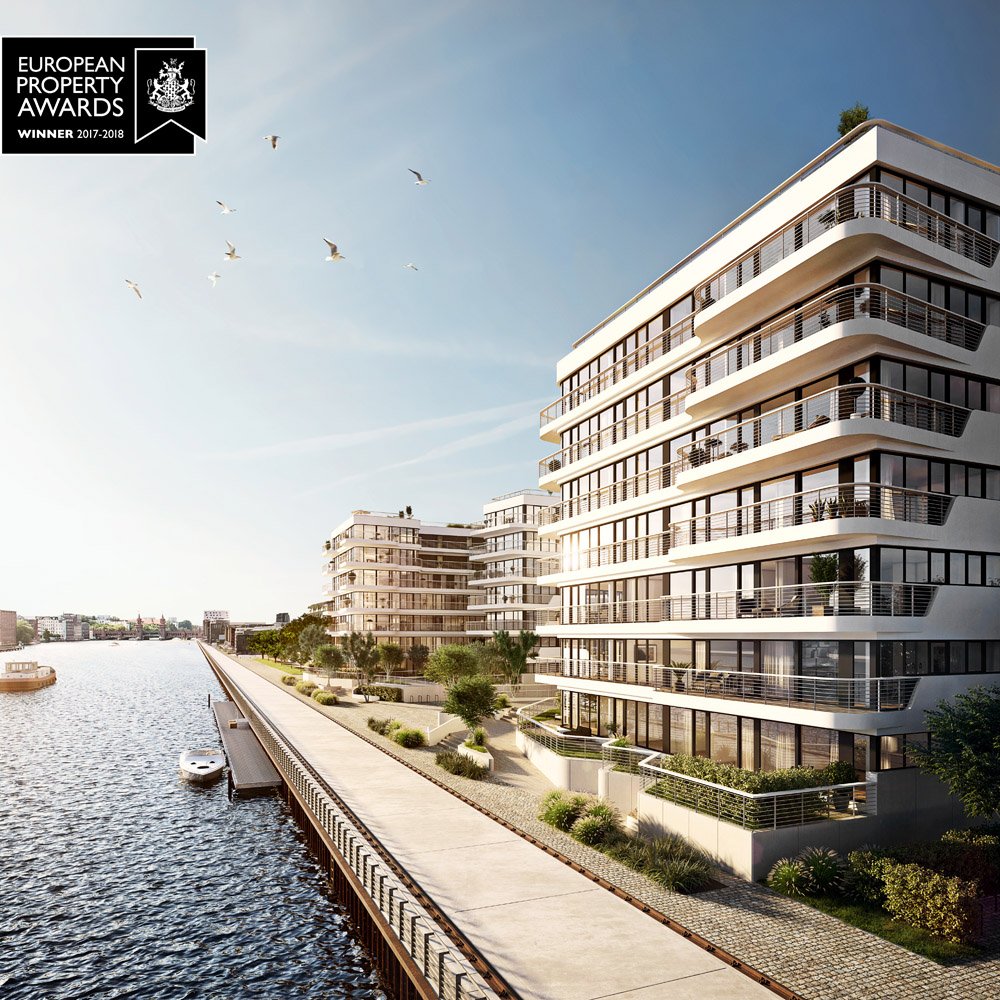 A Berlin statement. A Spree landmark. An icon from Graft.
Uncompromising in form and design, obsessive in aesthetics. WAVE rises above the Spree like a superyacht. The waterfront is breathtaking, the apartments are spectacular. And the whole bears the unmistakable, futuristic signature of the star architects at GRAFT. This is a statement on extraordinary lifestyles. A commitment to the extraordinary.
WAVE waterside living berlin.
OUTSTANDING. EUROPEAN PROPERTY AWARD WINNER.
This landmark project has won accolades at the European Property Awards, the internationally renowned real estate competition. A high-calibre jury has ranked WAVE among the best properties in Europe in terms of design, quality, service, innovation, originality and sustainability. WAVE. Out of the ordinary. Excellent.
Showsuite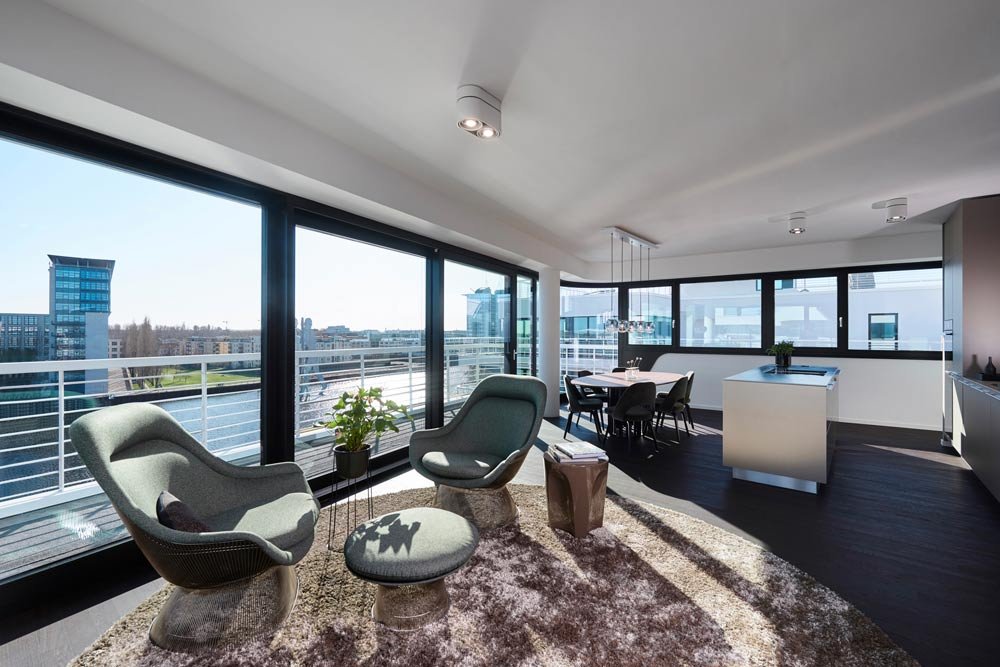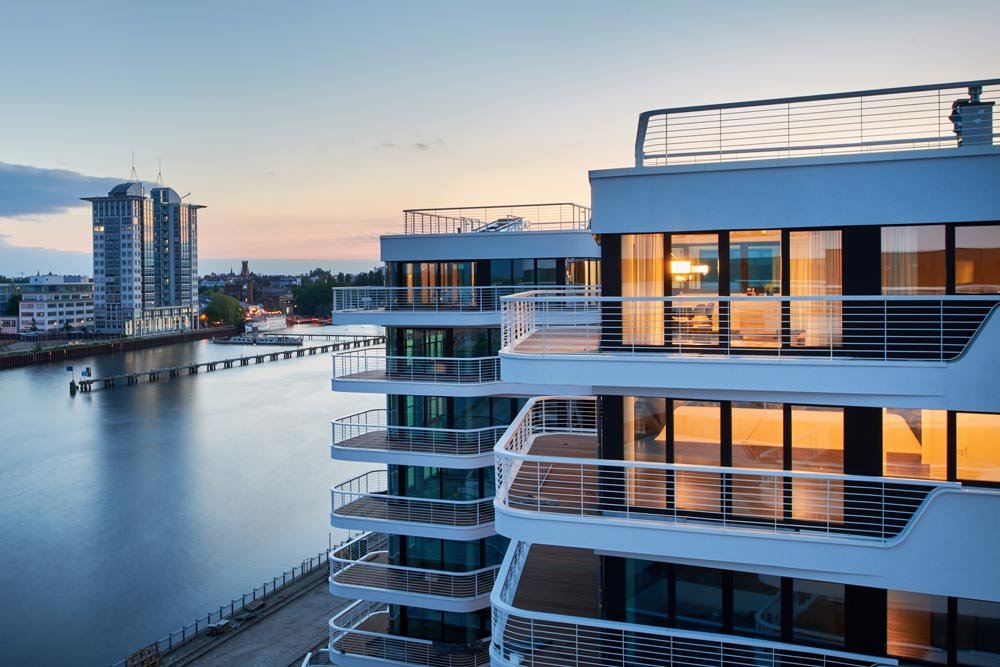 NEWLY OPENED. EXCLUSIVE FURNISHED SHOWSUITE.
You can now experience what it is to live at WAVE on site. We are happy to consult with you at our new, high-quality furnished show suite. Feel WAVE living first hand!
Consulting and Marketing
_Bauwerk Capital
_Address: Stralauer Allee 13, 10245 Berlin
_Personal appointments by arrangement: +49 (30) 22 37 68 81
_Homepage: www.wave-berlin.de
Access to the construction site is only permitted when accompanied by our customer consultants and requires a prior appointment.
Form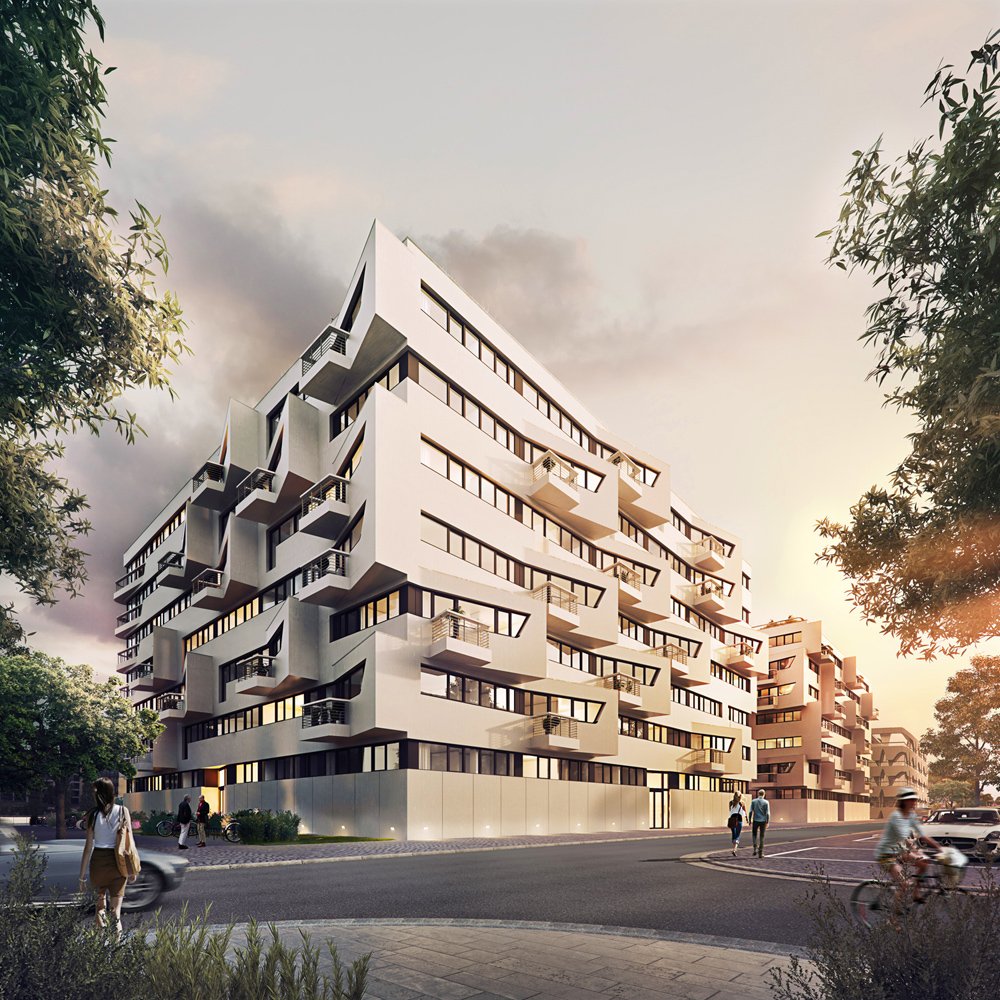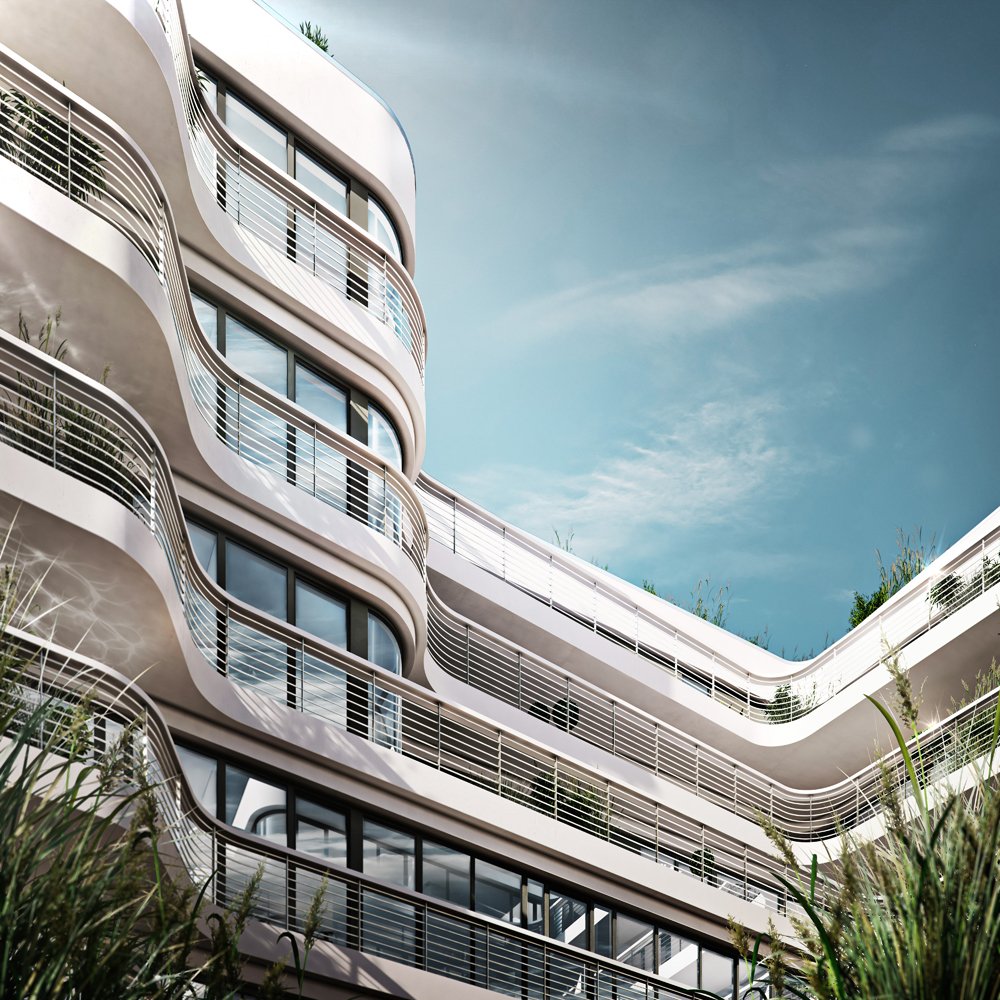 Architectural art from Graft.
WAVE – a masterwork from internationally acclaimed architects GRAFT. Two houses. Two waves. The association is neither random nor undesired. The outer form of the ensemble is articulated so that it allows for maximum exposure out towards the water. Undulating facades and curves characterize the Spree-side aspect of the construction. On the opposite side, a cubic formal concept characterised by sculptural protrusions and rectilinear balconies sets up a contrast, with the two aspects interlocked along the sides of the buildings.
A design icon. On the Spree. For Berlin.
Space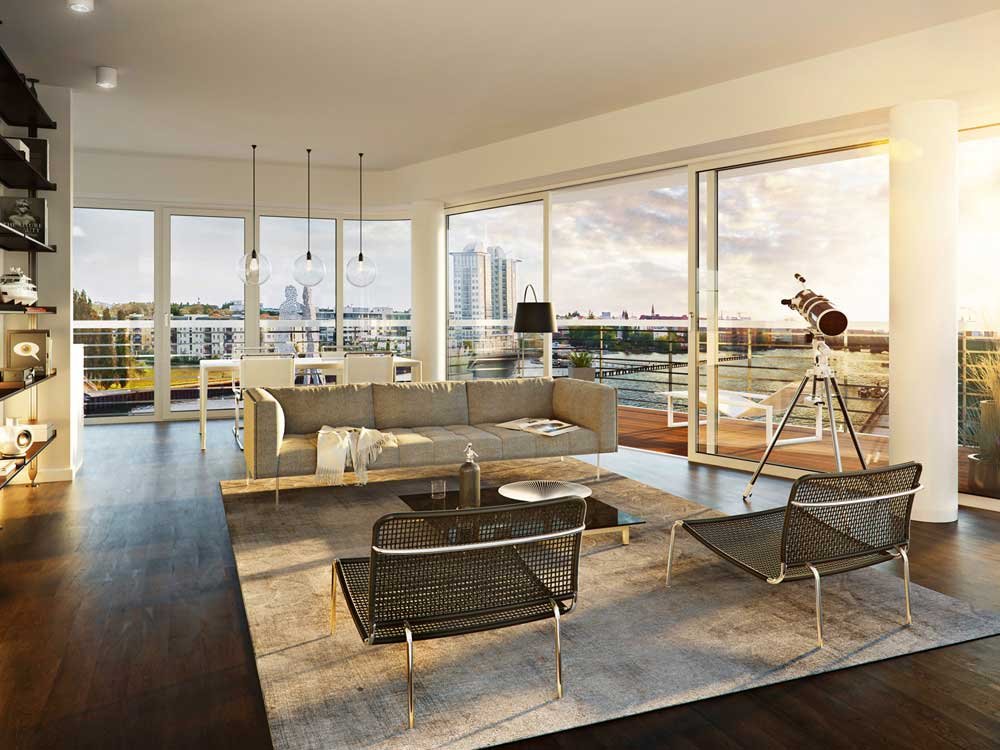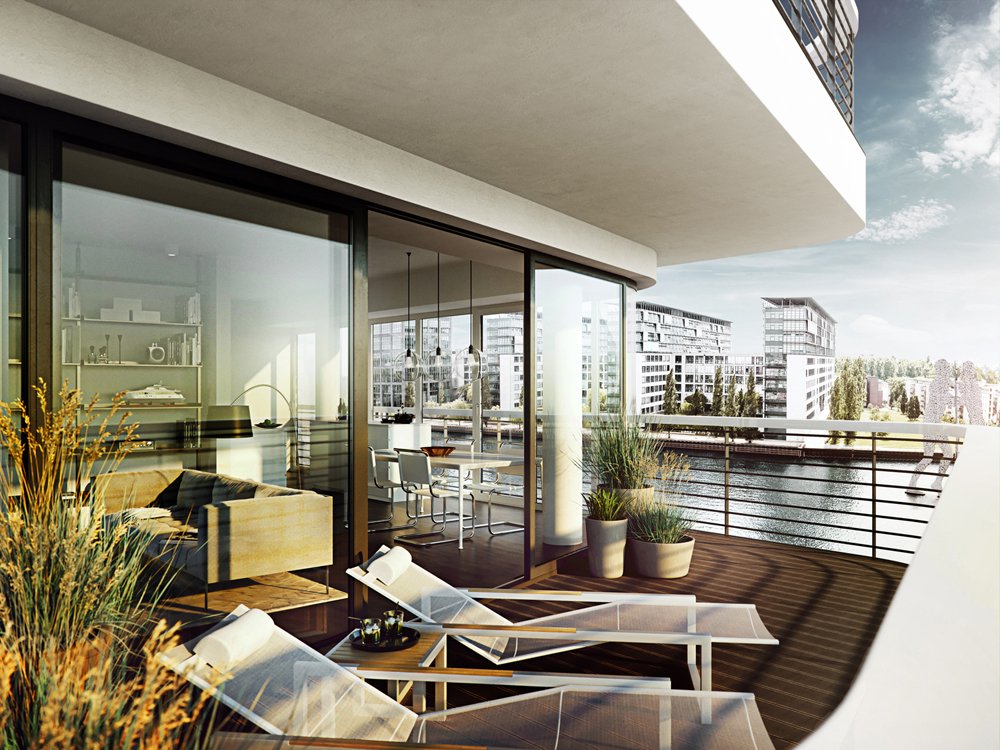 Living in the superlative.
161 apartments. Every detail has been thought of, whether larger apartment or compact flat. The apartments' forms mirror the fluid design of the exterior architecture. Accordingly, space is always treated as functional and intuitive. Communication zones and places for private retreat are equally manifest. The open spaces: balconies and terraces. And at the top: the Sundecks with breathtaking panoramas over Berlin.
Living and feeling life – outstanding.
Facts
_Floor plans: intelligently thought-out and functional
_Formal language: offset geometries and flowing curves
_Room heights: spacious, approx. 2.70 m
_Facades: panoramic windows and protrusions with exciting visual axes
_Open spaces: balconies, terraces, and rooftop terraces
Interior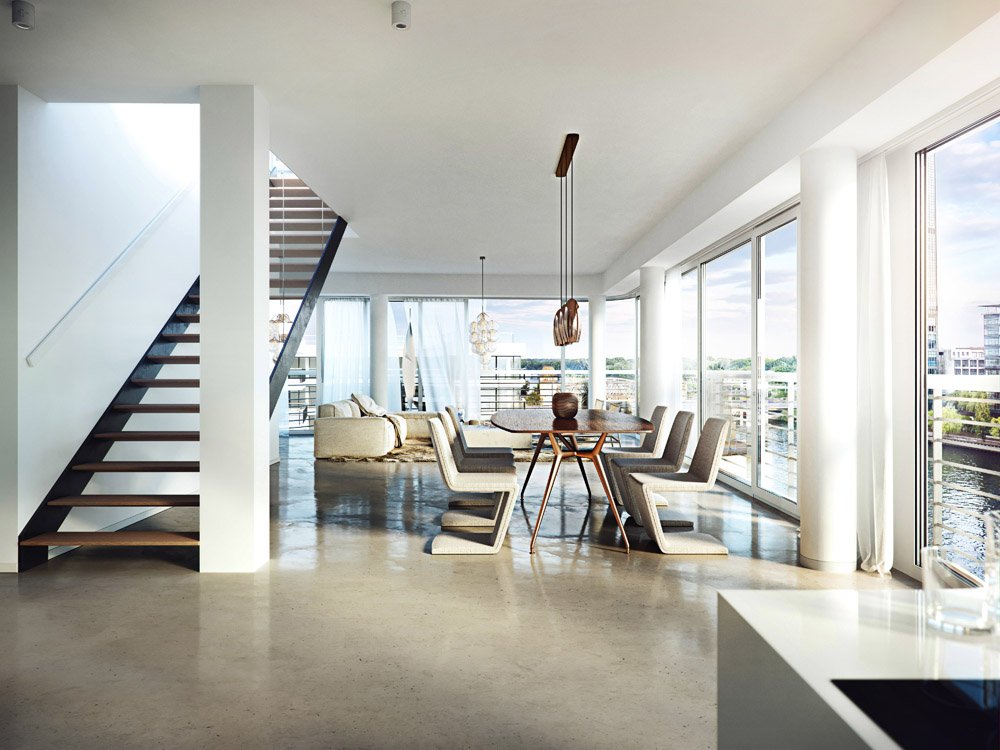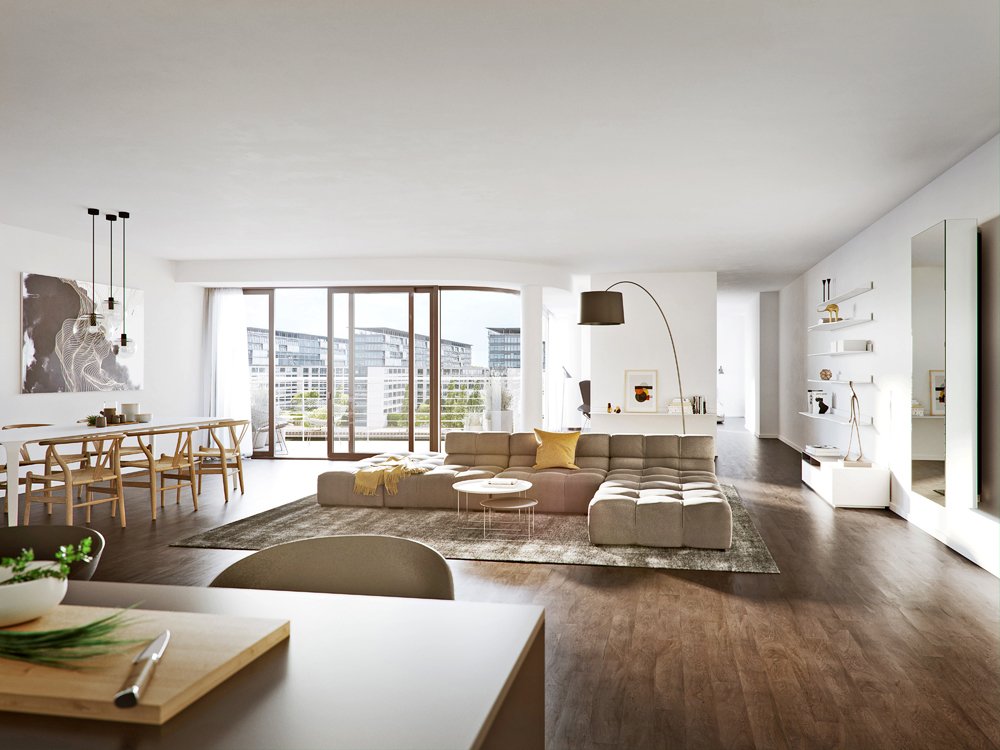 Design Upgrade by Minimum.
In order to make your own WAVE apartment unique, the interior design professionals at minimum are on hand. Individually customised concepts or curated design packages – minimum offers exclusive interiors for the highest living standards and facilities specially tailored to WAVE. For both owner-occupiers and investors, attractive options are on offer that increase the value of the property.
Lifestyle WAVE – Interiors from minimum.
Facts
_Custom concepts: according to your personal ideas.
_Design packages: for kitchens, furnishings, accessories
_Interiors: Design classics and furniture from brand-name manufacturers
_Kitchens: Custom-fitted bulthaup-branded kitchens
_Complete service: Consultation, planning, delivery, installation
Design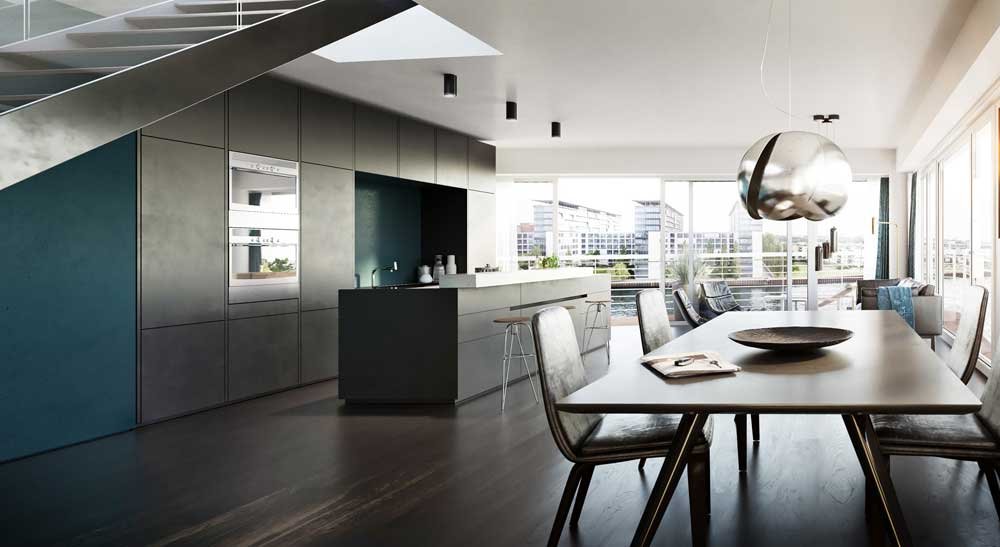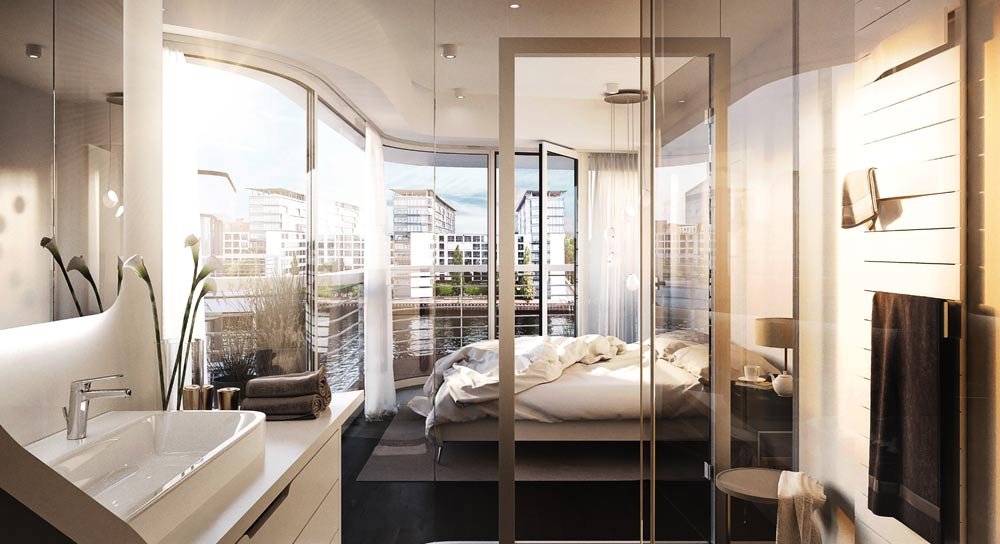 Natural-minded, high-end design.
WAVE interiors are impressive and meticulously designed: natural materials, minimalist design, fine finishes. Interior fittings from well-known manufacturers such as KEUCO or Duravit cater to the most stringent demands. Further detailing flows from the pen of GRAFT, large-scale and holistic design ideas are curated by the star architects. A highlight: the bathrooms. Organic shapes, glass, wood and white.
Perfection in interior design.
Facts
_Parquet: oak, heat-treated and oiled
_Windows: wood-framed and laquered, partly in floor-to-ceiling dimensions
_Sun protection: exterior installation and electrically controlled
_Bathrooms: bathtubs and/or tropical shower with glass partition, light porcelain stoneware
_Fittings: chrome, timeless design, perfect feel
Features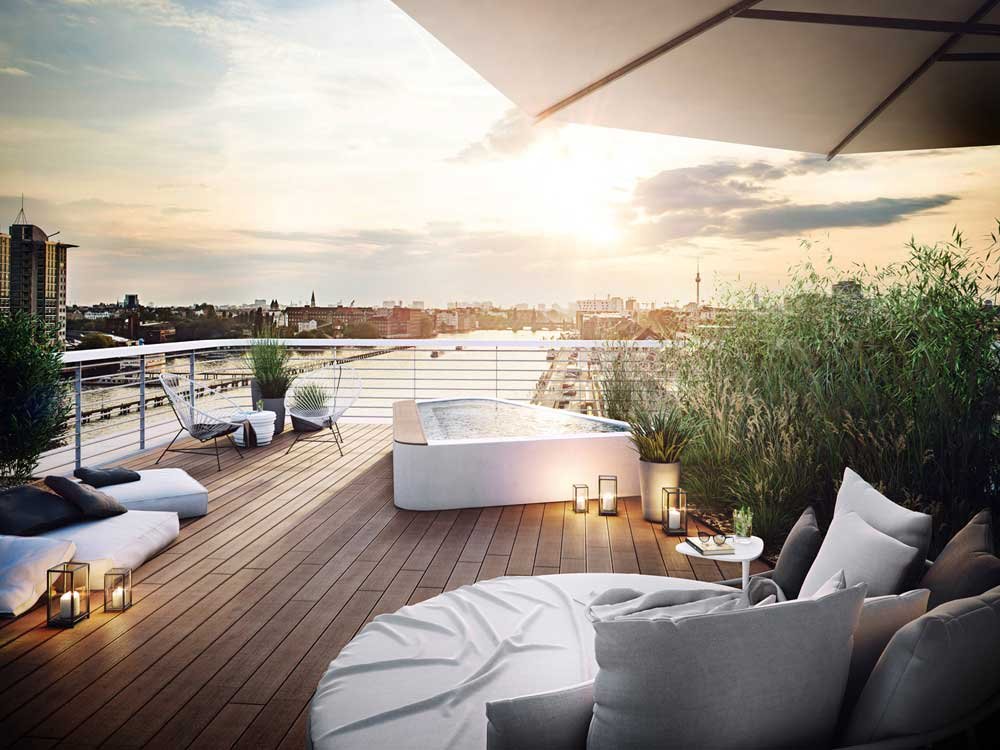 Intelligent. Intuitive. Smart.
WAVE offers added value – sustainable, persuasive. Above, the Sundecks are true developed rooftops with greenery, communal areas and private terraces. And panoramic views in all directions. The service concept leaves nothing to be desired: concierge, parcel box system and home automation, e-mobility and car sharing.
Excellence down to the smallest, smartest detail.
Facts
_Sundecks: combination of community areas and private terraces
_Boat jetty: for sport and leisure boats right on your doorstep
_Concierge service: available on site or at any time online
_Smart home system: adjustable at home and on the road
_Parcel system: intelligent and secure for e-commerce
_E-mobility charging: for sustainable and forward-looking mobility
_Car sharing: be flexible and independently mobile
Spot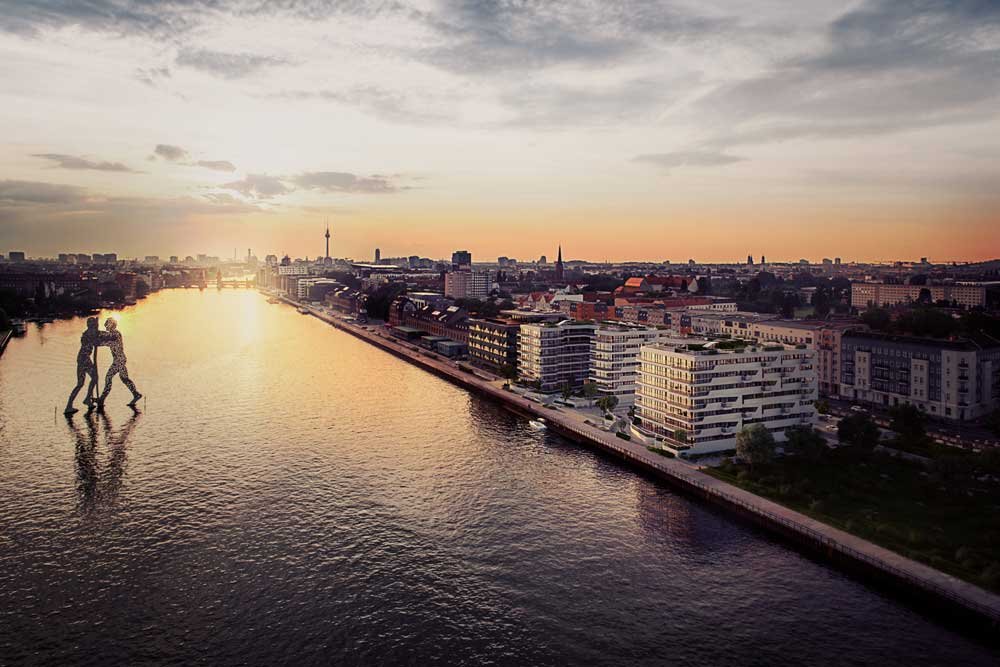 Unbeatable waterside location.
Located directly on the river Spree. Incomparable and unique in a metropolis such as Berlin. A coveted address for spectacular homes and international companies such as Coca Cola, Universal or Zalando. Right outside the door lies the widest part of the Spree and the landmark Molecule Men sculpture. At the interface of three very different parts of the city: Friedrichshain – authentic & attractive. Kreuzberg – powerful & creative. Treptow – natural & family friendly.
A symbiosis of contrasts.
Facts
_Gastronomy: restaurants and cafés on the banks of the Spree or in nearby Simon-Dach-Kiez.
_Shopping: banks, pharmacies, supermarkets and the EastSide Mall.
_Culture & nightlife: Mercedes Benz Arena and East Side Gallery or the bar and club scene.
_Sport & recreation: watersports on the Spree and Rummelsburger Bay, fitness in Treptower Park on in the gym around the corner.
_Connections: U-/S-Bahn, bus or Deutsche Bahn trains at Warschauer Straße, Treptower Park or Ostkreuz, or a short drive by car to Mitte
Energy Standard
EnEV Information
_Energy certificate: Energy demand certificate EA-C
_Energy source: district heating
_Year of construction: 2019
_Final energy characteristics: Stralauer Allee 13: 72 kWh(B), Stralauer Allee 14: 73 kWh(B)