Königsteiner Allee 31 - 35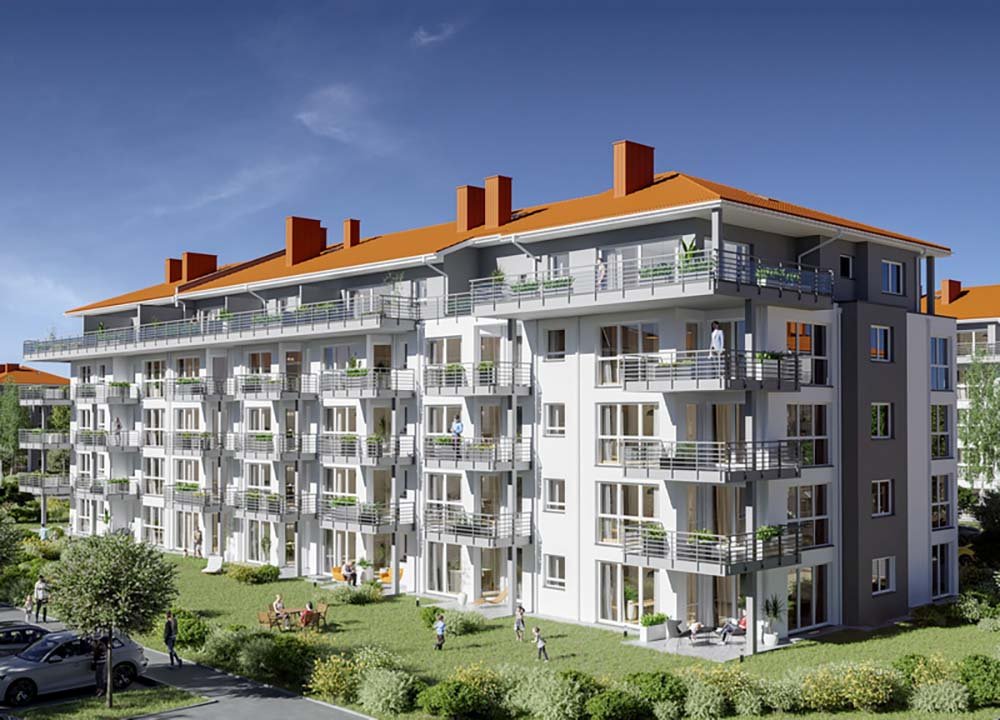 "Neue Stadtmitte" lies south of Vélizystrasse. Coming from Frankfurt or Offenbach, take the A661 motorway, exit Neu-Isenburg, Dietzenbach and turn from Vélizystraße into Idsteiner Straße in Dietzenbach. You can reach the construction site via Königsteiner Allee.
The Project
Architecture
This 4-storey apartment building scores points with its clearly structured facade. The apartments impress with their successful combination of light, exclusivity and optimisation. The effect of finely subdivided floor-to-ceiling windows is underlined by transparent balcony balustrades. Colours, shapes and materials are coordinated with one another. A special atmosphere is created in the loft apartments.
Construction
The building is being erected in solid masonry and meets all requirements under GEG 2020. The foundations and floor slab are made of concrete. The outer walls and the load-bearing inner walls are made of sand-lime brick or reinforced concrete. The floors and stairs are also made of reinforced concrete and are clad with polished granite. A thermal insulation composite system (ETICS) is applied to the exterior masonry.
The residential building entrance system consists of light metal profiles and an insulating safety glass door and has an electric door opener/closer/holder.
The driveways and sidewalks will be paved. The remaining plot of land will be sown with lawn. Single trees and shrubs are planted.
Outdoor areas
The driveways and sidewalks will be paved. The remaining plot of land will be sown with lawn. Single trees and shrubs are planted.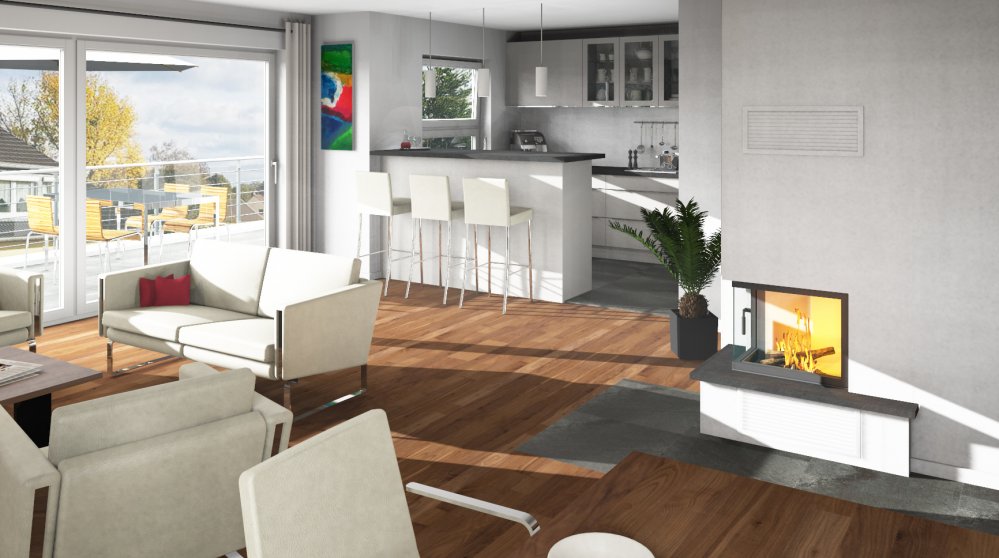 Outfitting
You can build on the following
Polymer-framed windows with thermal insulation glazing and an outer aluminium window sill are fitted.
Fittings are one-hand turn-tilt or one-hand turn type in a concealed design.
The windows in the ground floor apartments and balcony windows on the first floor are burglar-resistant. All windows, balcony and patio doors of the apartments in the vertical facade have electrically operated roller shutters with synthetic sliding profiles.
White, plastic-coated interior doors are installed.
The apartment entrance doors have a sound-insulating design with a wide-angle peephole and multiple locking system as well as an intercom with an integrated video surveillance.
The bathrooms, shower rooms and toilets are tiled door-height.
The floor-level shower area with drainage channel has a clear glass shower partition.
A large-format mirror surface is mounted in front of the vanity unit. The bathroom is illuminated by modern ceiling spotlights.
Bathrooms and kitchens have floors in tiles you can choose from our range. Living and sleeping areas as well as floorboards and corridors receive ready-made parquet with a matching skirting board.
The ceilings and walls of the apartments are papered with woodchip wallpaper and finished in white.
The apartment is equipped with a multimedia distribution box and a large number of electrical switches (large-format switches) and sockets. The apartments are equipped with data sockets for telephone and internet connection as well as TV cable connection.
The rooms are heated by underfloor comfort heating (district heating). Heat and water consumption is measured per apartment. The temperature is controlled individually in each room. The apartments will have a hot-air fireplace with natural stone ledges and fireproof glazing in the firebox.
Each apartment has a basement room. Two washrooms and a common room are available for residents.
The house will be equipped with three passenger elevators, each for up to 8 people, which connect all floors of the residential building. The elevators are step-free accessible from the basement, residential entrance and on the residential storeys.
To increase your security, access from the underground car park to the residential building is alarmed.
In order to make it easier for you to choose between patterns and colours, we have set up a sampling area on our premises. Here you can take your time and choose what is right for you with expert advice.
In order to make it easier for you to choose among the patterns and colours, Dietmar Buecher Schlüsselfertiges Bauen GmbH & Co. KG has set up a sampling area on its premises. Here you can take your time and choose what is right for you with professional support.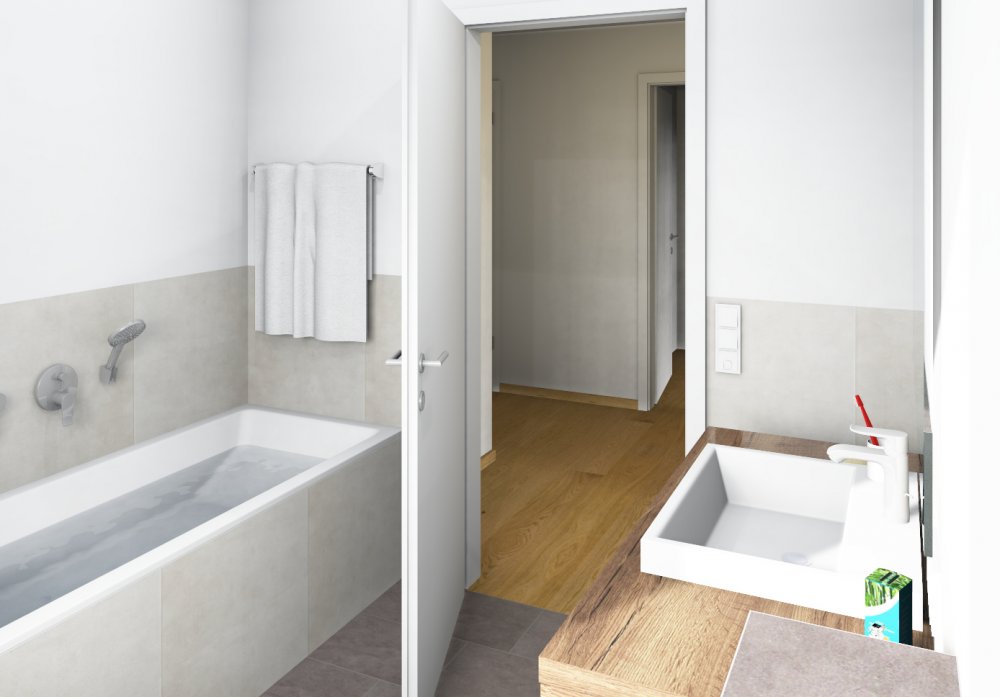 Dietzenbach
A lively and attractive city south of Frankfurt. The young city (city rights since 1970) is surrounded by forest and has a lot of greenery within its residential areas. Due to the central location, everything is in the immediate vicinity: motorways, airport, a dense network of public transport (S Bahn). The economic metropolis of Frankfurt as well as Offenbach and Hanau with their cultural and commercial offers can be reached in a few minutes.
Dietzenbach, a dynamic small city with over 35,000 inhabitants. There are attractive residential areas with attractive shopping centers and a beautiful old town. The new city center is situated around the town hall. Dietzenbach and Steinberg have developed together. Architecturally attractive residential and commercial buildings characterize the image of the "Neue Stadtmitte". There are over 10,000 jobs in Dietzenbach's spacious commercial areas.
For leisure activities, Dietzenbach offers an extensive network of cycle paths, two modern sports facilities, a solar-heated outdoor pool and several tennis courts. A fishing pond is also available and the fire brigade museum invites you to visit. The community center serves cultural events. All supply facilities such as supermarkets and specialist shops as well as kindergartens and schools can be found here. Doctors of many disciplines have their practices in Dietzenbach.