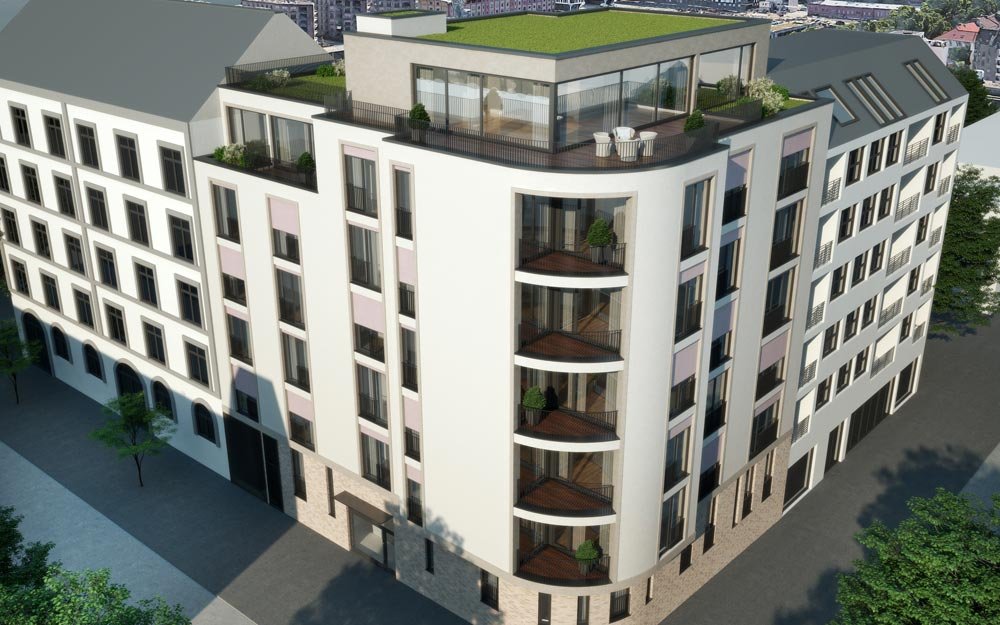 Mainz quality of life between the city and the customs port
In the immediate vicinity of the banks of the river Rhine, 21 new condominiums with underground parking are being built on a perfectly aligned property along Lahnstrasse 16. The attractive mix of apartments ranges from practical 1-room apartments with 40 sqm to spacious penthouse apartments with luxurious rooftop terraces.
All apartments are barrier-free and enjoy modern and sophisticated outfitting with air conditioning and smart home technology.
The new Zollhafen Mainz development, practically around the corner from your front door, represents a new urban oasis including a harbour replete with boat berths, a river beach, shopping facilities and restaurants. Enjoy your evenings after work in a lively atmosphere right on the Rhine.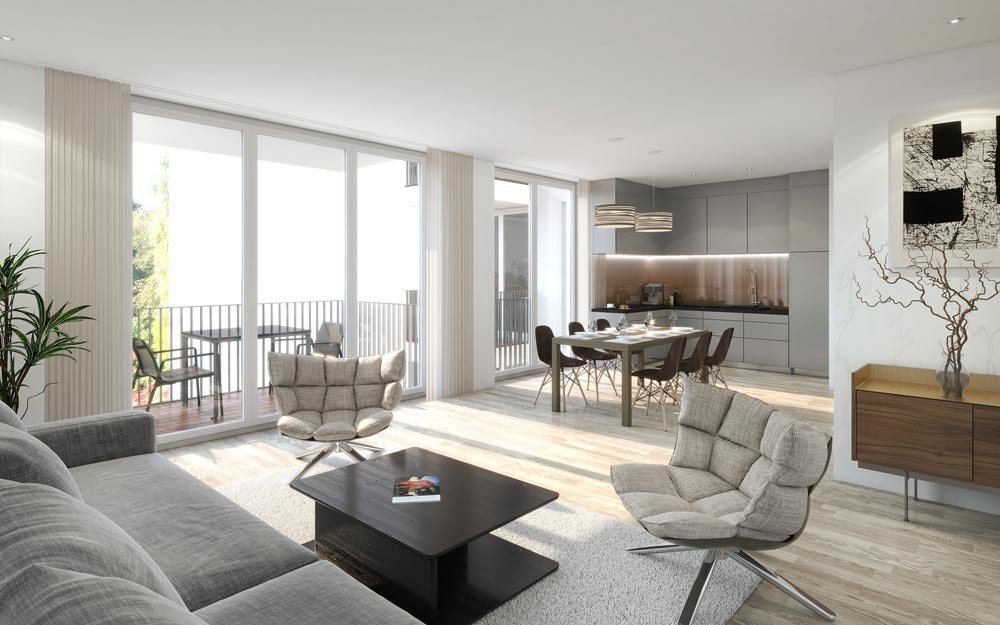 The Outfitting
An oasis of well-being in Mainz Neustadt
The apartments offer an airy feel-good atmosphere thanks to open-plan living, dining and cooking areas. Floor-to-ceiling windows and doors provide plenty of light. The outfitting is upscale and includes, among other things: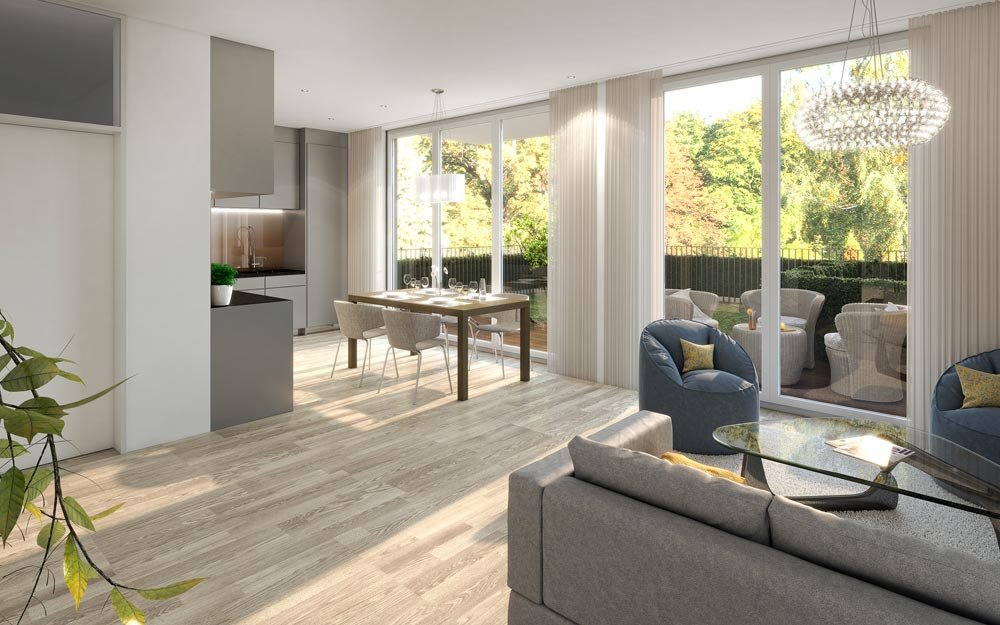 The Location
Mainz
The steadily growing state capital Mainz is, with approx. 220,000 residents, the largest city in the federal state of Rhineland-Palatinate. With more than 100,000 employees subject to social security contributions, Mainz is a central point of contact for professionals in the region. The employment development in the city of Mainz, as part of the economically strong Rhine-Main metropolitan region, continues to develop positively. The purchasing power of the people of Mainz has accordingly been above the national average for years.
Mainz is also home to the largest university in Germany, Johannes Gutenberg University, and is therefore very popular with students. Especially the medical faculty with its numerous institutes can assert itself successfully in national comparisons. Mainz is also known among sports fans as the home of 1. FSV Mainz 05.
In addition to the attractive facts and figures, the particular popularity of Mainz is due to the Mainzers themselves. They are widely known for their warmth, sociability, openness and joie de vivre. Culture and enjoyment are celebrated in Mainz, and in 2008 the city was named "The Wine Capital of Germany".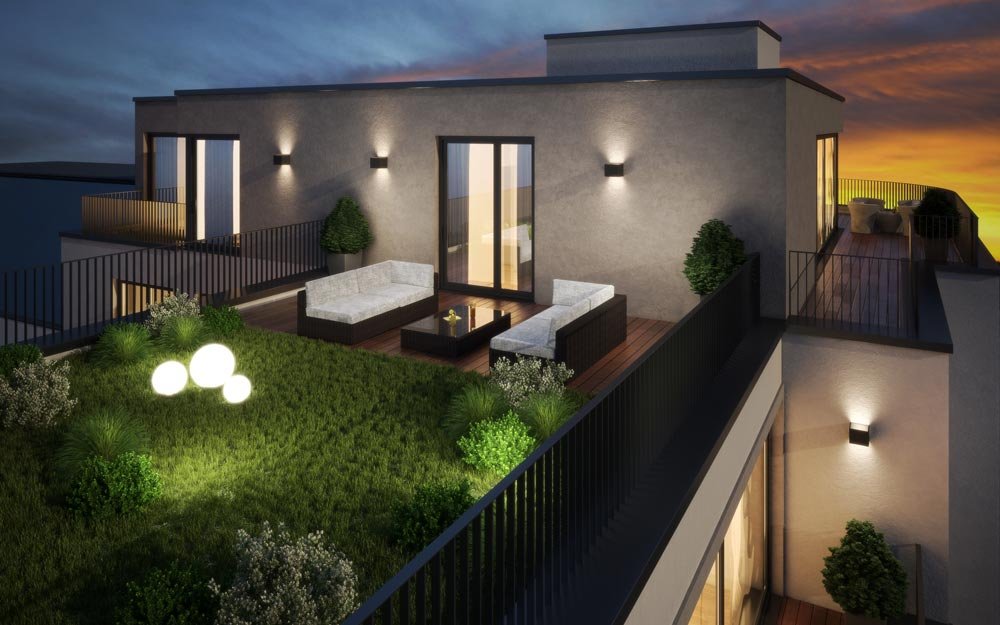 The Northern New Town
The neighbourhood surrounding our building project at Lahnstrasse 16 is perfect for families and married couples as well as singles - for everyone who is not only looking for a new home, but also wants to be part of a newly flourishing residential area with a lot of quality of life!
The immediate vicinity offers a great infrastructure with a large number of daycare centers and schools, many shopping opportunities, a large selection of cafes, bars and restaurants.
New residential areas with numerous green spaces are currently being built between Rheinallee and Nahestrasse/Goethestrasse, on the new Wallau/Emausweg district square, as well as along Sömmeringsstrasse and Kaiser-Karl-Ring.