Idsteiner Straße 33 und 33a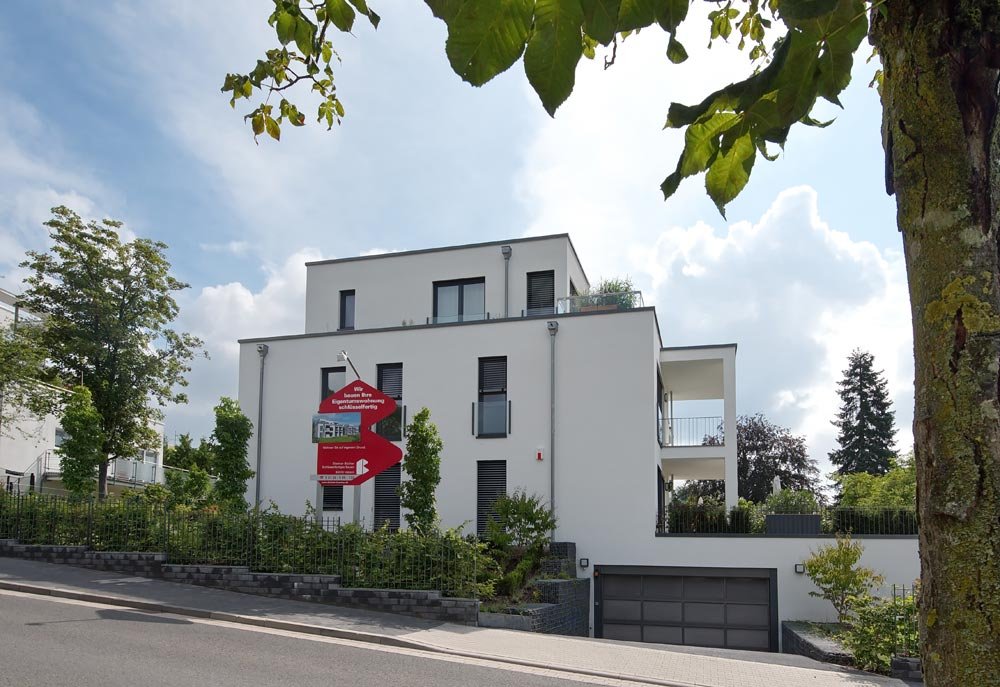 Idsteiner Straße - close to the city, positioned on a slight rise with a view over Wiesbaden. The Wiesbaden Kurhaus, the symbol of this elegant city surrounded by greenery and historical buildings, is not far from your new domicile. You'll find relaxation and recreation here in extensive spa gardens complete with ponds and beautiful trees.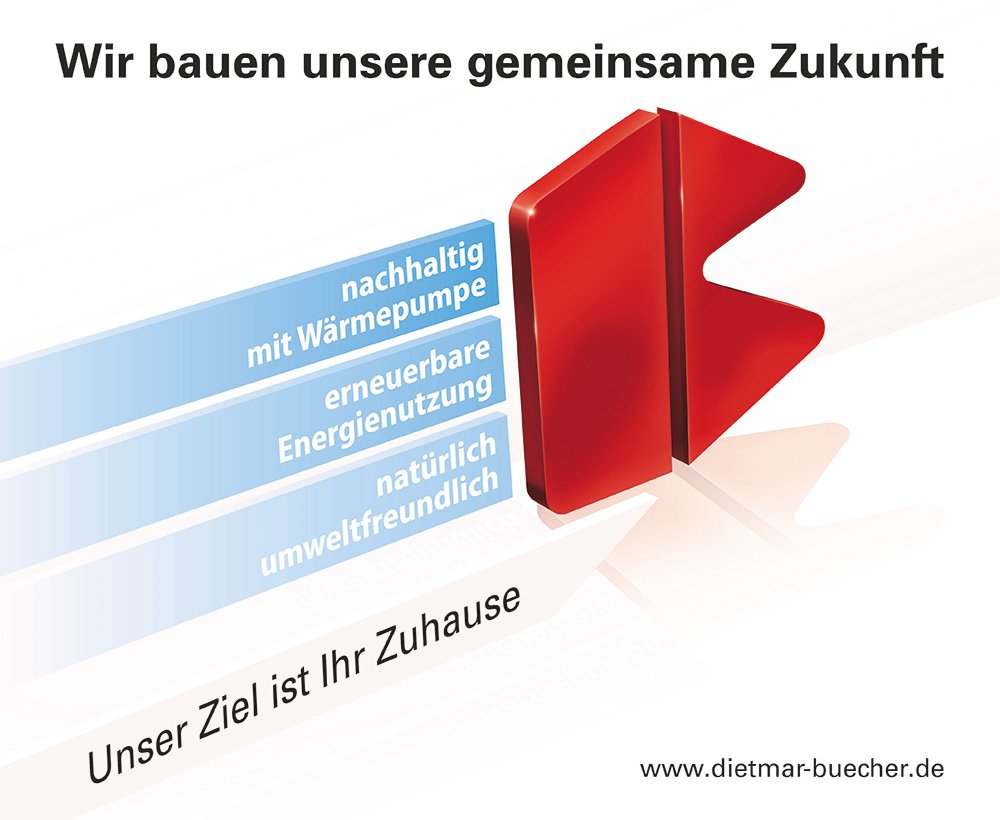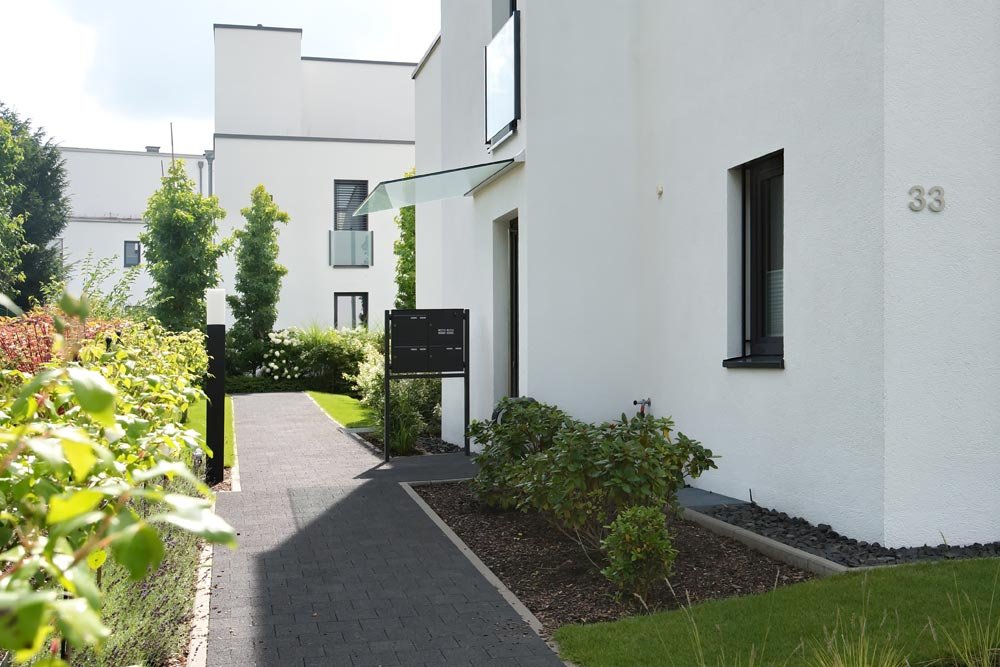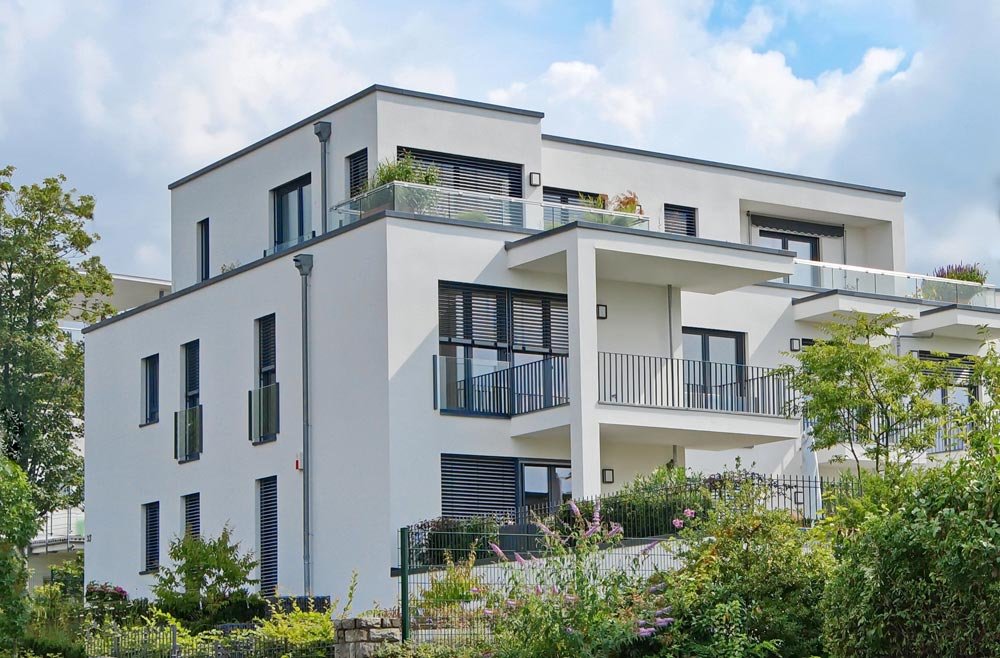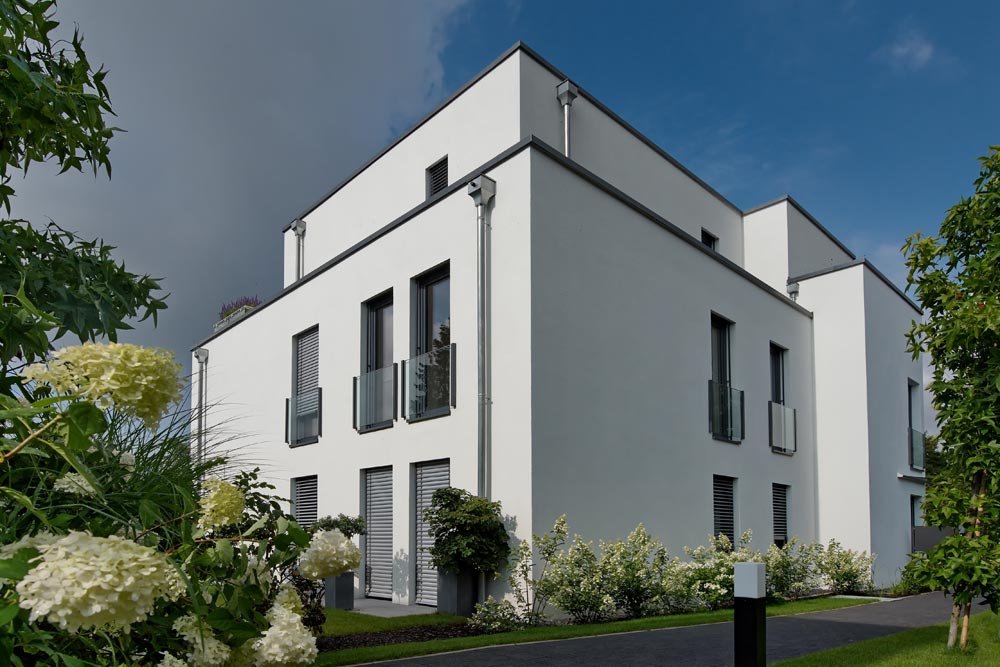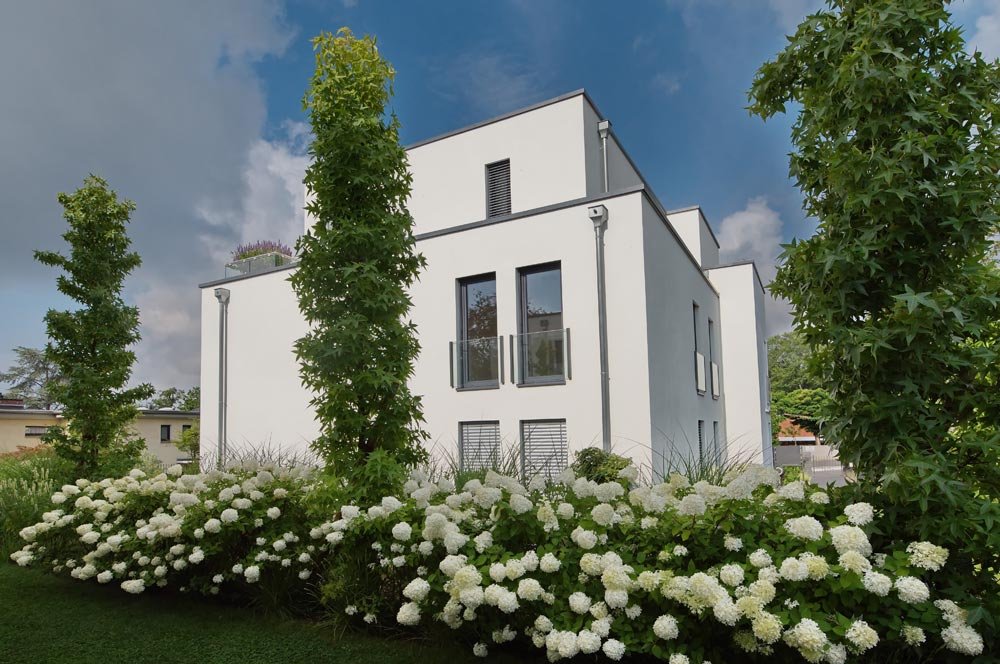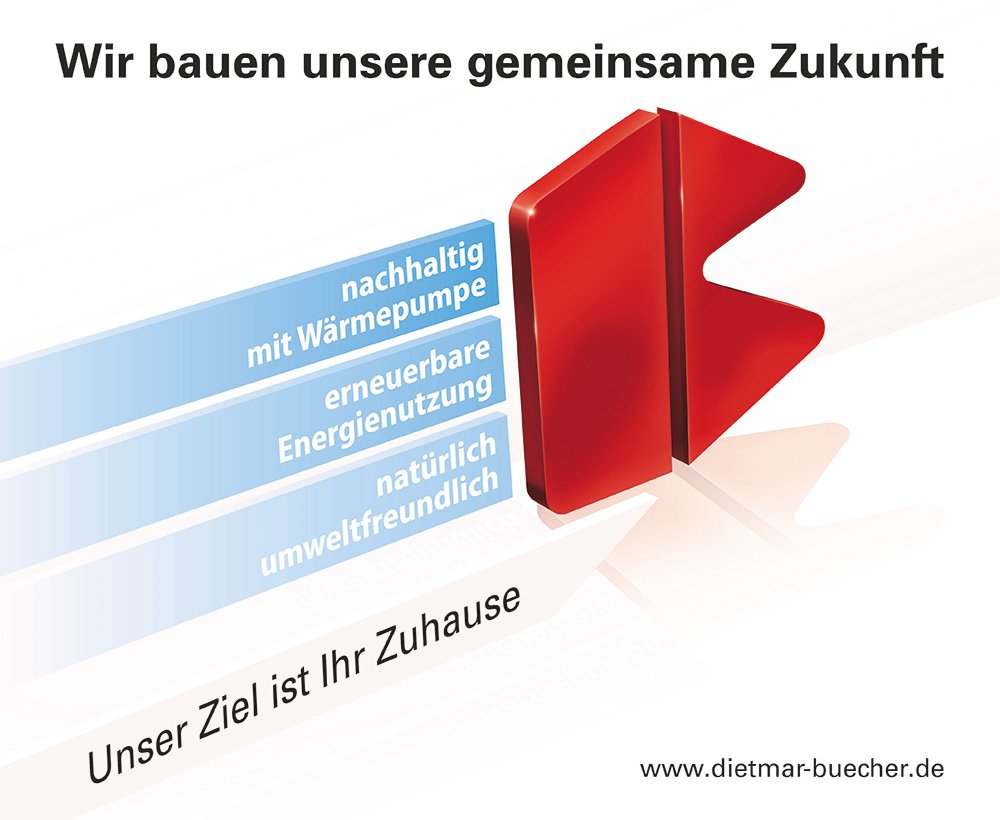 The Project
Architecture
These two buildings housing 2 or 3 elegant apartments are unusual due to their clearly structured facades. The apartments themselves impress with their successful combination of light exposure, exclusivity and optimal use of space. The effect of the floor-to-ceiling windows is emphasized by transparent balustrades, while overall colors, shapes and materials are carefully coordinated.
Construction
The building is constructed using solid masonry and fulfils all requirements in accordance with EnEV 2016 energy efficiency standards. Foundations and floor slabs are in concrete. The outer walls and the load-bearing inner walls are made from insulated brick masonry or reinforced concrete, as are the floors, ceilings and staircases. These latter are sound decoupled thanks to increased sound insulation technology and fitted with steps clad in polished granite. The entrances are fitted with enamelled aluminium profiles and insulated glazed doors with multiple electric locking systems and safety glass and are equipped with an electric door opener/closer. The entrances are each fitted with a glazed canopy.
Outdoor areas
The driveways and sidewalks are paved. The remaining land plot is sown with lawn, with plantings of single trees and shrubs.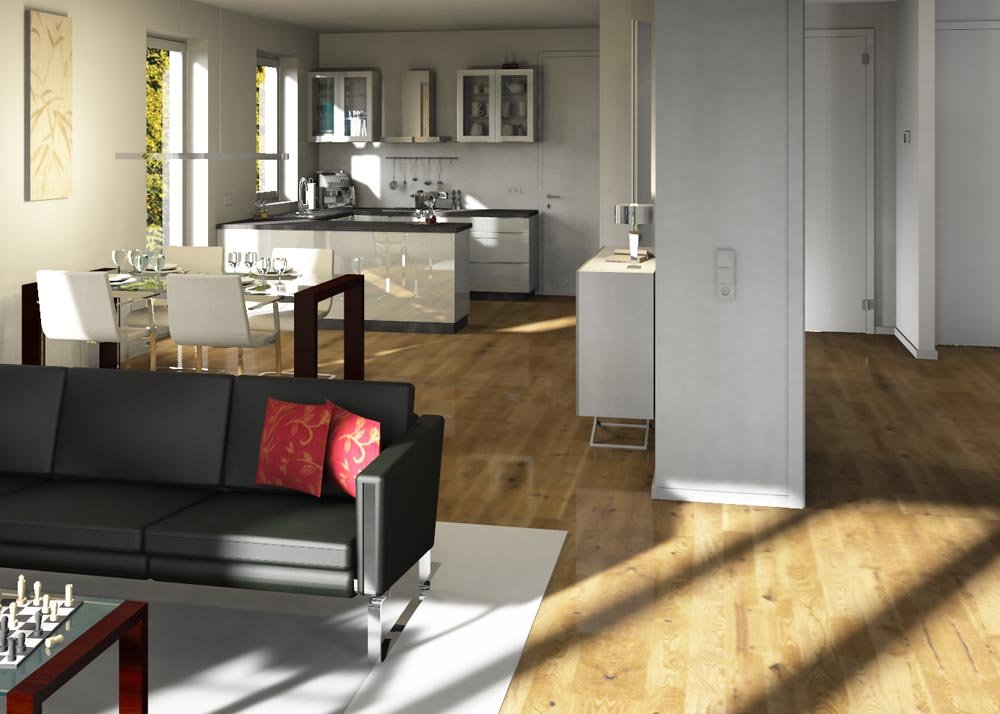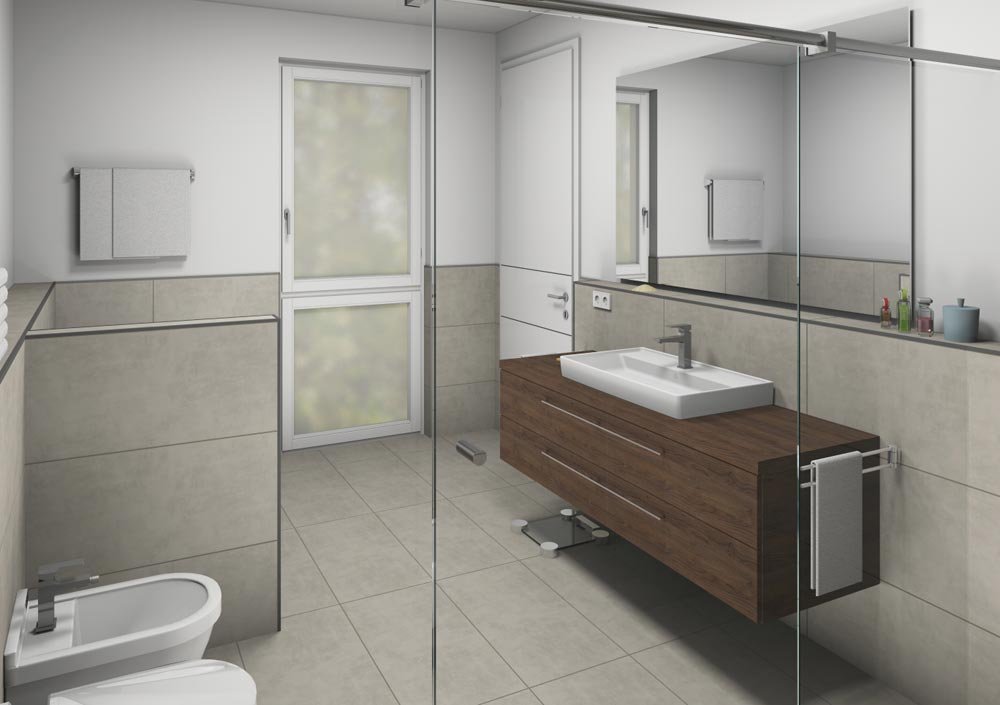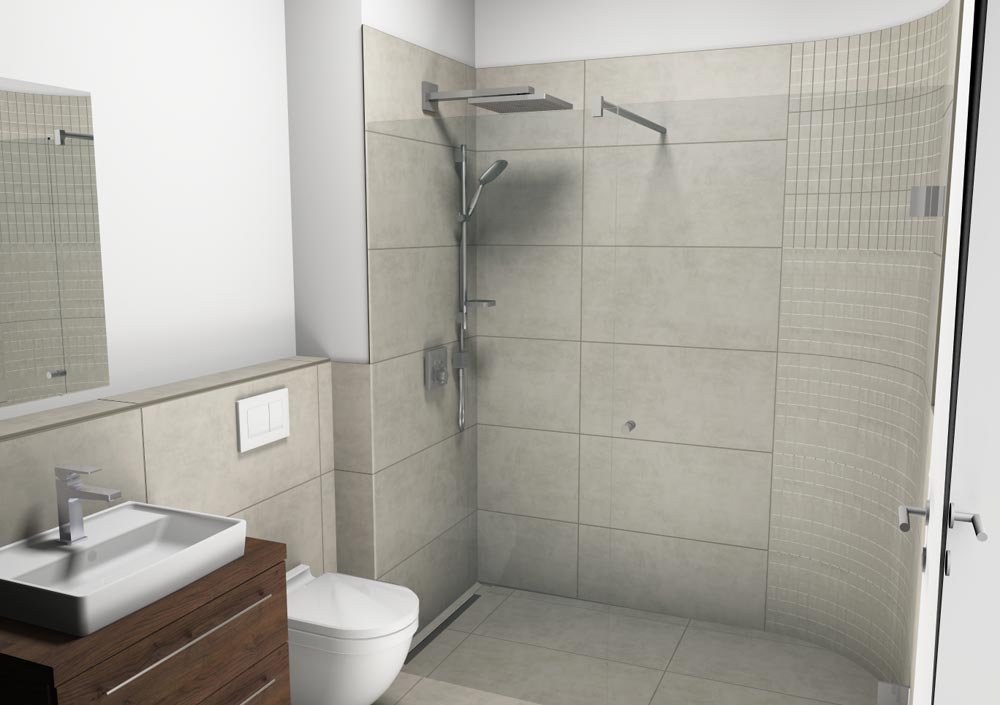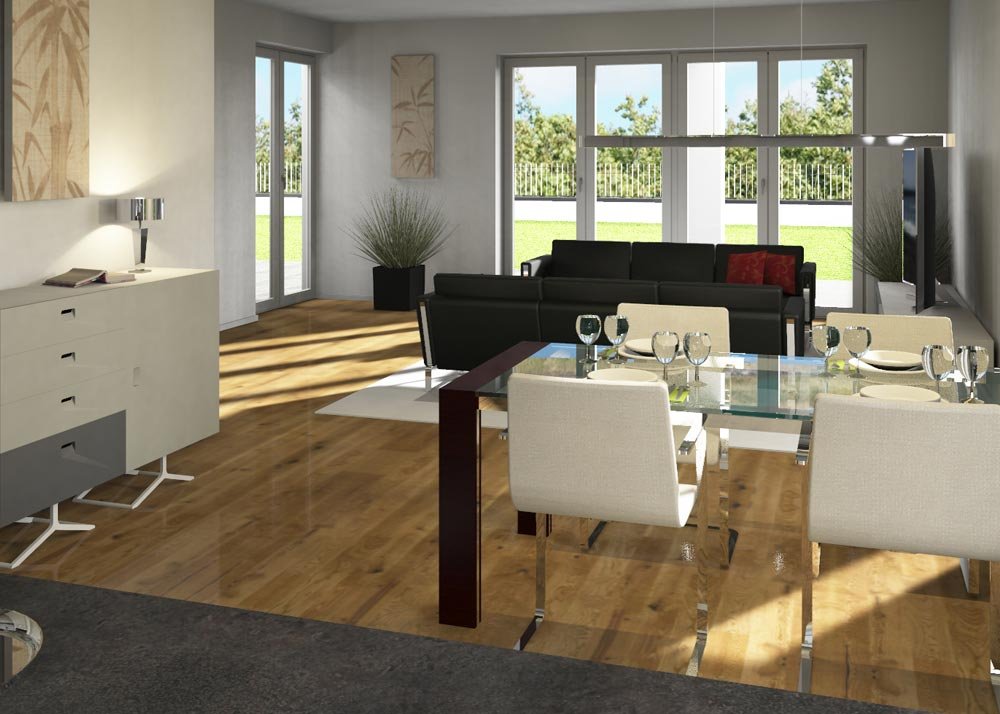 Outfitting
You can build on this
Synthetic-framed windows are fitted with thermal insulation glazing. Handles are concealed one-hand turn-tilt or one-hand turn fittings. The windows of the apartments are equipped with exterior venetian blinds with motor control.
High-quality interior doors (height approx. 2.50 m) are surfaced with white lacquer, and have fittings based on sample catalogue variants. Apartment entrance doors are sound insulated and receive wide-angle peepholes. A multi-point lock and two intercoms with an integrated video surveillance system are provided for security.
The bathrooms, shower rooms and toilets are tiled to ceiling height. Acrylic bathtubs and other amenities come in colours of your choosing. Showers are tiled to floor level with a drainage channel and all-glass shower partition. LED panels are installed above the vanity unit with a large mirrored surface. Bathrooms, shower rooms, toilets and kitchens are given tiled floors of your choice.
The living and sleeping areas, including hallways and corridors, have parquet floors with matching skirting boards. The ceilings and walls of the apartments are hung with painter's fleece and are finished in white.
The apartment is equipped with a large number of electrical switches (large format switches) and sockets. Multimedia distribution box. Telephone connections and cable TV of your choice.
A combined heat and power plant will be installed as a compact energy center for the generation of heat and electricity. The rooms are heated by a comfortable underfloor heating. The heat and water consumption is measured per apartment. The temperature is controlled individually in each room.
A basement space is assigned to each apartment, and there are two rooms reserved for the residential community.
To increase your security, access from the underground car park to residential floors is secured.
Two passenger lifts connect all floors of the buildings.
To make it easier for you to choose between the various patterns and colours on offer, we have set up a sample room in the building. Here you can choose your individual interior concept in peace, with expert support on hand.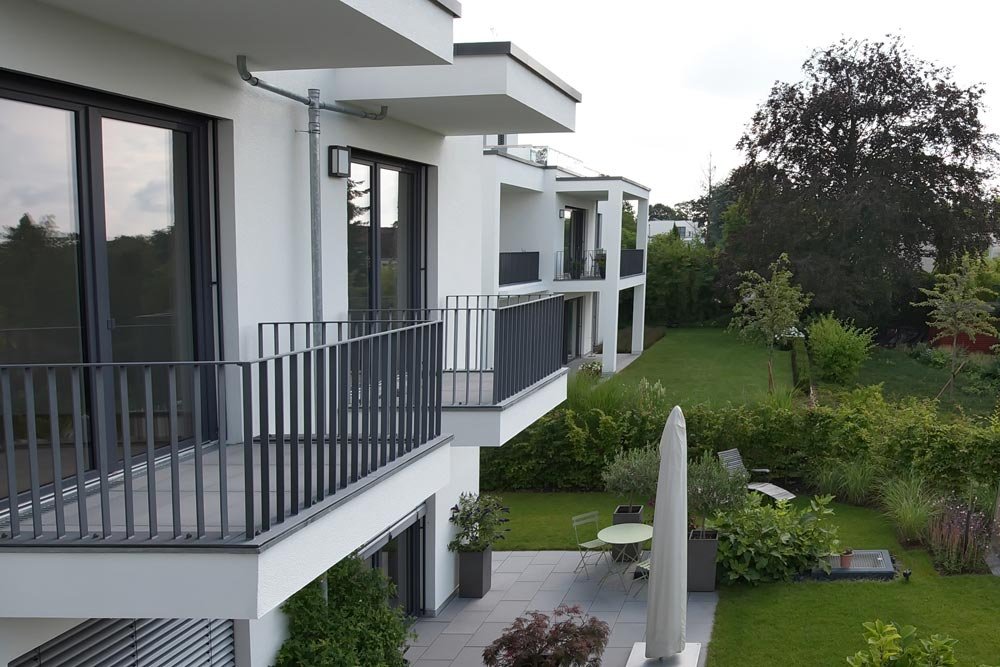 Wiesbaden
Wiesbaden - cultural and congress city with an international atmosphere
Spa cures and culture are determining elements in the life of the city. The Kurhaus and casino is the social center. The State Theatre offers a rich program of operas, plays and ballet. Major events take place in the Rhein Main Congress Center. The spa complex with thermal springs and well-kept spacious parks meets all the expectations placed on a modern health spa.
As a congressional city, Wiesbaden is preferred due to its geographical position - attractively located between the Taunus and the Rhine. Added to this is its proximity of the Rhein-Main airport, direct connections to the motorways and affordable rail connections. A large number of congresses and exhibitions take place year after year with international participation.
The status of Wiesbaden as a Hessian metropolis also contributes to the generous atmosphere, elegant serenity and charm of this city.