---
The Hohes Feld Project
in Gifhorn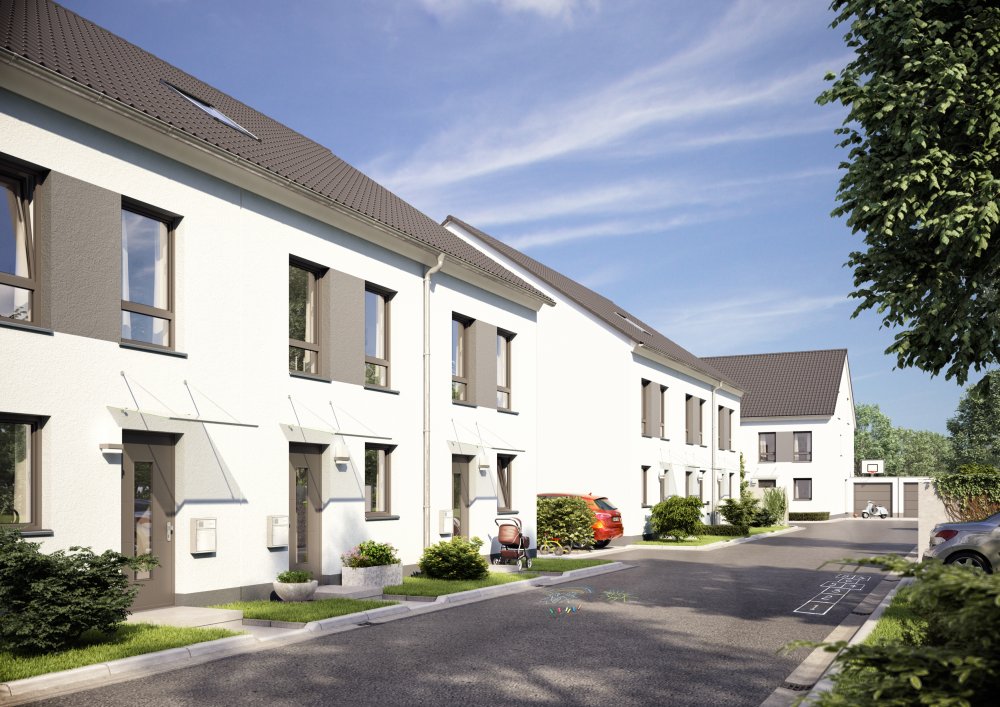 Your property
Your gable roof house has a white plaster facade and an anthracite-colored roof. The outside of the windows and front door are also in anthracite, while the window frames on the inside are white. If it rains, your canopy over the paved entrance area will protect you.
Accompany us on a short mental tour of the house: You enter the building via the hallway with guest toilet on the ground floor and overlook the living/dining area up to the large window front with adjoining terrace. The bright and friendly atmosphere in the living room visually opens the room and provides a view of the garden. You can choose your kitchen in a closed or open version.
The upper floor is divided into two spacious rooms, with an average of approx. 17 square meters. The bathroom with bathtub and walk-in shower is opposite the stairs. The practical utility room is accessible via the bathroom and has a washing machine connection. The bathroom and guest toilet are already equipped with sanitary ware and tiled, as are the floors in the kitchen, the entrance area and the utility room.
We offer you various floor plans as modules so that you can create your individual dream home. An additional shower room or a walk-in dressing room are just two ideas that you can realize with us.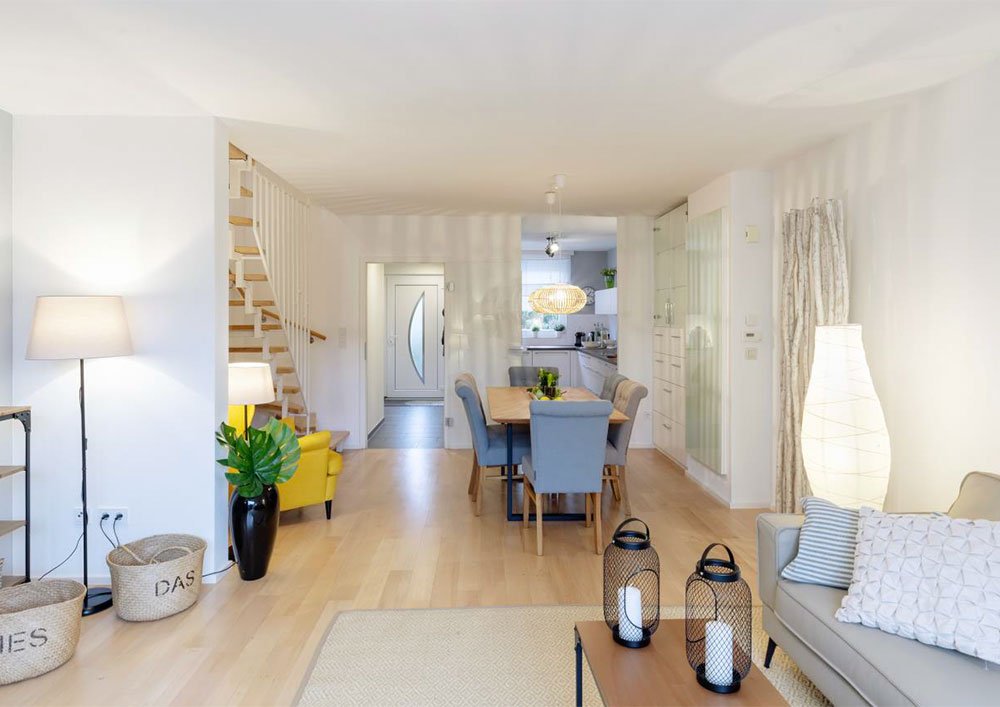 Turnkey expansion
Efficiency house 40 units
Approx. 16 m² terrace with decking
Covered entrance
Equipped and tiled bathroom
Equipped and tiled guest toilet
Floor tiles in the kitchen, hallway, utility room area
Interior doors
Roller shutters
Decentralized ventilation system with heat recovery
Project-related 2 parking spaces including preparation for e-mobility
Outfitting options
You have plenty of space to develop and design your dream home. You can help plan and design the interior.
We will be happy to advise you and show the product portfolio in our showroom in Bremen.
The reINVENT online platform allows you to configure your house, which works similarly to a car configuration. You will see some of the selectable materials in a 3D visualization and get a realistic impression of your interior. The basic outfitting included includes a selection of different floor and wall tiles.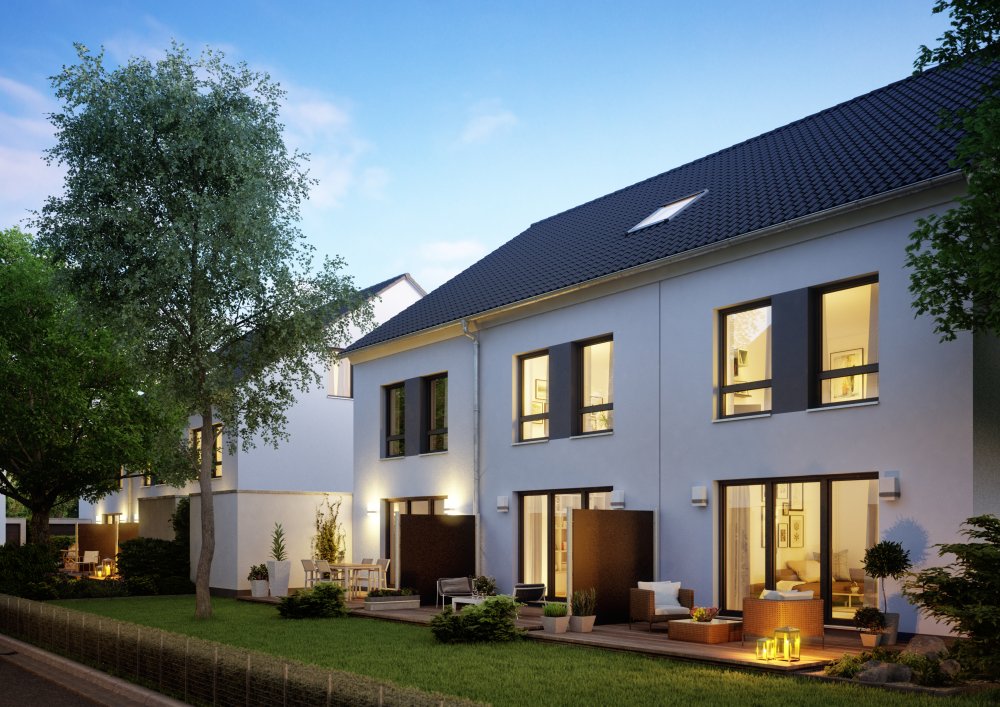 Details
Structural construction – solid "stone on stone"
Concrete foundations, floor slab and solid stone walls according to statics.
Heating - hot water - electricity - ventilation
You will receive a turnkey house with energy efficiency standard 40. The heat is supplied via a heat pump.
The decentralized domestic ventilation system from inVenter helps you save on heating requirements and saves on additional costs.
Outdoor area – attractive and prepared
The approx. 16 m² large terrace is laid out with terrace covering. There is also a frost-proof lockable cold water garden tap as well as a wall outlet for outdoor lighting and a socket.
Facade – bright and friendly
The facade receives an external plaster with a reinforcing layer and fabric insert including all base and corner protection rails as well as a canopy over the entrance door.
Electrical installation – adapted to everyday use:
In the interior there are sufficient sockets, switches and lamp outlets that are necessary for everyday use and are purchased from renowned brand manufacturers. E.g. living/dining area: 2 ceiling burners with switches, 8 sockets.
For the outdoor area, there are wall outlets for outdoor lights, a socket and a doorbell with gong at the entrance and on the terrace. The prerequisites for a basic service have been created for the use of telecommunications services.
Tiles – various choices
In the included standard you can choose ceramic wall and floor tiles in different colors and sizes. Further selection options and additional areas are available in the sampling consultation.
Sanitary areas – modern & comfortable
So that your bathroom can become a wellness oasis, it is equipped as standard with an enamelled steel bathtub 170 x 75 cm, chrome-plated single-lever mixer tap exposed and hand shower with shower hose. The floor-level shower is tiled and has an exposed single-lever shower mixer including a height-adjustable shower set. A double washbasin with chrome-plated single-lever mixer taps and the wall-mounted washdown toilet with concealed cistern complete the sanitary amenities. Integrated LED ceiling spotlights and a towel radiator complete the bathroom. In the guest toilet there is a hand washbasin with a chrome-plated single-lever mixer tap, a wall-mounted washbasin with a concealed cistern and also integrated LED ceiling spotlights. All features are branded products from renowned manufacturers.
Front door and windows – safe + classic
The front door frame is made of plastic profiles. It has a plastic filling with a stainless steel frame on both sides. There is a stylish glass element in it, which can be individually selected from three different variants.
The window and balcony door frames are made of high-quality plastic multi-chamber profiles, reinforced with corrosion-protected steel profiles. With insulating glazing, the heat remains in the house. Window handles made of silver anodized aluminum are included as standard.
Light gray plastic roller shutters with belt winders are on all windows, except skylight windows. The patio door on the ground floor is equipped with split aluminum roller shutters and a transmission gear.
Interior doors – contemporary in white
The standard includes classic white interior doors with tubular chip strip inserts, white lacquer surface including rosette fittings with warded lock and aluminum fittings.
Interior staircase – swinging and light
A two-hollow staircase with a steel harp connects the floors. It consists of a steel structure and solid wooden steps and a handrail made of beech wood. Various step variants and color designs can be selected as additional outfitting options.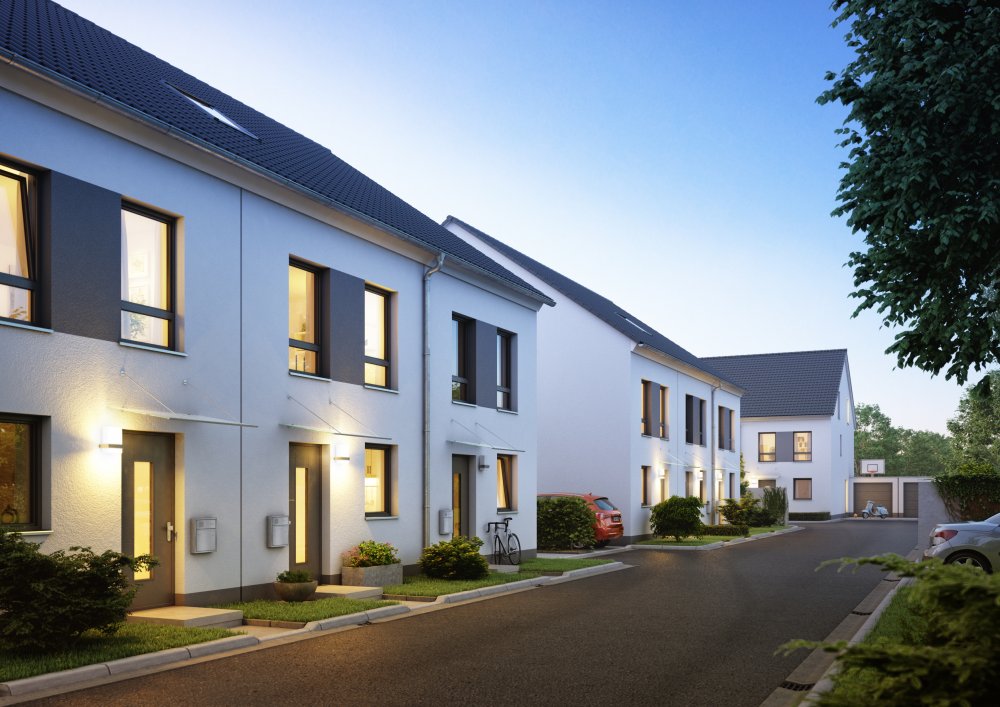 Location
Gifhorn is a district town in Lower Saxony; over 43,000 people live here today. Idyllically located in the south of the Lüneburg Heath. In addition to the mill open-air museum, Gifhorn has a half-timbered old town and offers a variety of shopping opportunities. The gastronomy spoils you with typical regional offerings from asparagus to Heidschnucken specialties. The surrounding cities of Wolfsburg, Braunschweig, Celle, Lüneburg and Hanover can be reached quickly.
As part of the Hanover-Braunschweig-Göttingen-Wolfsburg metropolitan region, Gifhorn is embedded in an environment of large employers and is also a popular place to live for commuters. Public transport is available through bus and train services. A cycling concept has existed since 2008 to improve urban mobility.
A good infrastructure and a wide range of leisure and sports facilities make life worth living here. All types of schools as well as a music school and scout organizations are available. The little ones are well looked after in the seven daycare centers.
In Gifhorn the Ise flows into the Aller and in addition to the water, the nature on the edge of the Lüneburg Heath offers a variety of local recreational opportunities.

Would you like to be involved in the creation of your house or would you rather receive the key and move in immediately? With us you have extensive opportunities to participate in the planning of the house. You determine the outfitting according to your taste. After purchase, you will receive professional advice in our sampling rooms. We show you different ideas and variants and offer you a diverse selection - also as part of innovative online sampling!
Our offers are turnkey! This means that you can do the painting and flooring work (except tiles in the bathrooms and kitchen) as well as the garden design yourself and give the house your own personal touch. Would you like information about the complete expansion by us or about common special requests? Our sales consultants will be happy to provide you with information in a personal initial consultation. Visit our model home in Wiesbaden-Bierstadt and see for yourself the proven dream home quality!
We are confident in our product and want to make our dream home yours too! This is one of the reasons why the entire construction phase and final acceptance are accompanied and documented by TÜV Süd! In addition, we are extending the standard warranty period from 5 to 7 years!