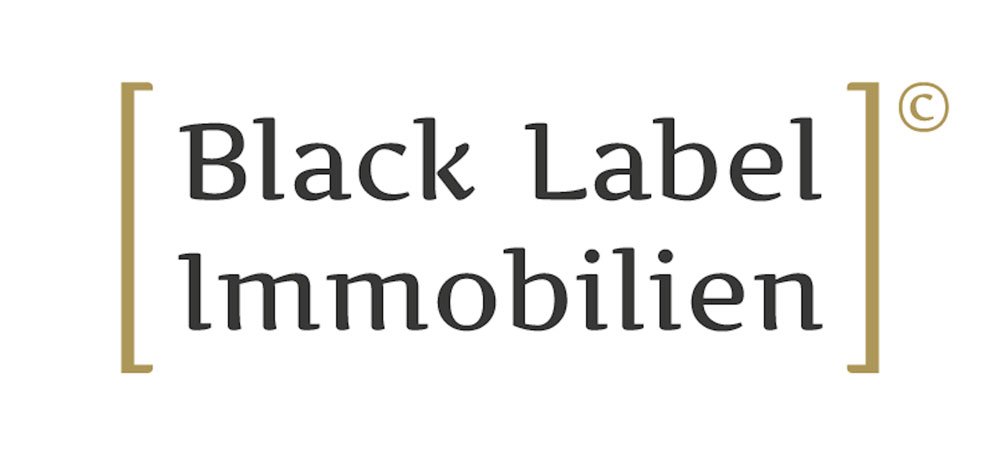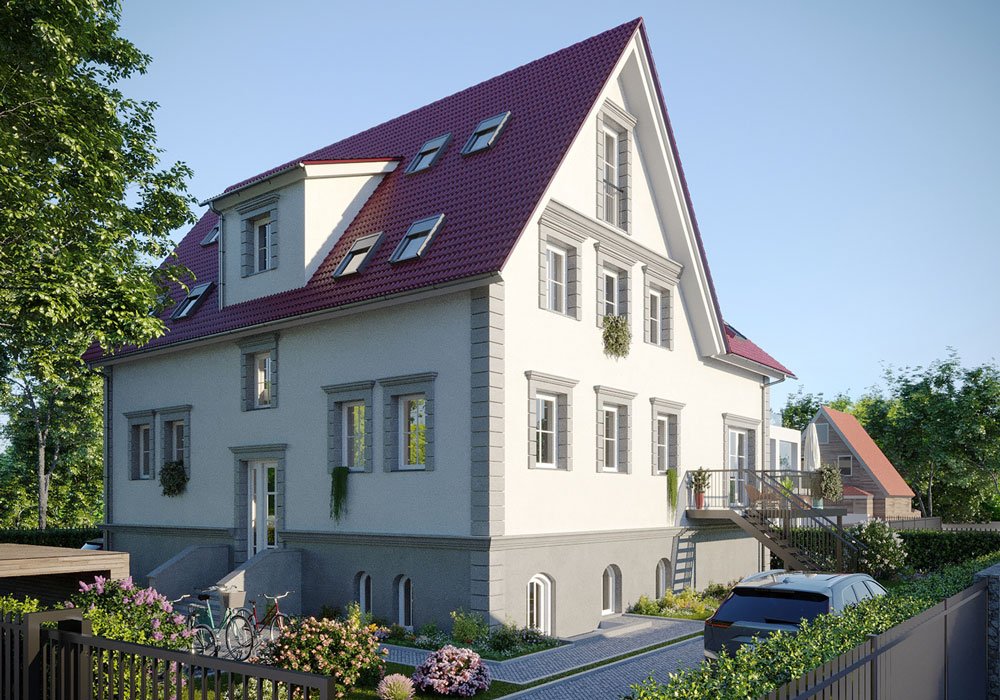 Description
Reconstruction of a historic villa
This classic building from 1900's historical appearance will shine completely anew and will be outfitted with the latest technology according to all the latest architectural standards. The highest construction quality ensures that the classic villa style is resurrected. Brick construction (45 cm external masonry), stucco facade and loving details are combined with new technology and triple aluminium glazing with electric external blinds.
The villa has 4 very attractive apartments with balconies, terraces and garden shares.
The location is very popular, as international schools as well as many kindergartens, elementary schools and the usual shopping facilities are in the immediate vicinity.
Now is the right time to take change requests into account.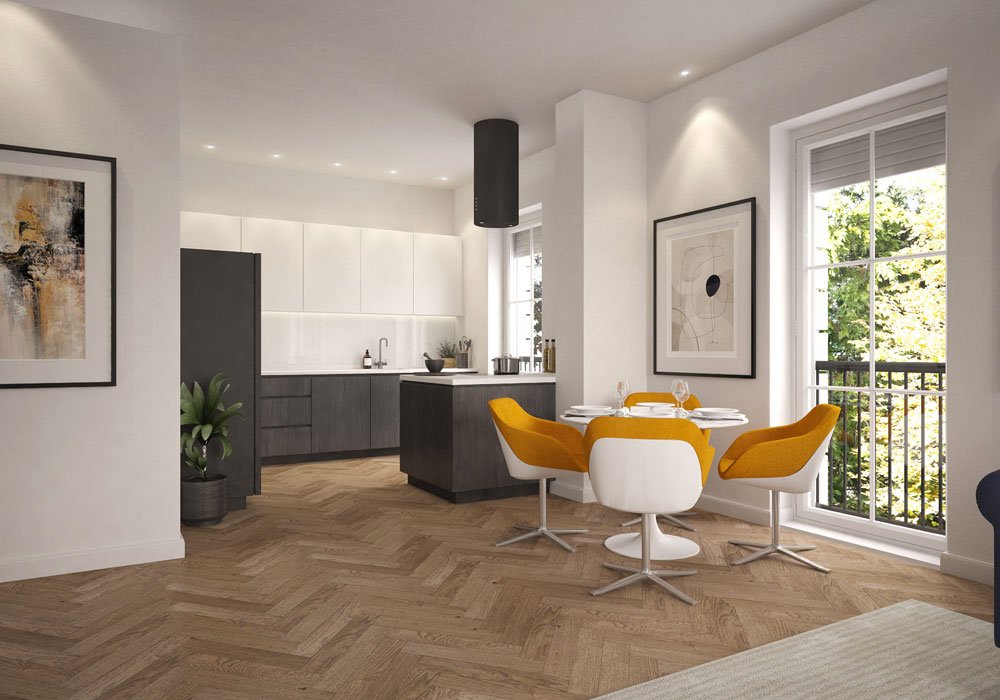 Outfitting
A garden level apartment, which will be accessible without thresholds. If necessary, a wheelchair lift can be installed outside to overcome 2-3 steps. In addition, this apartment has a particularly wide parking space. The apartment impresses with its sunny terrace and a small garden area on the south side.
The first floor apartment on the mezzanine floor with 3 bedrooms and 2 spacious bathrooms. It has a 12 m² south-west terrace with stairs to its own garden.
A 2-room apartment is being built on the 1st floor with a spacious living and dining room and an integrated kitchen. From here you can get directly to the loggia on the south side with a view of the greenery.
A 4-room maisonette with a very large recessed rooftop terrace is being built on the 1st floor and in the developed loft. The generous area of ​​the living and dining area and the secluded rooftop terrace extend to the east-south-west side with a view of the surrounding greenery.
The detailed description of the building or the outfitting description is available.
Completion is scheduled for autumn 2021.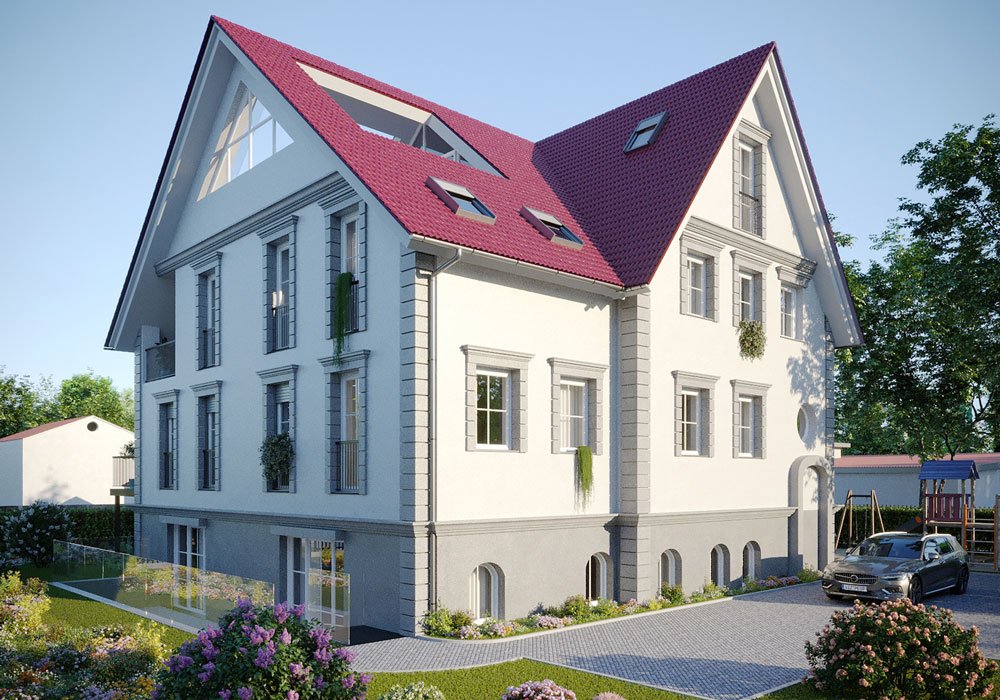 Location
Living in a beautiful villa close to the Teltow Canal.
In this area, relaxing walks along the shore and the hustle and bustle of the big city can be perfectly combined. In about 10 minutes you can walk to the Teltow Canal and in about 5 minutes by car you can reach the beautiful old town of Teltow. Here you will find everything you need for your daily needs.
This location is particularly popular with families, as there are enough children's facilities and schools as well as numerous opportunities for recreational activities. The nearest supermarket and a small cake bakery are just 600m from the property. In the center about 3km away is an integrated day-care center and the popular upper level center for office management and administration.
The connection to local public transport couldn't be better. After a two-minute walk you will reach bus line 184. This takes you to the S-Bahn station Berlin Lichterfelde Ost and Süd in a few minutes. The S26, S25, regional trains and numerous buses depart from here.