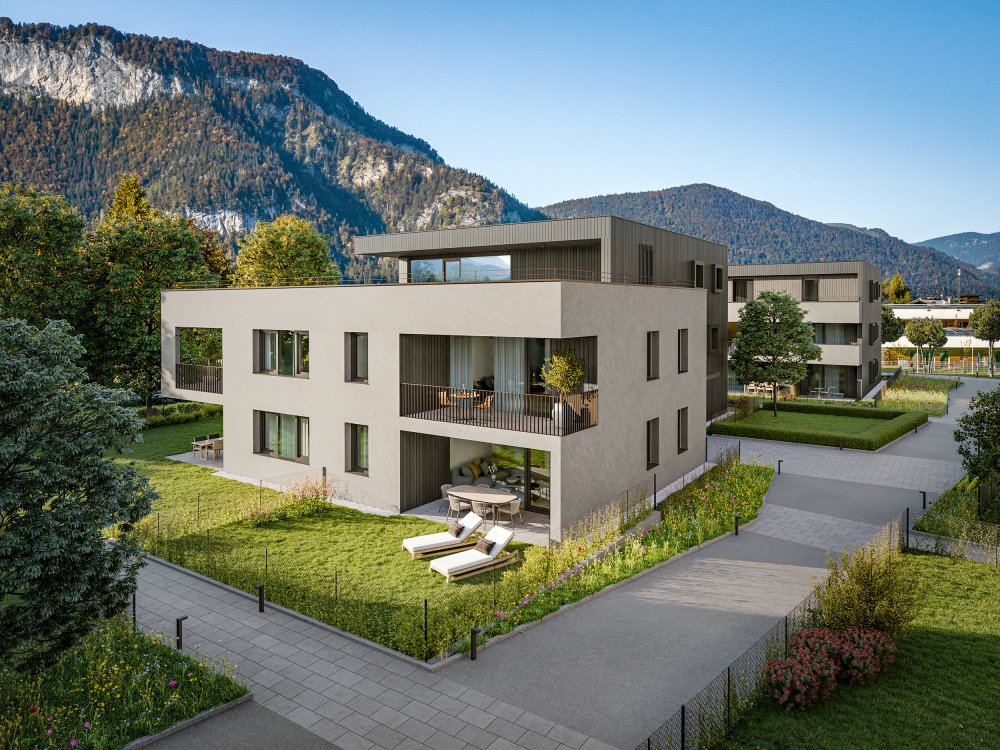 Homes with a view of
the Wilder Kaiser
In a unique setting, nestled between the Wilder Kaiser and the Kitzbüheler Horn, the Elbogen Höfe are being built. Varied condominiums that promise pure home pleasure are being realized in five residential buildings of the modern new building project. The green facade in combination with wooden elements characterize the appearance of the ensemble.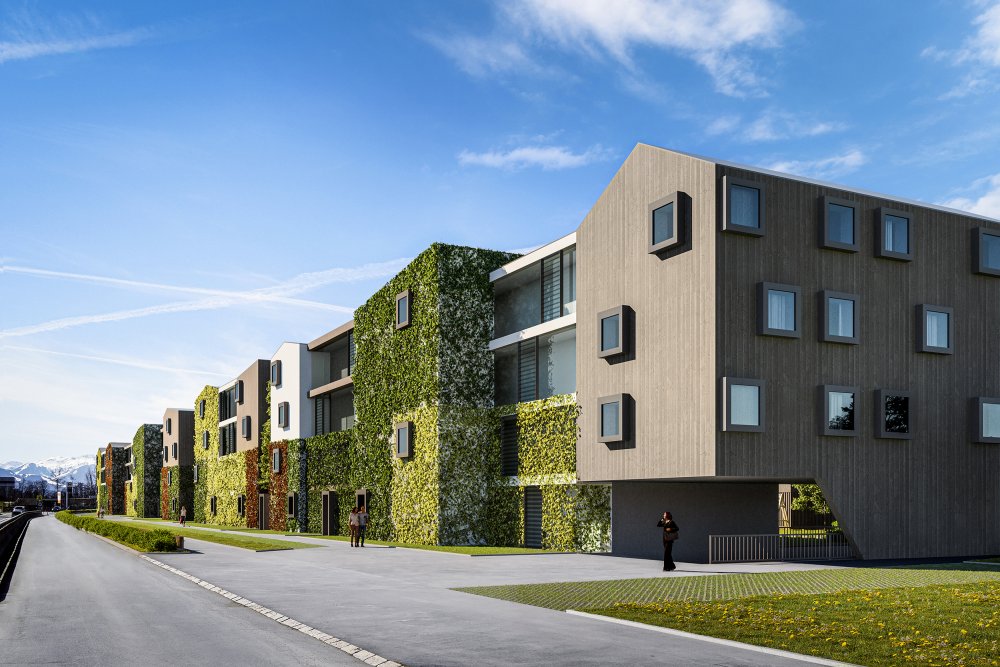 Individual residential comfort
in a nutshell
In the Elbogen Höfe new construction project, multi-variant condominiums are being realized in five of the nine buildings. In the terraced houses A and B, which border on Loferer Straße, there is space for 1 to 4 room apartments with an optimal layout. The microapartments are ideal for commuters, singles, as a starter apartment or for investors. In the rear-set point buildings C, D and E, 2- to 5-room apartments, including penthouse apartments with spacious roof terraces, are being built in the premium segment. All units are barrier-free and have a garden, terrace or balcony with a wonderful view of the surrounding mountains.
The appearance of the new building is characterized by the facade and roof greening with seasonal colors of leafy green, flowers and winter green. In combination with the wood and plaster facade as well as the harmonious interplay of pitched, pent and flat roofs, an unmistakable residential ensemble is created. The range of apartments is supplemented with an underground car park, a playground and bicycle storage rooms.
Elbogen courtyards at a glance
Floor plans 1-/2-/3-/4-/5-room terrace and garden apartments
Residential area with a view of the Wilder Kaiser, only a few minutes to the center
Completion expected end of 2025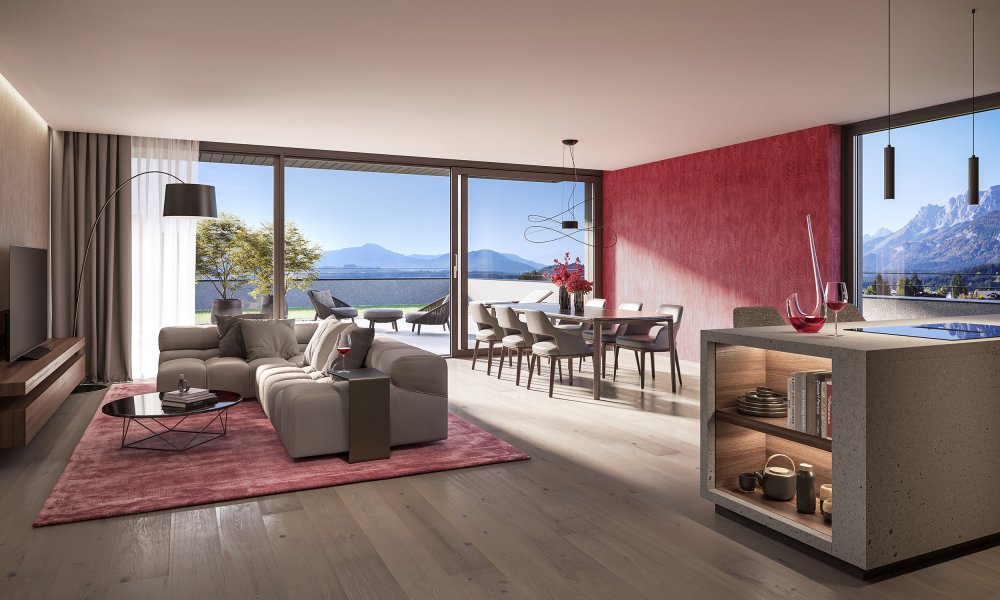 Functional and
stylish
Well-known sanitary facilities
All bathrooms and toilets are fitted with modern, high-quality bathroom and sanitary amenities from well-known manufacturers. Simple, elegant design is combined with high-quality materials such as glass, metal and fine stoneware. A large selection of ceramic tiles for individual design is available to you.
Fine wooden parquet
Sleeping and living areas are laid as standard with wooden parquet floors made of oak and matching skirting boards. This creates a lively and warm domestic atmosphere that gives your living space a special touch. Proven installation methods and the high quality of the raw material are just as important as consistent soundproofing and a coherent overall concept in your home. Individual solutions are also possible.
Modern windows and doors
The windows are equipped with a soundproof and heat-insulating 3-pane insulating glazing. Lots of light and optimal soundproofing create a high quality of life. The apartments also have panoramic glazing. The incidence of light can be flexibly regulated with large-slat external blinds on windows and balcony doors. The doors are equipped with modern handle sets, which complement the harmonious overall picture. The entrance door is heat and sound insulating.
Individual connectors
All apartments are equipped with connections for internet, cable TV and telephone as well as sufficient power connections and light switches. You can help determine the exact positioning during the construction phase. All connections in the kitchen area are also prepared according to your plans, so that the new kitchen only needs to be installed.
One key for everything
You can open the front door, basement, mailbox and underground car park with just one key. As an additional convenience, you will receive a hand-held transmitter for the underground car park.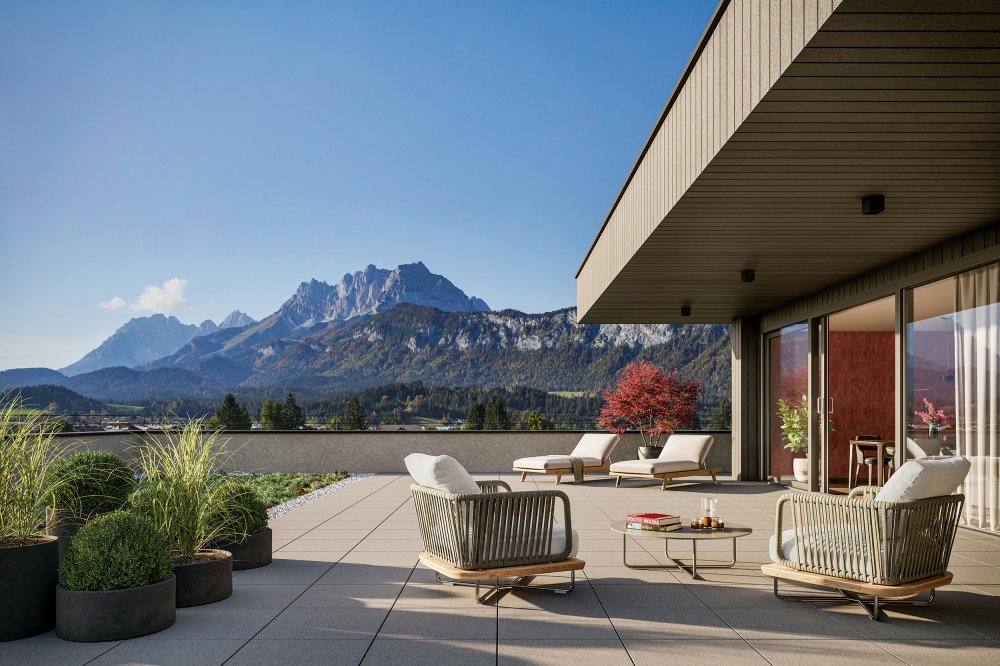 Heating & hot water by district heating
The residential complex is heated by connection to the local heating network in St. Johann in Tirol. In the row houses, the heat is generated centrally with a decentralized heat transfer station (home station) in the apartment. Both the service water and the underfloor heating are heated by means of a heat exchanger. The point houses have central heating with underfloor heating distributors in the apartment.
In all houses, the underfloor heating can be regulated individually all year round. The heat, cold and hot water consumption is recorded by meters. The temperature in the living room is controlled by a room thermostat. The temperature in the adjoining rooms is set manually.
Photovoltaic system
A photovoltaic system will be installed on the roof to generate additional electricity and as a measure for ecological housing. In this way, environmentally friendly electricity can be produced all year round with the power of the sun - noiselessly and free of exhaust gases.
Energy values*
» House A: HWB 32.8 kWh/m²a | fGEE 0.74 (A)
» House B: HWB 33.2 kWh/m²a | fGEE 0.75 (A))
» House C: HWB 28.9 kWh/m²a | fGEE 0.74 (A))
» House D: HWB 29.2 kWh/m²a | fGEE 0.74 (A))
» House E: HWB 29.8 kWh/m²a | fGEE 0.74 (A)
* The specified values ​​may vary slightly due to design adjustments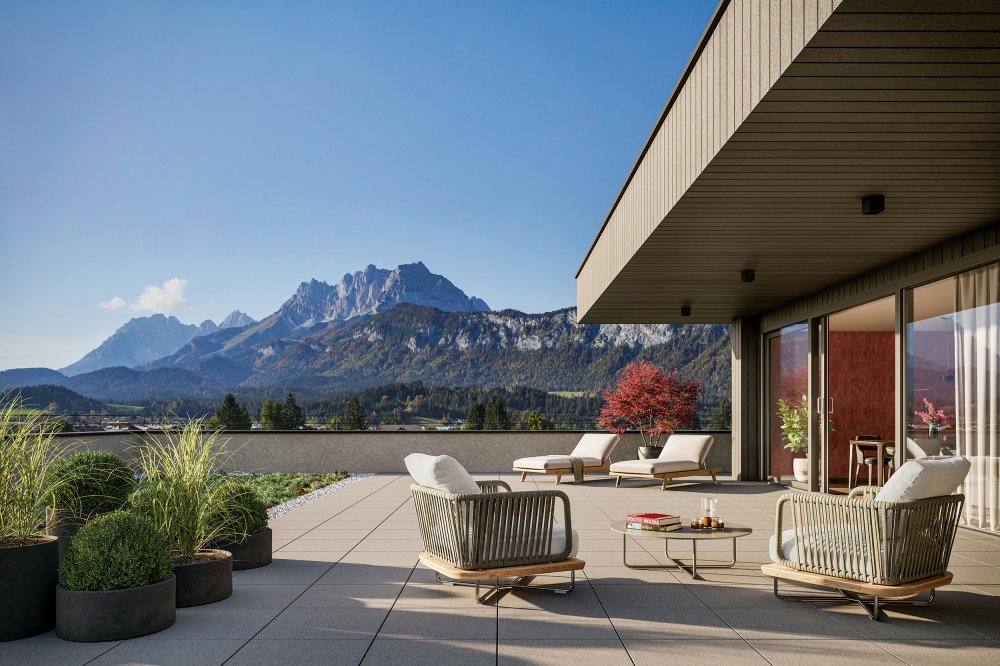 Realise your dream home
and take care of it
We have been building on trust for more than 50 years. We create security when deciding whether to realize your dream of owning your own home or to make a real estate investment. Investing in your own four walls is still the best way to make provisions for the future. We are convinced of that.
Rent-free living in old age
The apartment you use yourself is the best precaution, because you live rent-free in old age and are not at the mercy of rising rents.
Protection against inflation through value-secured rents
A real estate investment protects assets against high inflation, since rents are linked to inflation.
Pension provision through rental income
This investment pays off, especially in view of the further increase in rents.
Long-term increase in real value
In addition to the annual return that is achieved through rental income, investors benefit from the long-term increase in value of the property itself.
Trust is the hardest currency
Buying from a professional property developer with many years of experience provides security.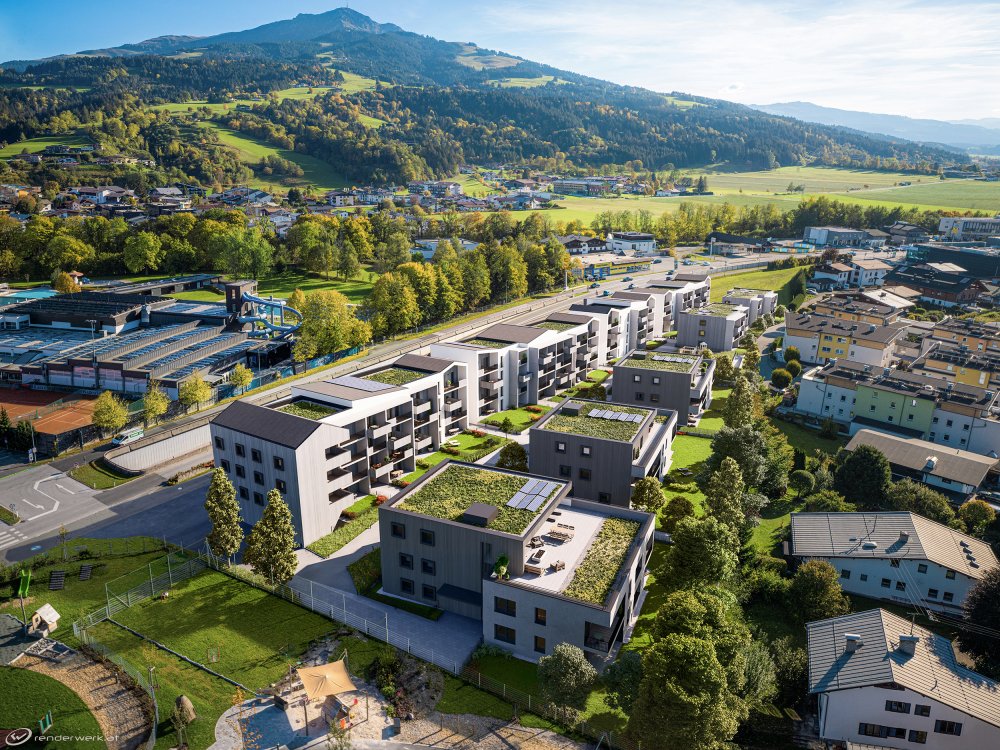 Relaxed flair and
magnificent mountains
The location at the foot of the Wilder Kaiser, near the idyllic Achenpromenade, guarantees the residents of the Elbogen Höfe the ideal starting point - whether for everyday errands or for special excursions into the spectacular mountains. A kindergarten is next door and schools, doctors, local suppliers and the center of St. Johann can be reached in a few minutes on foot or by bike. The lively market town invites you to shop, enjoy and stroll. In terms of leisure activities, the area has, as you would expect, a lot to offer. Due to the location between the Kitzbüheler Horn and the Wilder Kaiser, mountaineers of all kinds - whether summer or winter - definitely get their money's worth. The valley station of the St. Johann in Tirol mountain railways is about a 10-minute walk from the Elbogen Höfe. In addition to the ski areas of St. Johann in Tirol/Oberndorf, Kirchdorf and Erpfendorf, residents can also quickly access the Kitzbühel/Kirchberg ski area, the Skiwelt Wilder Kaiser and the Skicircus Saalbach Hinterglemm Leogang Fieberbrunn. The nearby Hinterkaiserweg also offers a wonderful setting for long walks or bike tours. With the Panorama Badewelt and the St. Johann tennis court, you can expect further leisure and wellness offers almost directly opposite your new home.
Short distances in everyday life thanks to perfect infrastructure, lively community life with a variety of events, incomparable excursion destinations and a wide network of cycling and hiking trails in the middle of the spectacular landscape between the Wilder Kaiser and the Kitzbüheler Horn - all this and more awaits you in St. Johann in Tyrol.