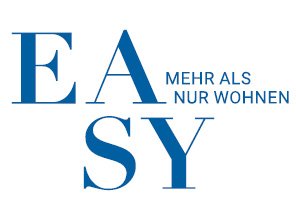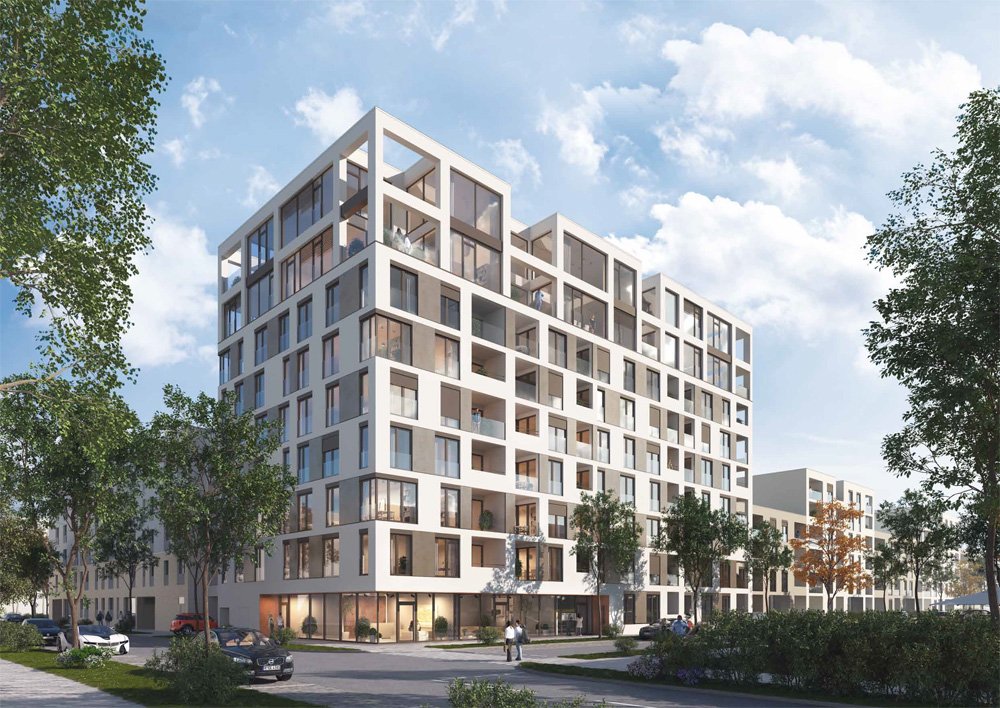 Easy – a new residential quarter
that has more to offer than just its square footage.
Nestled between Pasinger Marienplatz and Nymphenburger Schlosspark, a new centre for urban life is being created at the EASY residential quarter.

A contemporary living concept featuring one- to five-room apartments ideal for all phases of life that takes the demands of city life one step further: "More than just living" is the idea that drives this development. At the same time, the name defines the core idea behind the project – because EASY makes life easier for its inhabitants. At its heart is a service concept which dedicates itself to those details that often fall through the cracks in one's daily routines. To this end, EASY coordinates parcel deliveries and organises other neighbourhood services across the residential district. For this purpose, a central service point with parcel boxes has been created for the lobby, available for use as needed. In the underground garage all parking spaces are prepared for the connection of e-mobility charging stations. In addition, smart home infrastructure is pre-installed in all apartments. Apart from these service innovations, the residential district also scores points with its modern residential outfitting, numerous floor-to-ceiling windows and a prime location that remains something of an insider tip.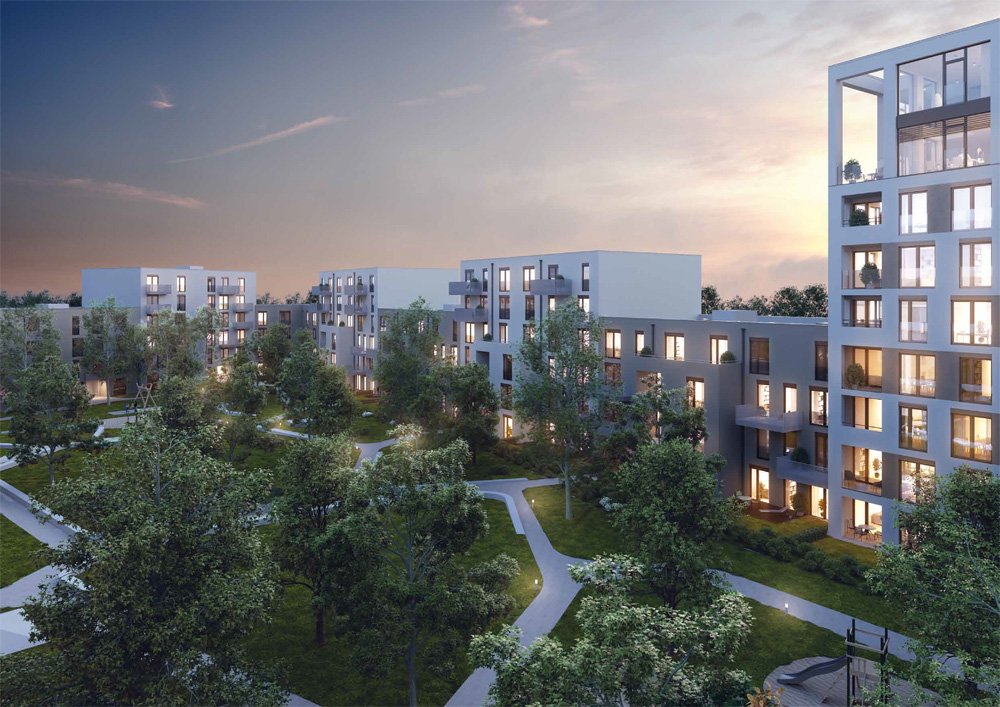 EASY Garden:
A green oasis
for rest & recreation.
In the immediate vicinity of the picturesque parks of the Nymphenburg Palace Gardens and the numerous green spaces of Pasing, landscape architects liebald + aufermann have devised a plan for the EASY residential quarter that lends the extremely generous inner courtyard all the characteristics of a calming anchor-point within the city:

Here you'll find playgrounds for your youngest or older children alongside plenty of other spaces for private retreat. A perimeter band around the courtyard ensures the privacy of the ground-floor garden apartments without cutting into the generously apportioned communal area. The community grounds are carefully landscaped and attractively planted – here every EASY resident can find their own individual form of rest and recreation.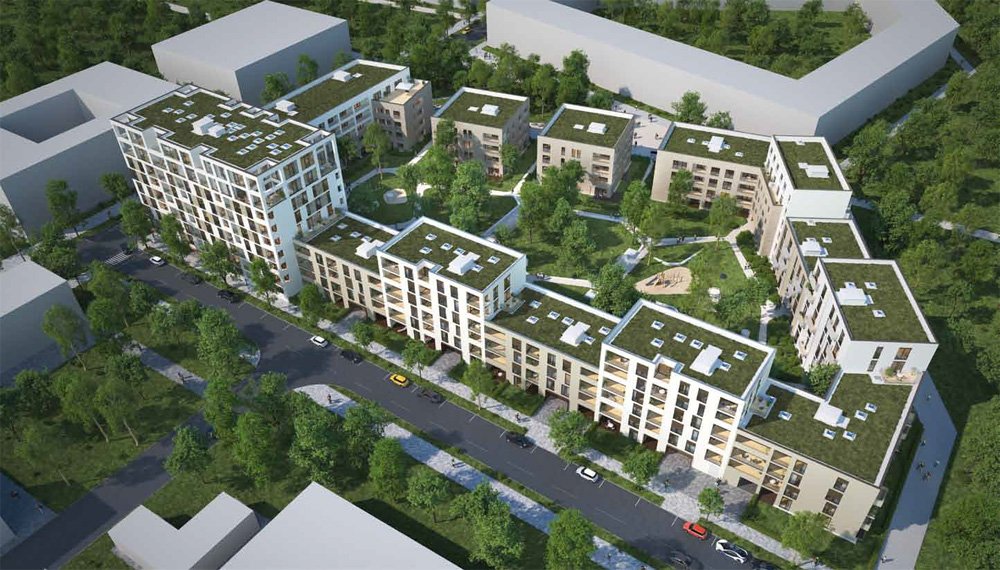 The Location
In the west of Munich, a new urban quarter is being built along Paul-Gerhardt-Allee which fits in perfectly with the independent character of the Pasing-Obermenzing district.

Residential units on further construction zones are optimally supplemented by commercial and retail opportunities, a kindergarten, daycare centres and a school. Future residents will thus find a complete infrastructure right on their doorstep. At the same time, Munich city centre is only a stone's throw away. The district convinces with optimal connections to local and long-distance public transport as well as access to the A8, A95, A96 highways and city ring-road A99.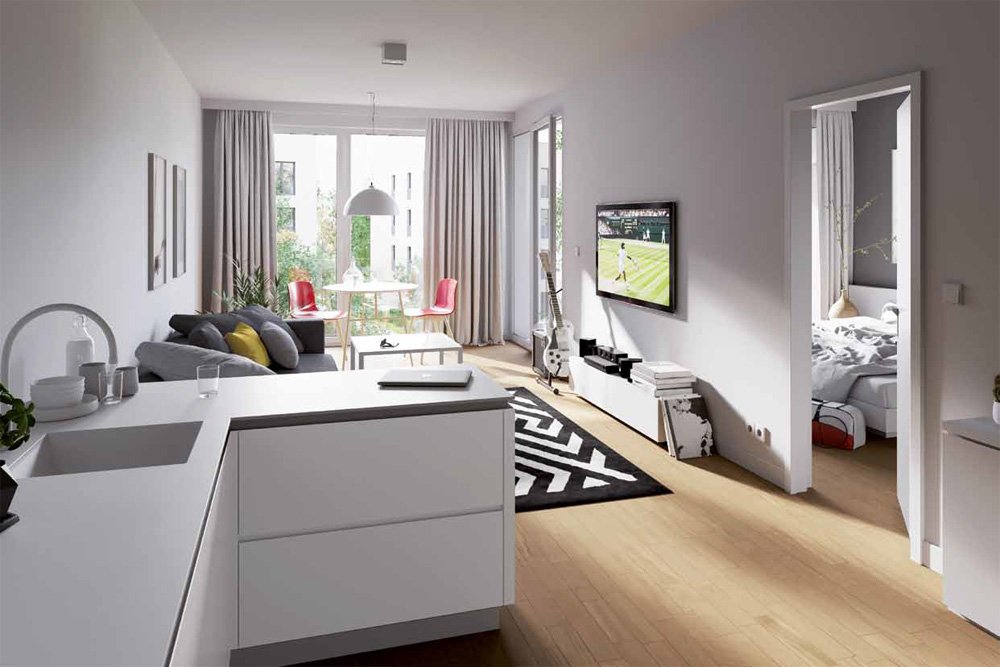 Embedded between
Pasinger Marienplatz and
Nymphenburger Schlosspark
Ideal transport connections, extensive shopping, sophisticated restaurants and a park on your doorstep. This perfect combination is what's in store for EASY's future residents.

You can reach the centre of Munich in just 15 minutes via the Pasinger train station, and the rest of Germany as well as Zurich, Florence or Paris via the ICE train station, if you'd like something more international. The area around newly redesigned Pasinger Marienplatz offers not only an extensive range of shopping, but also good cafes, restaurants and much more, so that the new Pasinger resident will only rarely need to travel to the city centre. For nature lovers and sports and culture enthusiasts, Nymphenburg Palace Park has everything on offer: varied jogging trails and paths, canals, lakes and monuments such as the Temple of Apollo, Pagodenburg or the Magdalenenklause plus a rich host of flora and fauna with deer, rabbits, foxes, owls and the famous wild geese. In addition, excellent local amenities are being built in the immediate vicinity of the EASY development, including daycare centres, a school and extensive sports facilities.