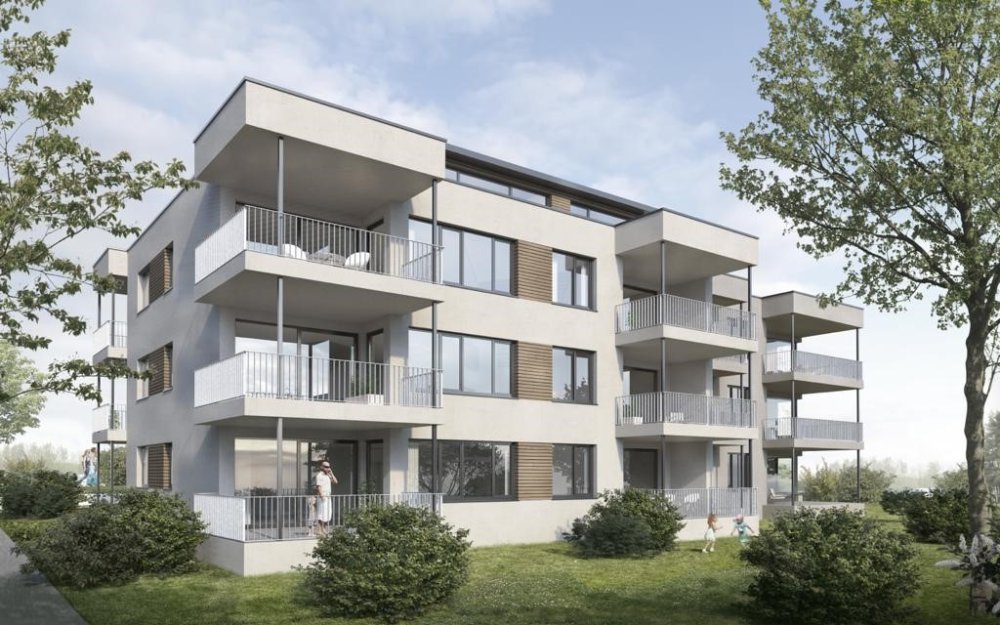 The building presents itself harmoniously and elegantly as a new benchmark for quality of life in Metzingen. Extraordinary and urban in appearance. Casa Legno is redefines residential atmosphere.
Wood represents a direct connection to nature. Perhaps you also think of fireplaces and relaxing walks in the woods, the wonderful smell and how good wood feels. Can you imagine living in a house where wood is the dominant building material?
Comfortable warmth, a healthy room climate and a natural atmosphere combine in Casa Legno to create a comfortable lifestyle of sustainability. In connection with the extremely attractive location and the energy-saving properties, this creates a unique multi-family house with the best residential quality in the heart of Metzingen.
Living in comfort
and a feeling of warmth
Wood is one of the oldest building materials in human history. Compared to a conventional construction, the residents of the solid wood construction benefit from a dry, energy-saving and pleasant room climate from day one. This is why wood, as a renewable raw material, has rightly enjoyed great popularity among architects and owners for years.
In fact, the timeless and sustainable building material keeps the house at such a good temperature that it also benefits from a pleasant coolness in summer. Because the solid wooden shell greatly reduces the heating up of the rooms. The wood promotes a natural, healthy home and an energy-saving climate.
The patented functional principle of the company holzius Vollholzhaus GmbH is based on the construction of wooden elements that are joined together airtight and without settlement. The holzius solid wood construction has a positive regulating effect on the air humidity. The result is a high buffer effect with regard to room air humidity.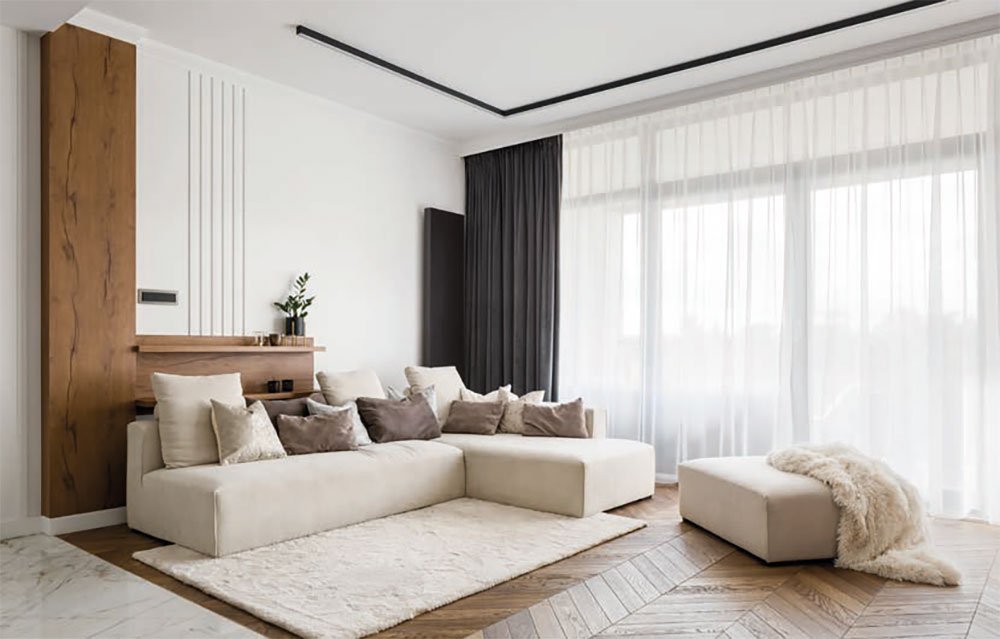 Stylish living
made easy
16 modern condominiums on Nürtinger Straße enable sustainable homes with a feel-good guarantee.
All apartments between approx. 58 m2 and approx. 121 m2 meet the highest standards of quality of life and residential comfort. The parking spaces belonging to the house ensure a comfortable parking situation. To complete the environmentally friendly concept, the underground parking spaces are already equipped with empty pipes for connecting a wall box, so that you have the option of charging your e-cars.
Through the pleasantly wide window fronts, a lot of light penetrates your living space, which makes it a real eye-catcher. In addition, the south-facing terraces and balconies are ideal for ending the day outdoors.
Real wood parquet floors and tasteful sanitary facilities harmoniously round off the modern residential concept in solid wood construction. Look forward to a thoroughly successful housing oasis in Casa Legno.
Highlights
SOLID WOOD CONSTRUCTION
THRESHOLD-FREE ACCESS VIA THE ENTRANCE
LIFT
BALCONIES AND TERRACES
FLOOR HEATING
REAL WOOD PARQUET FLOORS
ELECTRIC BLINDS IN LIVING SPACES
ADDITIONAL TOWEL RADIATORS IN THE BATHROOM AS ELECTRIC RADIATORS
UNDERGROUND PARKING
LAUNDRY AND DRYING ROOMS
BICYCLE PARKING
STAIRWAY CONCRETE WALLS UNPUTTY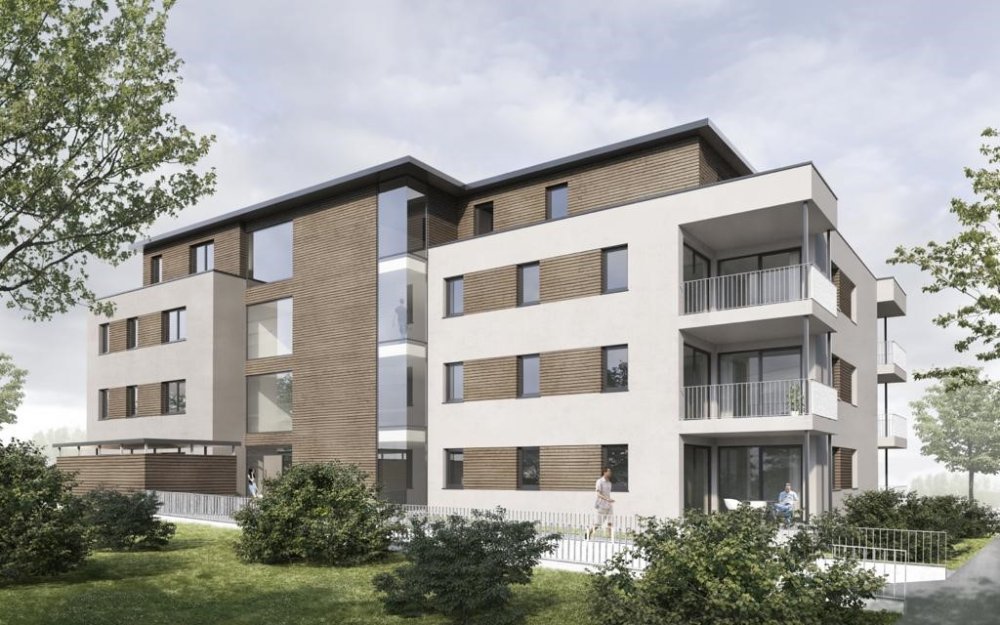 Optimal location
in attractive surroundings
Metzingen has been a major district town at the foot of the Swabian Jura, just north of Reutlingen, since 1990. It is part of the Neckar-Alb region and the European metropolitan region of Stuttgart.
Surrounded by picturesque vineyards, which symbolize the wine tradition in Metzingen and at the same time invite you to take long walks in every season, you are only a few steps away from the relaxing nature./p>
Due to the immediate proximity to the B28, B312 and B313, Metzingen has very good transport connections. The A8 motorway can be reached in just 30 minutes by car. Stuttgart Airport is around 20 km away. Metzinger Bahnhof in the city center offers a direct connection to Stuttgart Hauptbahnhof. From there you can reach the Württemberg state capital in less than 45 minutes.
The apartment building with urban flair in solid wood construction is located on Nürtinger Straße. There are numerous bars and restaurants in the immediate vicinity that offer delicacies from all over the world, such as a good Vietnamese restaurant nearby.
Right next to the Casa Legno, a pedestrian path runs in the direction of the city center or the Neugreuth district. In just a few minutes you can walk from your front door directly to the attractive city center of Metzingen. The train station, day care centers, schools, doctors and other important contact points for everyday life are also conveniently located in the immediate vicinity of your new home. Metzingen is also known nationally because of Europe's largest "outlet city", which you can walk to in around 20 minutes. Exciting shopping experiences await you there and there is a lot to discover.