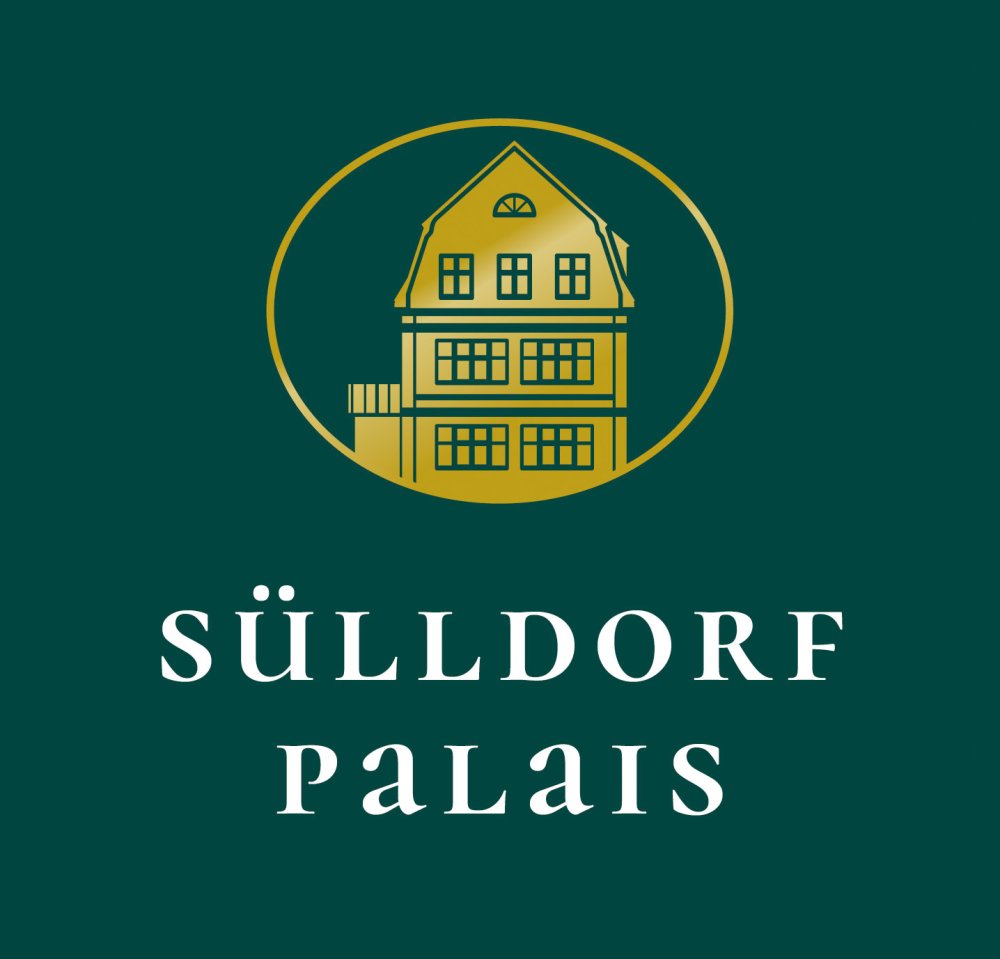 New build construction of an apartment building
with 4 individual condominiums
Hamburg can be so rural and quiet. The modern new-build apartments at Baumweg 18 offer families, couples and single people a cozy and charming home. A versatile apartment building in which everyone can find their place!
The four condominiums are located in the idyllic district of Sülldorf and allow for the perfect mix of city and country life. A comfortable new building in the charming guise of the timeless villas in western Hamburg. A residential area between rural Sülldorf and dignified Blankenese. Two maisonette apartments the size of a single family house with their own garden, a barrier-free apartment with a lift, balcony and a view of the countryside, a penthouse apartment with a huge roof terrace, which combines big city flair with family compatibility.
A home to fall in love with
The apartments on Baumweg will take your heart by storm with their enchanting style. The high-quality outfitting offers four households an oasis of well-being in the immediate vicinity of the Elbe. On 75 sqm to 150 sqm you can enjoy life to the fullest - and admire the sunset with your loved ones from the balcony, garden or roof terrace on warm summer nights. The Sülldorf Palais offers you residential quality in a class of its own.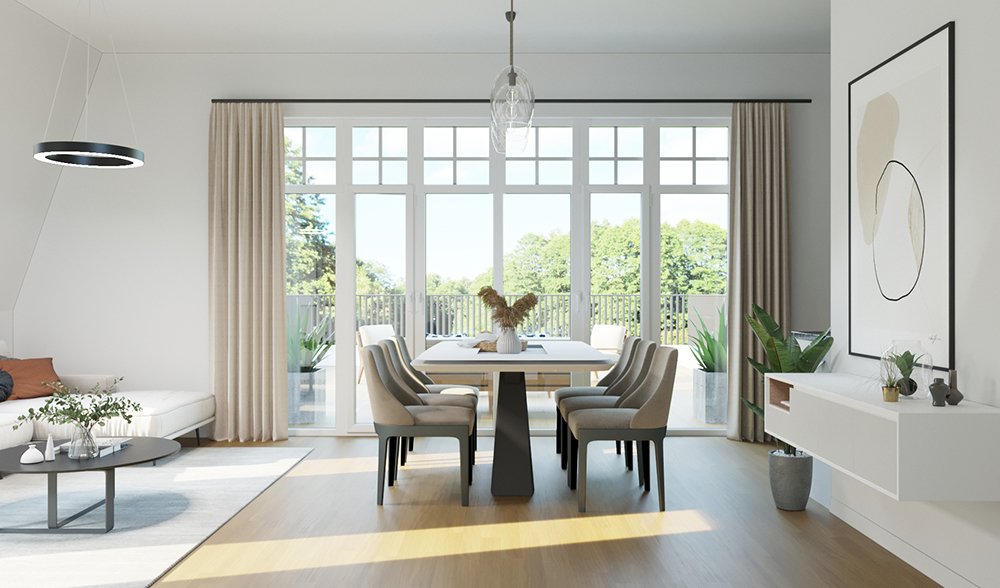 LOCATION:
Country life in the big city
Country feeling in a world metropolis is not possible? In Sülldorf it is! Village meets big city in the northwest of Hamburg. Only 15 minutes from Altona and half an hour from the city center, Sülldorf takes you into nature. Discover the green Sülldorfer Feldmark and your cozy living quarters with pretty thatched houses - preferably by bike or on horseback, because you are in Baumweg in the middle of a rider's paradise with many beautiful country lanes in the area. In summer, the nearby charming Marienhöhe outdoor pool offers you the perfect place to enjoy the hours of sunshine, but the old gravel pit also invites you to stroll and swim. If you are more after a shopping spree, you can reach the Elbe shopping center in a few minutes. You don't have to choose between city and country life, because your home in Baumweg offers you the opportunity to combine both without having to leave Hamburg. The Baumweg itself, in which this property is located, is a small, quiet street used mainly by residents with mainly classic single-family house developments. Due to its location in a slight curve, the property has the advantage that not only can you look down the entire Baumweg in the direction of Blankenese, the classic, stylish facade of the planned property will also delight everyone who comes along the Baumweg.
Leisure & Kids:
Ballet/Fitness & More (gym) - 350 m
Forest Park Marienhöhe - 1.7 km
Marion Dönhoff Gymnasium - 950 m
Blankenese district school – 3.1 km
Elbkinder elementary school 3.3 km
Kita Eichengrund – 900 m
Iserbrooker Weg day care center – 1.0 km
Falkenstein golf course 3.5 km
Blankenese Elbe beach 3.2 km
S-Bahn - 650 m
SV Blankenese – 950 m
Shopping & Lifestyle:
Bakery Hansen - 280 m
Flowers & more Elbvororte (flower shop) - 500 m
Flowers Ruge - 350 m
Elbschatz Café – 450 m
Elbe Shopping Center - 4.2 km
EDEKA – 850 m
Peter Pane - 3.1 km
Rio Grande Blankenese - 2.9 km
Staircase District - 3.7 km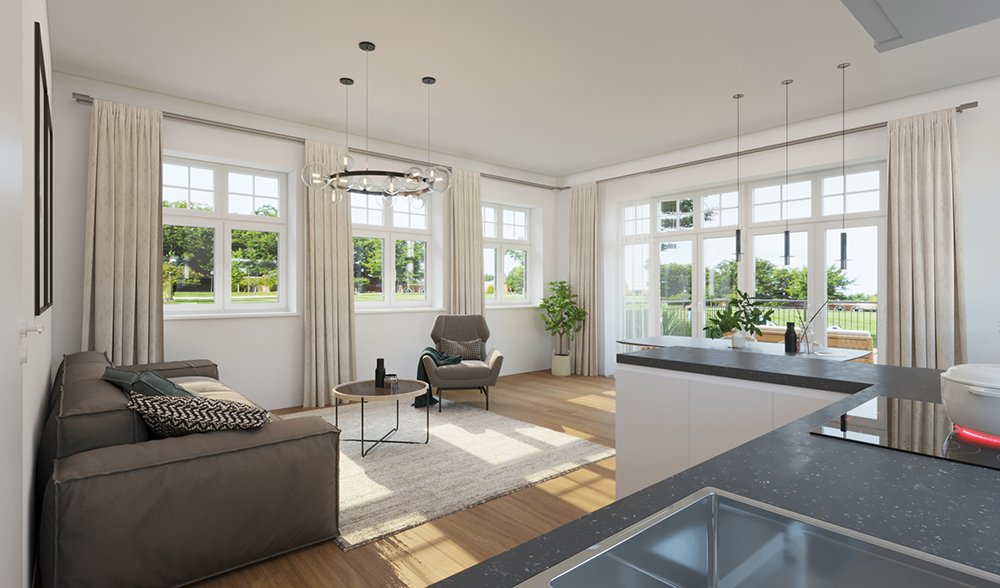 Highlights of the apartments:
The apartments at Baumweg 18 all have high-quality furnishings. The parquet and tiled floors as well as the stylish sanitary fittings from brand manufacturers are just two highlights in the apartments of the Sülldorfer Palais. The passenger elevator and the built-in underfloor heating ensure even more comfort in the new building, the large plastic windows let in plenty of daylight and sunlight in the living rooms. In addition, each apartment has a large terrace, roof terrace or balcony, which enhances the lifestyle even more and invites you to a barbecue party. In the communal garden there is also a small play paradise for the small residents of the palace on 100 square meters. The energy-saving house is built according to KfW 40.