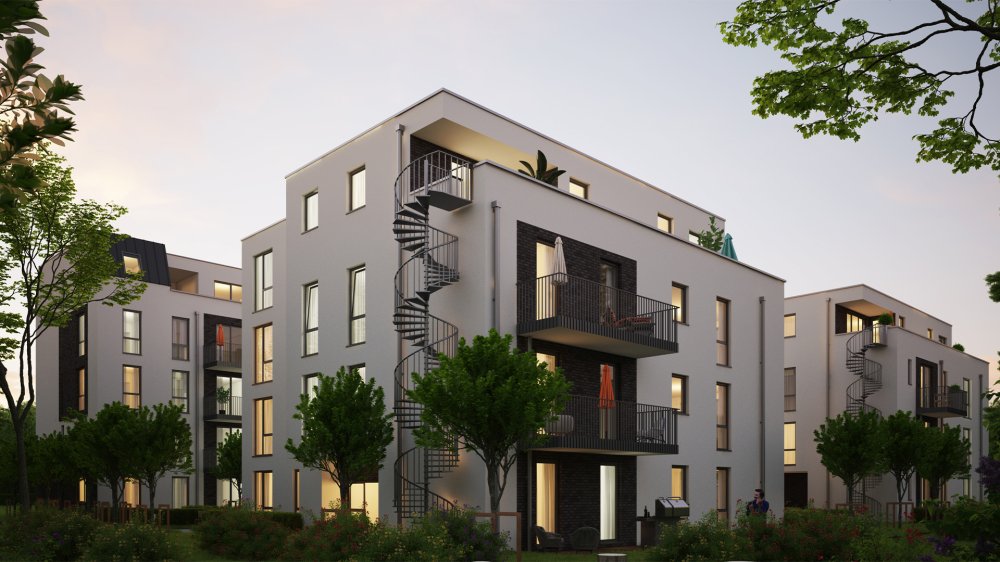 At home in "PIER12".
---
Feel good, enjoy, be independent - these are the decisive factors when it comes to choosing a new center of life. You had to nod subconsciously?
Perfect, because that's exactly what we attach great importance to at "PIER12".
According to strict Wohngesund Bauen criteria, 35 condominiums are being built, spread over three separate houses. Our new project offers a balanced mix of apartments, especially for owner occupiers or investors: 1 to 5 rooms, living space approx. 30 m² to approx. 157 m². All residential units are barrier-free accessible thanks to the elevator.
On the 1st and 2nd floor we have placed the focus - in selected residential units - on accessibility. All condominiums here are barrier-free, absolute highlights are the appropriate access to the balcony and the spacious bathrooms. The parking spaces in the underground car park complete three disabled parking spaces, which are designed to meet the special requirements. There is also ample storage space for bicycles.
Speaking of bathrooms: the apartments in the entire building complex impress with their large bathrooms. Create your personal wellness oasis within your own four walls. Pure relaxation. You can also enjoy your time out on the balcony, the terrace or in the outdoor area, which invites you to linger between the garden compartments.*
*Please note which residential units have a balcony or terrace. There may be deviations in the 1-room apartments.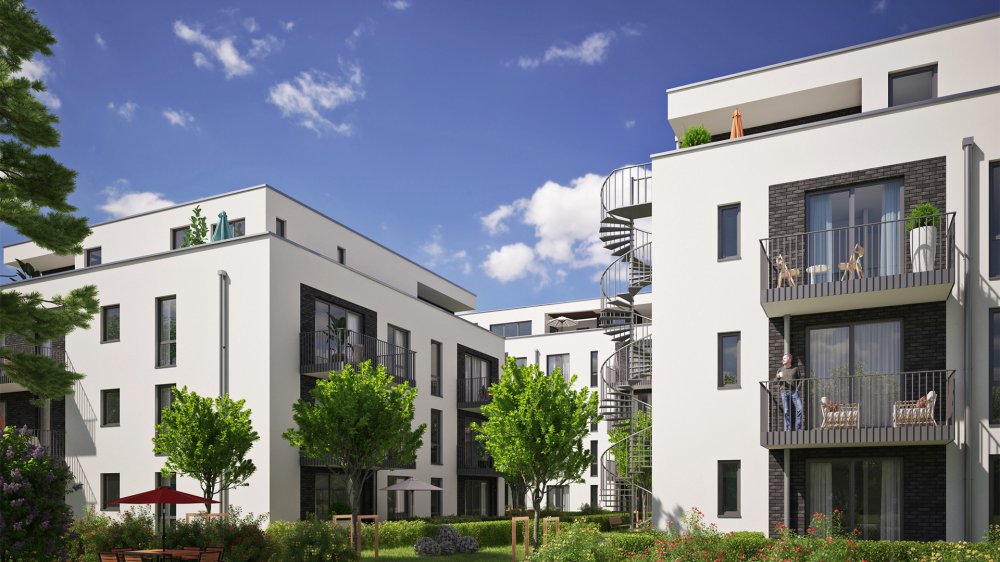 The best. Efficient and sustainable.
---
Green is distinctive for "PIER12" - not only on the outside due to its location, but also on the inside. We want you to be just as happy when you look at your additional costs as when you look at your new residential environment. This luxury is currently rare, as the first horrendous price forecasts for 2023 have recently been received. How come you can stay relaxed in PIER12?
Energy-efficient construction is our claim - for the environment and for you. Take advantage of the sustainable energy building complex, which is based on the standards of an Efficiency House 55. We build your new home according to the strict specifications, even if this is not (currently) funded by the KfW. Why? They should be able to live more independently as homeowners. "PIER12" meets high requirements in terms of energy efficiency and is also an important component of the energy transition.
Your advantages: high value stability, moderate ancillary costs, being independent of fossil fuels, very good rental prospects. And best of all: We make your condominium fit for the future with K + S Green Energy. What does that mean specifically? By means of contracting, you as an apartment owner can obtain renewable energy generated on site via Green Energy GmbH, saving you the investment costs for the photovoltaic system and heat pump. The system technology is the property of Green Energy GmbH & Co. KG.
Background: Photovoltaic system and heat pump are the essential components of the new residential complex. They form a well-coordinated system, and sector coupling is effective. In this way, private electricity is generated and used accordingly, for example for heating the premises and hot water. If not enough energy is generated, the building receives green electricity from the public power grid. With the principle of our Green Energy, together with you, we want to make an important contribution to climate protection.
By the way: Thanks to our Green Energy, 50% of your additional costs are fixed for the next 15 years. Only the other half is linked to an index (electricity-based), which promises moderate additional costs in the long term.
The outfitting features - high quality and timeless.
---
Timeless outfitting details with high standards of quality and functionality offer you long-lasting, stylish domestic comfort. Well thought-out floor plans and ingenious room concepts ensure an atmospheric and healthy feel-good ambience.
Thanks to our various and elegant design lines, some of which can be planned as special requests, we offer you a high-quality opportunity to help design your new home.
35 condominiums in three apartment buildings
1 to 5 rooms with approx. 30 - 157 m² of living space
Krieger + Schramm Healthy Living Building for healthy domestic spaces
Warrior + Schramm Safe Building
Standard "Energy Efficiency House 55"
Sophisticated outfitting with guaranteed healthy home feel-good parquet made of real wood wear layer
Underfloor heating, tiles in the format 60 x 60 cm and sanitary amenities from German brand manufacturers
All apartments with balcony, terrace or garden (except WE 1.14/ WE 1.31/ WE 1.34)
Underground parking spaces and elevator to all floors
Video intercom
Innovative smart building concept with [email protected] from Busch-Jaeger
Glass fiber connection - ideal e.g. B. for home office
Basements
Parking space for cargo bikes
Bicycle cellar, charging device for e-bikes on special request
All apartments are barrier-free
Attractive outdoor areas with lots of greenery and meeting areas
Lots of space to relax in green surroundings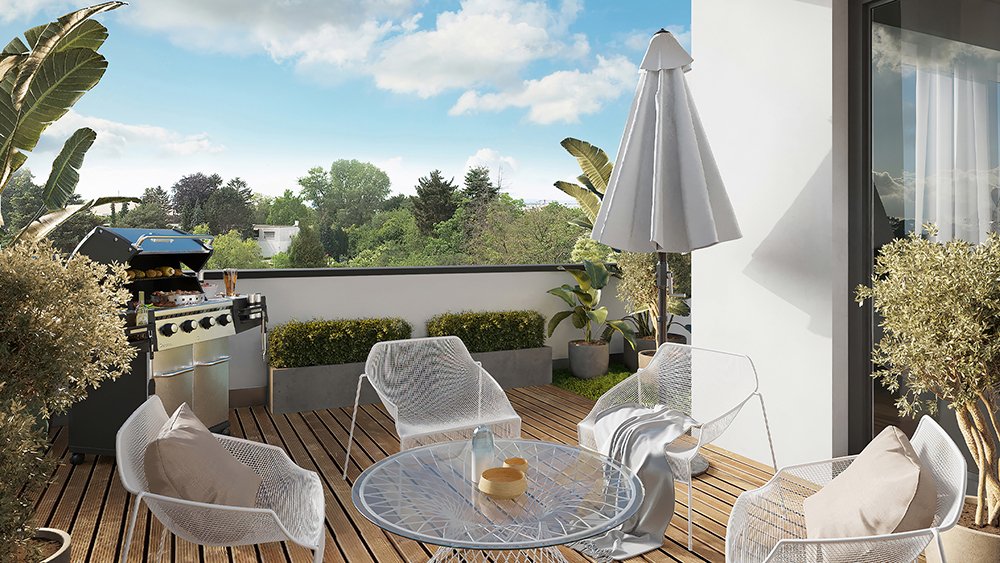 "PIER12" - your new home in the former fishing village.
---
An absolute insider tip in the Rhine-Main area is the easternmost part of Frankfurt, Fechenheim. How so? The idyllic location in the immediate vicinity of the big city feeling and the many cultural and sporting opportunities offer a mix that is popular.
Enjoying retirement or building a life in the countryside with your family - the initial situations are different, but the reason for moving to the former fishing village unites them all! By the way: Despite being quieter You don't have to do without anything in Fechenheim. Do the weekly shopping, the in-house pharmacy top up, let yourself be spoiled with culinary delights, become active in sports, culturally in the diverse club life contribute – Fechenheim is lively.
Keyword: culture! Your new home is often referred to in the region as a natural and cultural jewel. The Main curve and the surrounding floodplain area, which is the largest in Frankfurt, are the epitome of Nature. Use the riverside path and the natural local recreation area for jogging or for a walk together to review the day. culture that is already evident in Coat of arms. The most important components of the district are integrated: Fisch, Netz, Main. The people of Fechenheim identify with this and show that their history endures.
The village charm of the past is particularly evident in Fechenheim-Süd. Come here & become part of the former fishing village, in "PIER12"!
Fechenheim is centrally located: You can drive to downtown Frankfurt in just under 20 minutes
Plus: Use public transport, the connection to public transport is ideal.
Bike touring: How about a trip to the Fechenheim Forest, with a pond in the north? On the green belt you will find balance to (stressful) everyday life.
Recommendation: Enjoy the extensive "Heinrich-Kraft-Park" forest play park with your (grand)children.