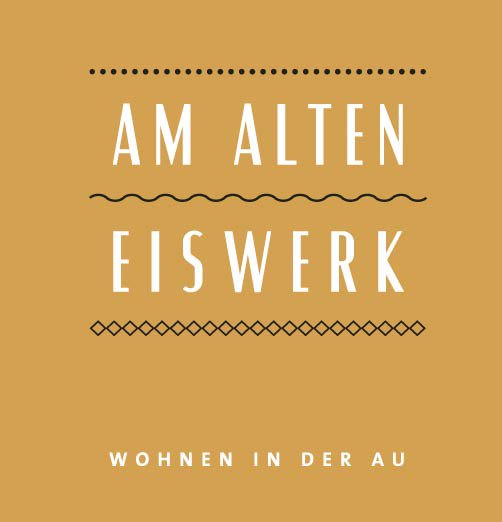 Where a home becomes a home town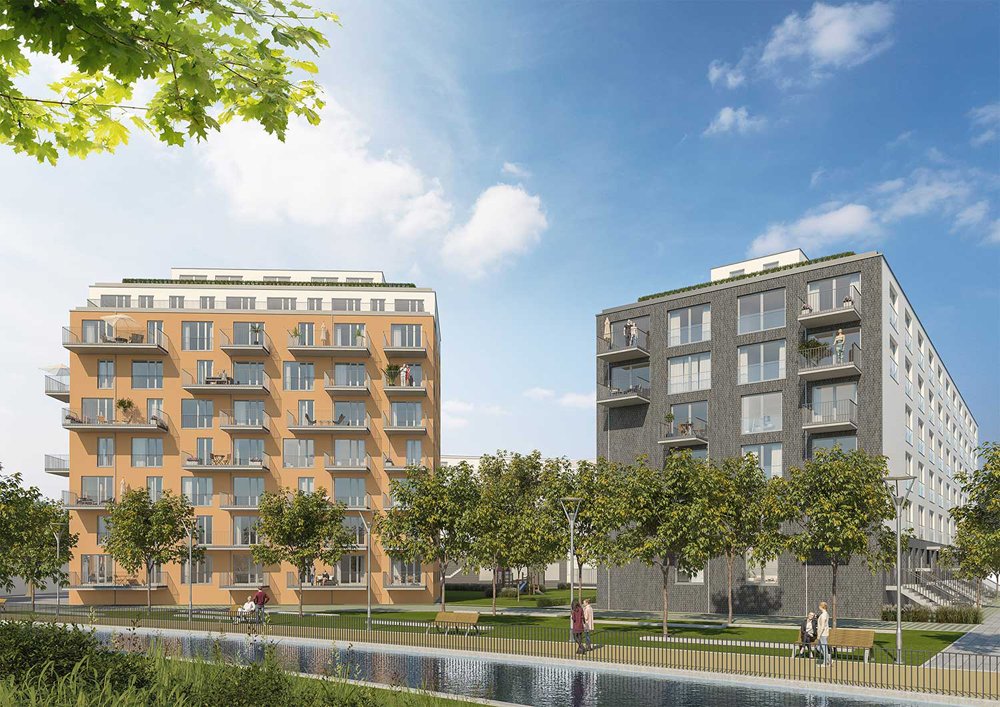 The facades of this residential ensemble fit harmoniously into their surroundings and convince with their clear lines and elegant colours.
Living 'at the old iceworks' ("Am Alten Eiswerk") in Munich's Au district offers incomparable advantages. Bayerische Hausbau is building these high-quality condominiums right on the banks of the Auer Mühlbach – from compact urban flats with one and two rooms to spacious 3- to 4-room urban apartments and maisonettes with up to five rooms – all providing wonderful places in which to relax.
Living in the Au:
Timeless. Authentic. Distinctive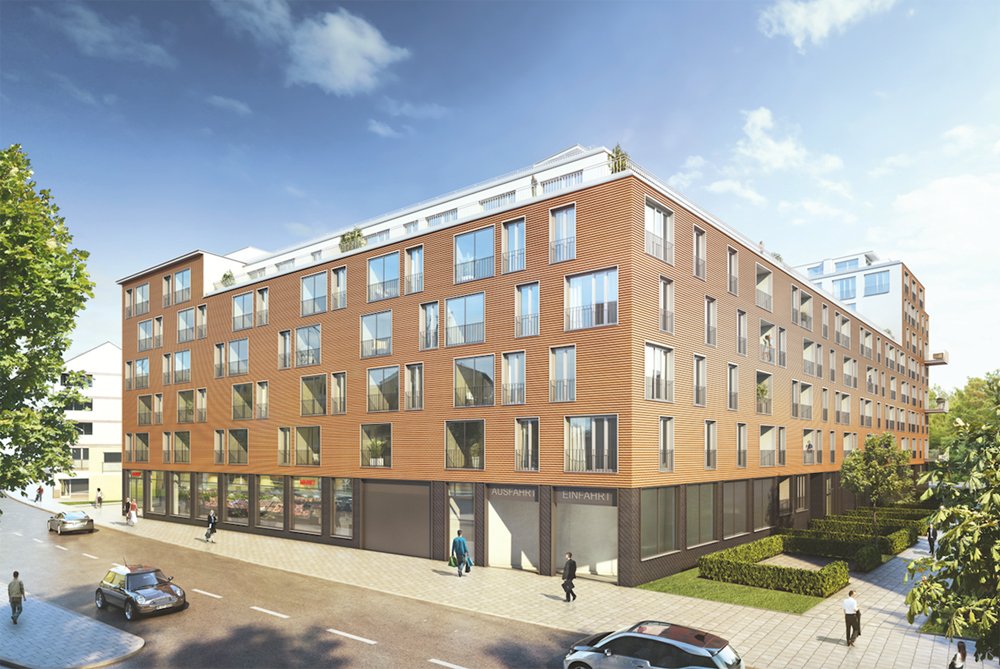 'Riemchenklinker' terracotta bricks set distinctive accents.
This new residential district borders directly on the idyllic waterways of the Auer Mühlbach, centrally located in the heart of one of Munich's most beautiful and vibrant neighbourhoods and rich with a wealth of cultural offerings and activities.

At "Am Alten Eiswerk" we have settled on a variety of living concepts. Here you will find compact, functional and always high-quality 1- and 2-room apartments as well as spacious 3- to 5-room condos for families and couples who prefer a little more space.

With appealing "Riemchen" clinker brick facades and a minimalist design vocabulary, the architecture sets striking accents yet blends harmoniously into the surrounding neighbourhood. Inside each apartment, selected materials and outfitting details are employed, providing a lot of feel-good atmosphere and a characteristically stylish living environment. Large, floor-to-ceiling windows guarantee natural light. Most apartments are complemented by inviting balconies, loggias, terraces and roof terraces, some with their own roof garden. As a bonus, a green haven of peace and a place of neighbourly coexistence has been established in the shared inner courtyard, with direct access to the Auer Mühlbach. Forming the "green heart" of the quarter, this space is landscape-designed to a high standard and is quintessentially inviting.

In this way, the new quarter "Am Alten Eiswerk" combines architecture and design, history and location to create an address that meets the stringent demands of a liveable home in the midst of the vibrant metropolis.
Freedom of choice: well-considered room concepts fulfil the demands of every life situation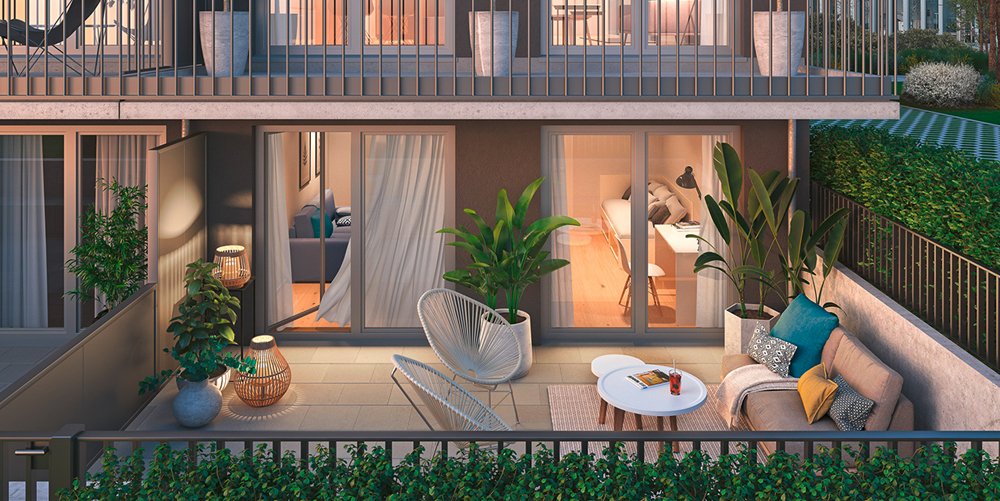 Live as if in your own house.
Living spaces and layouts are geared to the needs of future residents. If you are looking for a modern, compact city residence, then our one to two-room apartments with approx. 35 m² to 65 m² are the perfect choice. Families and couples with the desire for more freedom land on their feet with one of our comprehensive 3- to 4-room urban apartments, measuring approx. 77 m² to 189 m². And for those who want to enjoy a "high 2" residential experience, our 'Au' maisonettes offer a feel-good home with approximately 90 m² to 146 m² living space spread over two levels and equipped with two sunny outdoor areas.

Each of our offered apartments is built as a turnkey solution, ready to be handed over to the new owner after completion of the outdoor facilities.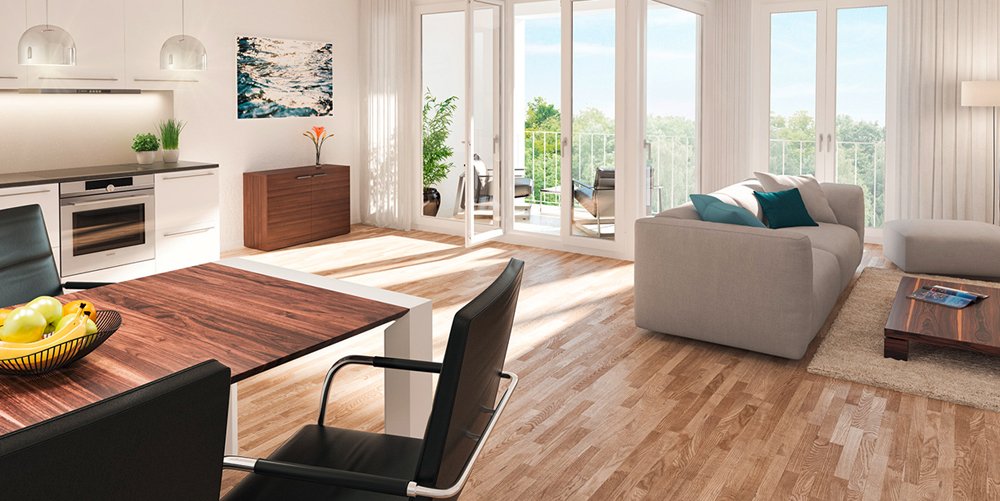 The urban apartment: an ideal centre of life for couples and families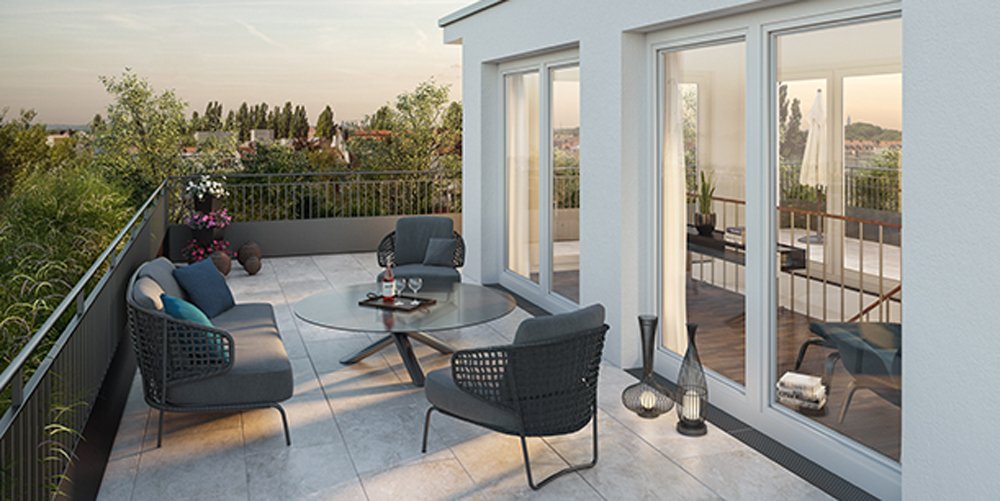 Spacious penthouse apartments offer unique views over Munich
The outfitting in a nutshell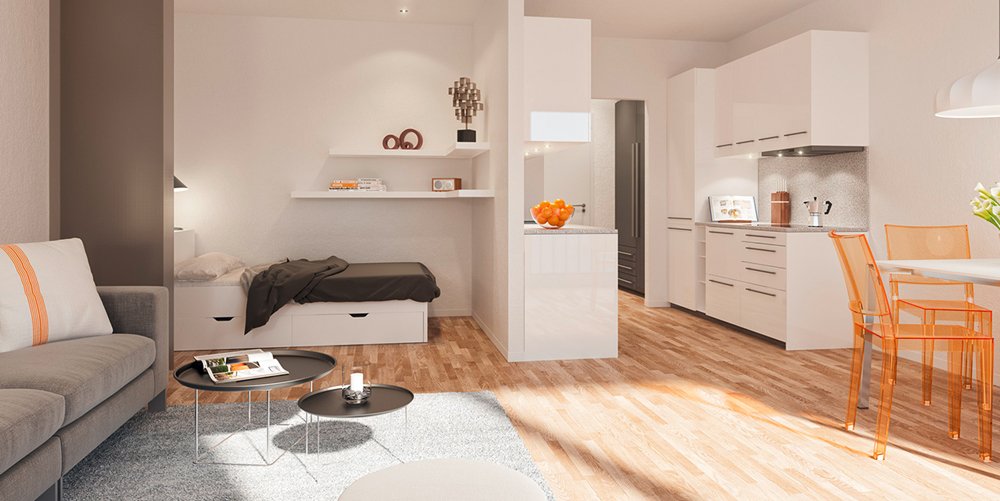 Live city life from your own apartment: functional room concepts make for a feel-good atmosphere
Residential spaces
Apartments with ideal layouts, 3- to 4-room urban apartments with a bright ambience, as well as two-level Au maisonettes for a home-in-home feeling
Compact, functional 1- to 2-room apartments
Spaciously planned 3- to 4-room urban apartments with lots of daylight
Live the "high 2" life in highly attractive duplex apartments over two levels
Living spaces from approx. 35 m² to 189 m²
Well-thought-out floor plans with stylish details
Plenty of natural light thanks to floor-to-ceiling windows
Brand-name fitted kitchens including appliances (cooker, extractor hood, dishwasher, refrigerator)
Bathrooms outfitted with quality products
Large-format wall and floor tiles
Choose from different styles of multi-layer real wood parquet in all living spaces – from white oak to smoked oak
Barrier-free from the basement to the rooftop
Convenient, residents-exclusive underground car park
Practical: grocery store on the grounds
Ready to occupy early 2020
Open spaces
Most apartments come with at least a balcony, a loggia, a terrace or roof terrace, some come with their own roof garden
Green courtyard and roof gardens are an attractive place of exchange and neighbourly coexistence
Living spaces
Sophisticated architectural concept
Quiet living right on the Auer Mühlbach in the heart of the Au district
Multifaceted leisure activities in the immediate vicinity
Timeless. Authentic. Distinctive
Less than 10 minutes by bike from Munich's Marienplatz
A location that speaks for itself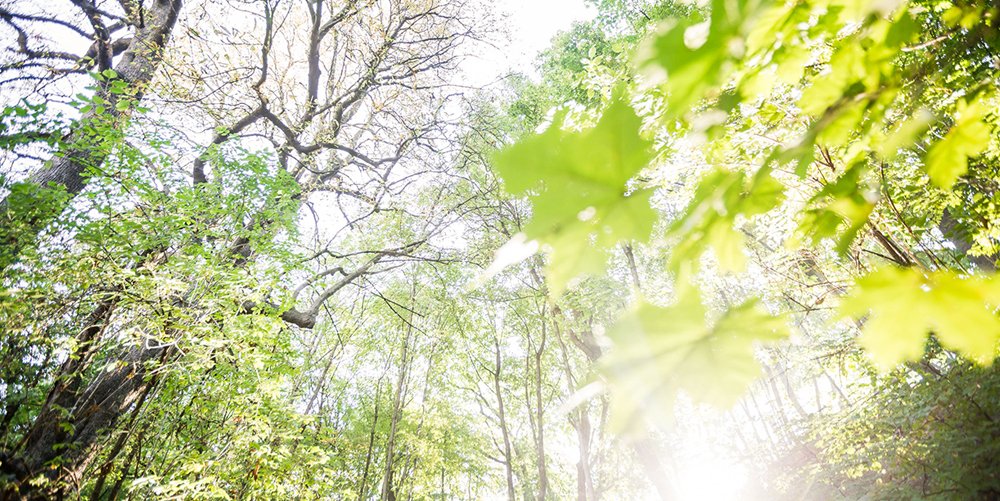 Am Alte Eiswerk is located at the foot of the Nockherberg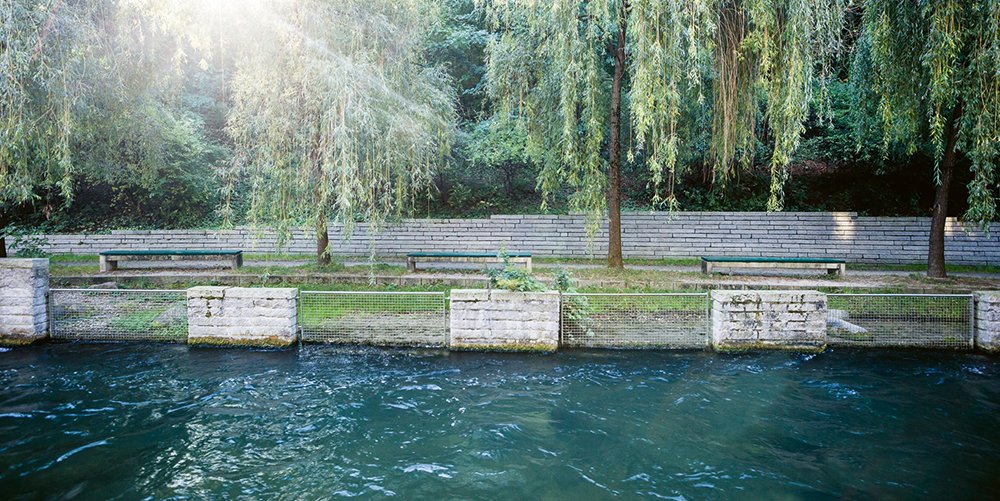 Mystical and idyllic: the Auer Mühlbach.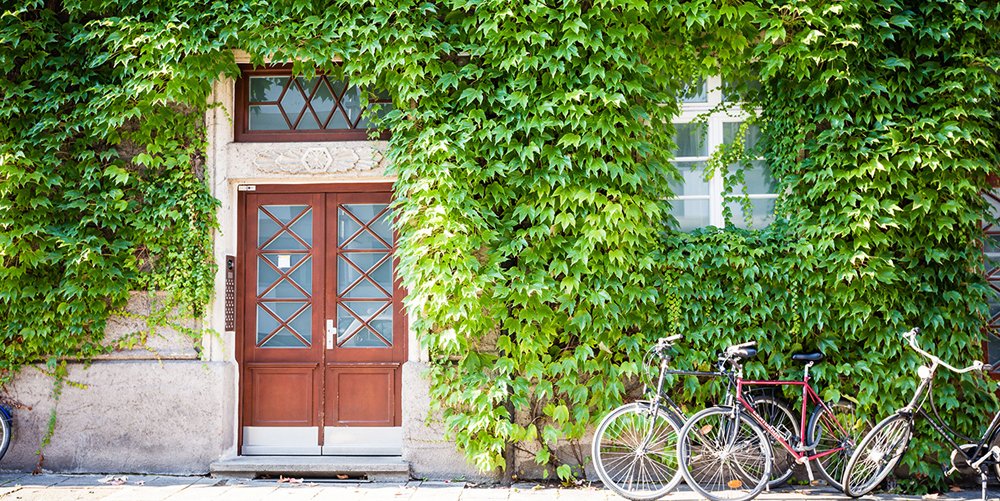 The Au: lovable and authentic.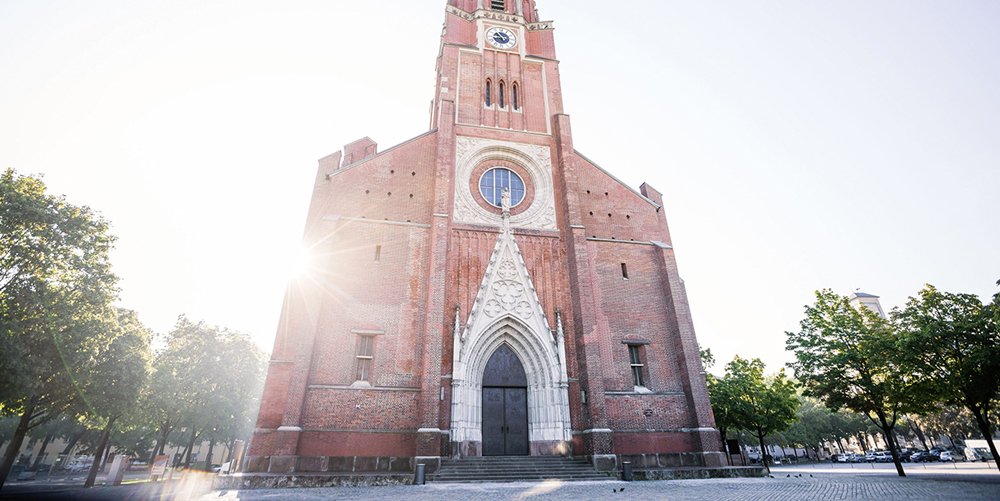 The neo-Gothic Mariahilfkirche: an impressive Au landmark.
The local environment is characterised by historic houses, small shops and cafes – and the city centre is reached by bike or subway in just a few minutes. Thus, you not only enjoy comprehensive local infrastructure and amenities in the immediate vicinity, but also a surrounding area packed with attractive cultural and recreational facilities. For balance in the open air, the Isar with its green meadows offers excellent opportunities. Here you can sunbathe, swim, jog or cycle to your heart's content – and all this just a stone's throw away from our inviting residential ensemble.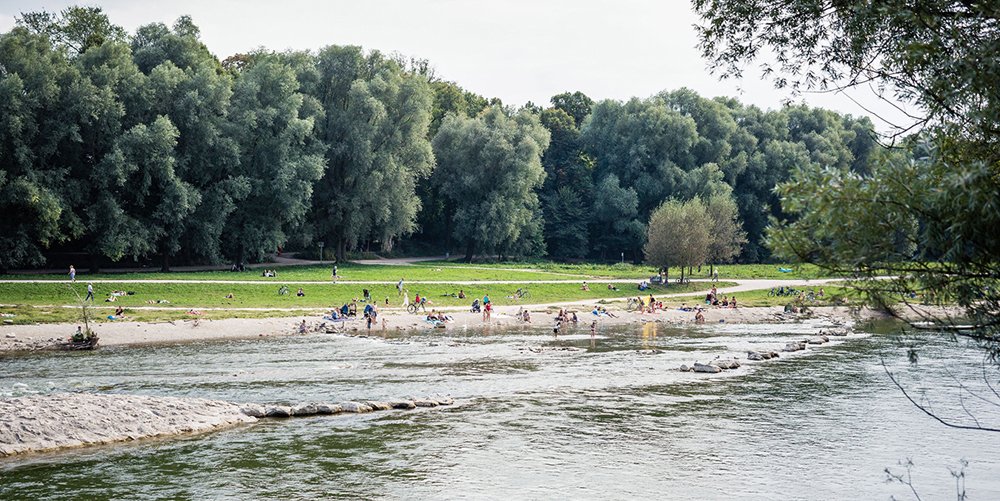 Gravel banks, flat shores and small islands make the Isar a place of relaxation and recreation.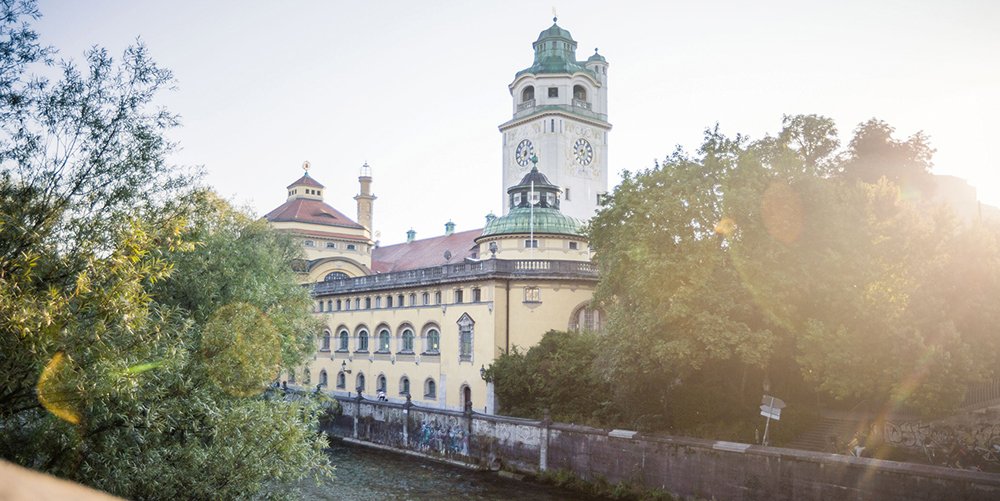 The Müller'sche Volksbad is just a stone's throw away.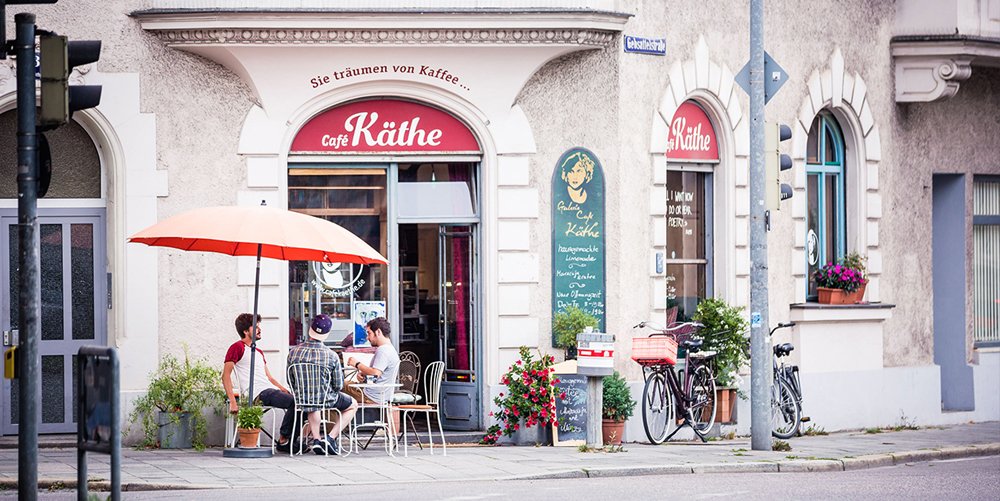 Quality of life all day every day – assured thanks to the many cafes in the neighbourhood.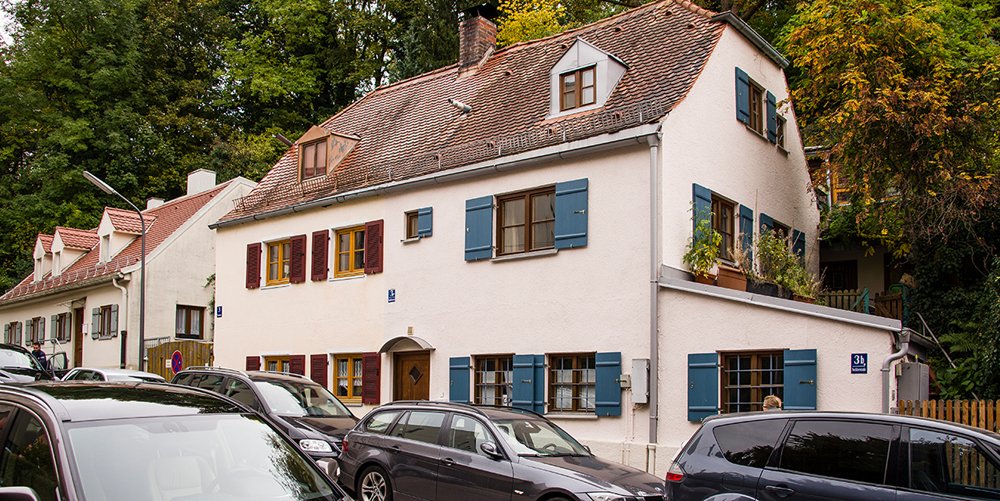 The dainty restored hostelry buildings are a reminiscence of the old working-class district.
Everything within reach
Green courtyard with secluded sitting areas for a neighbourly meeting place
Shared roof gardens for even more greenery
Located directly on the Auer Mühlbach and several extensive green areas, parks and the river Isar within walking distance
At the foot of the Nockherberg
Comprehensive range of local amenities in the immediate vicinity
High recreational value with numerous cultural and sports facilities in the area
Less than 10 minutes by bike: Munich's Marienplatz and adjacent shopping mile, Gärtnerplatz with its eponymous theater and much more
Fast connection the surrounding countryside and the Alps via the Mittlerer Ring and A8 highway
Excellent public transport connections (subway, tram, bus)